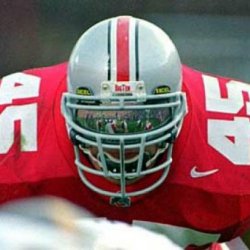 Bags5150
Bellbrook, Ohio (via Kettering, Ohio)
Member since 06 March 2012 | Blog
Helmet Stickers: 1,556 | Leaderboard
Voting Record: 504 / 39
Longtime Buckeye Fan and alum. I was there in '84 when Keith lost his shoe in The Shoe!
Favorites
SPORTS MOMENT: 1984, Buckeyes down 21 to Illinois. Come back to win. The game that Keith Byars lost his shoe!
COLLEGE FOOTBALL PLAYER: Eddie George
COLLEGE BASKETBALL PLAYER: Aaron Craft
NFL TEAM: Bengals
NHL TEAM: Blackhawks
NBA TEAM: Anyone playing the Lakers
MLB TEAM: Reds
SOCCER TEAM: What is this Futbol you speak of?
Recent Activity
Doubt he was drunk...maybe waterlogged but not drunk!
In reading his post again I see what you mean. These new helmets do not use air pressure so there is no inflating like the old ones. Its an insert. There is a new Riddell helmet out that has sensors attached to it for just that purpose though. The sensors hook to a computer somehow and that way the pressure and fit can be readjusted to the baseline. I have not personally seen on yet.
I own a sports marketing company. We produce screenprinted and embroidered items for teams and schools as well as uniforms and equipment. We also do marketing and fundraising for teams, schools and organizations as well as event management. Currently we are partnering with the Ohio High School Football Coaches Association to provide sponsorships, marketing and promotions for the Association as well as for the All Star Games (The North South All Star Classic and the Border Classic).
Would really love to see us get Mack.
I posted this above...these are the future:
Doubt it...problem is no one knows for sure what helmet is the safest. Here's one probably no one has heard of though. It comes from Simpson Ganassi...the racing helmet company. It's lighter (I have held on and it is amazing.)made of kevlar and carbon fiber, and the back is higher so that it doesn't act as a fulcrum on the neck. The idea is that weight of the helmet cause much of the snap and whiplash associated with head and neck injuries.
Partial to a really good omelettewith sausage, bacan, ham, onion, mushroom and cheese. Top it with either A1 or salsa and tobasco with a side of hashbrowns.
I will say that my all time favorite was the old Olentangy Inn...chilli with an egg over easy and a side of hashbrowns...best latenight breakfast ever...the next day usually really sucked, but what a way to end a night!
I was in the closed end, on the track bleachers next to the band in the northwest corner!
I have sometimes loathed the faceless world of the internet and online chat rooms/forums/message boards. So many internet bullies and tough guys. But in reading the thread and now this thread and hearing (I say hearing rather than reading because I truly believe I HEAR it) my faith has been restored and I can truly say I've never been happier or prouder to be a part of something like this. We all have a commonality in Buckeye football that brought us together, but I realize now that whats a greater commonality is that this is a group of great human beings. Men moved to tears (it did get a little dusty in here) by the plight of one of our own and so many moved to come out of the internet shadows and reveal personal information to help. This is what life is about. It may be 618 this time, but every single one of us has our trials and tribulations that we go through each day. 11W is a safe, warm place that we can all come to and know that someone has your back. You don't have to go through things alone and there are faceless strangers that truly care. Thank you to you all and to 618, I'm so glad that you're well and here with us still. I wish you much love in your recovery and encourage you to keep reaching out for help. Peace.
Branding is reaching the high school level just as much. I would guess that CT & X got a nice little contribution to the athletic department.
Here's the reality...Schools as a whole are looking for alternate methods of funding because the state governments are routinely taking money from the budgets. Private schools are no different. Money is money and the schools need money to function. Its no different that college, good schools good community and people want to send their kids to good schools...athletics helps draw students. Schools are looking for funding to improve facilities and all kinds of things. People lose their mind if tax money goes to a stadium or for uniforms so athletic departments look for other ways. Our school district got 1.5 million dollars from a hospital to renovate our stadium. That was like 6 years ago. NOW we generate revenue from the stadium though rentals and hosting state tournament games. We haven't used taxpayer money to do anything in the stadium in years now. If Adidas or UA came calling and said we wanna use your team in a commercial I guarantee you the first words were WHERE DO I SIGN!
He was awesome actually. No I'm not a high school coach. I work with the OHSFCA as a marketing partner. I run the twitter feeds and do sponsorships and promotions for the All Star Games (North South & Border Classic.) I have coached HS but only briefly.
I saw Ed speak at the OHSFCA Coaches Clinic last week and I am fired up!
The Big Shoe Compainies (ie Under Armour, Nike, Adidas) do kick back deals with high school coaches all the time (trust me, I'm a dealer). They get "Nike bucks" that coaches can use to purchase other gear, and UA has a similar program. It has to do with the amount the coaches spend on uniforms etc. It's not a contract per se but definitely they are signing schools.
I lived at Lyons Rd. and the Sawgrass. Loved it there! I owned a swimwear store at The Festival Flea Market at Sample & The Turnpike!
Hauerman did 26 reps on the bench, second most by a tight end
There's a difference between giving input and helping to call plays
You are dead on. I didn't see this before I posted mine. When I say commitee I don't mean 4 or 5 guys calling a play but there is input from units based on what they're seeing.
Any good offense uses some sort of committee based on what they're seeing but Ed Warriner will be calling the plays, just as Herman did. Whether from the booth or sidelines I don't think matters. Lots of OC's call from the sidelines (Lane Kiffin for example). Urban trusts in his coaches and doesn't call nearly the amount of plays that people think he does. He has input for sure and makes the big calls (go for it on fourth and 2 or not...fake punt, trick plays etc.) but he coaches his coaches and his coaches lead they're units.
Agree 100%. I lived in Coconut Creek/Parkland area about 8 years ago. It was nice
Look for pictures from the '84 season. Not sure where to go. I was there in '84 and in the Byars loses his shoe video you can see the "Big 10" logo
I'm gonna guess about 30-35 home games and 3 away (2 at Indiana and 1 at _ichigan)
I could easily change mine to this season as well. I think it's one of the most improbable things to have ever happened in College Football. I honestly believe that. I don't think its up there with the Miracle on Ice, but I moved it ahead of NC State beating Houston (anything can happen in one game). Having said that I am going to leave mine as is because I was there...in the stadium when it happened (Byars run when he lost his shoe in the shoe). My close second was when we beat #1 Iowa in the rain in the Shoe in '85. Those are special memories for me because of the time in my life and being there.
And some dry white toast...
I loved Gholston as much as anybody when he was a Buckeye, but I have heard numerous NFL players say in interviews that they knew as soon as Gholston showed up he couldn't play because he was too stiff. He was a chiseled master piece but no flexibility etc. I just heard Damian Woody say it about a week ago on Cowherd. He was asked who a big surprise was to him that came in with a lot of hype and couldn't play and he said immediately Gholston. I wish him well and hope he takes better advantage of this opportunity that of the ones he had before.