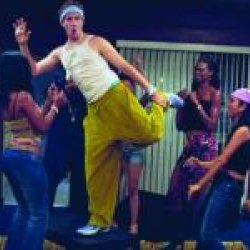 babbski
Cleveland by way of Chicago (via Fostoria)
Member since 05 August 2011 | Blog
Helmet Stickers: 165 | Leaderboard
Favorites
SPORTS MOMENT: 1994 Michigan game. It had everything - picture-perfect day, a dominating OSU performance, a streaker, a friend dotting the I, even someone stealing Tyrone Wheatley's helmet prior to kickoff. After the win, we rushed the field and grabbed pieces of the turf as souvenirs (it was grass back then). I ran smack into Lorenzo Styles on the field and fell down. He looked like he didn't even notice.
COLLEGE FOOTBALL PLAYER: Eddie George
COLLEGE BASKETBALL PLAYER: Jimmy Jackson
NFL TEAM: Steelers
NHL TEAM: nope
NBA TEAM: Pistons
MLB TEAM: Tigers
SOCCER TEAM: wut?
Recent Activity
And the first 3-time winner of the Childress Award, Taurian Washington.
Ramzy, do you enjoy writing these as much we enjoy reading them?
Cleveland has a bunch of them, particularly on many of the major east side streets that connect to downtown (Carnegie, Chester, Woodland, etc.). Along with the red light cameras are the speed cameras that aren't at intersections. It's awesome watching for the cameras and trying not to blow your tire on a monster pothole at the same time.
But the worst is East Cleveland. There's a sign as you cross into the city limits stating, "Cameras are EVERYWHERE." And it's not lying.
+1. Nobody questions diarrhea because nobody wants details. It's the ultimate excuse.
Why would Forde do that? He obviously has no interest in being a journalist!
I was in 24C too, and while nobody bitched at me for standing the entire game, I did notice way too many people filing for the exits with way too much time left to take the win for granted. It was very disappointing. Maybe I lack the confidence they have in the team where they can leave that early and not think they miss anything, but I was nervous until that last pass fell to the ground. Besides that, the atmosphere was pretty killer throughout.
It must be a huge boat. I'm on it too, and I suspect there are many others.
It's a shame Tatum isn't in the NFL HOF.
You just know Bert is an expert at penguin walking.
Pretty sure Osborn designed the renovations at Ohio Stadium too.
+1 for Frida Batidos's chorizo batida (burger). Mmmmm. The loaded plantains are also well worth eating.
We were up earlier this year and had a quality meal at Grange. A little on the pricey side, but it was damn good. And, as already mentioned, the Jolly Pumpkin is pretty cool.
Funny...I spent 13 years there and now live in Cleveland Heights. Loved every minute of it.
Eater is a great resource for finding good restaurants and bars. Yelp is pretty good too.
Also, the Hopleaf is something all beer fans should experience.
Spurs had their chance and blew it. I hope I eat crow tomorrow, but I feel like Miami will blow them out tonight.
Ramzy, I love this. I was a freshman back in '93 and this conjured up some great memories - particularly that Penn State game. I remember the cold rain turning into snow as Raymont carried the team on his back like a grown ass man, then we and the rest of the student section rushed the field after the win. The jerseys that year with the black sleeve numbers looked pretty badass, especially when covered in mud that day.
Warinner. I still have Walrus-related nightmares.
+1. I totally agree about Freaks & Geeks. My all-time favorite show. Johnny needs a slappin'.
"What I am looking forward to the most? Winning a national championship, because that's what we're going to do."
I already love this kid.
Nice job, Kyle. Since he's a guy who is frequently involved in major decisions behind closed doors, it was refreshing to read his candid and honest opinions.
It's very closely related to the infamous "Sparty, NO!"
The caption was even better.
It looks too dull to be "sun," which makes it slightly more acceptable.
That was his sleeper pick..
Ha. I was down the street from Cubby Bear with a bunch of my XU friends at Merkle's, a Xavier-friendly bar. They were talking so much trash until Lewis hit that shot. Then the place fell silent except for one guy in OSU gear (me) who was screaming in happiness and returning the trash talk. I've never seen so many red-faced glares before or since.
I love listening to Kellogg too. One of the best. I got a kick out of him calling Q's stroke "honey sweet" yesterday after he buried the 3.