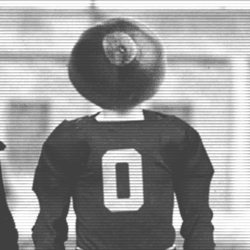 B1G 10 Buckeye Stuck in SEC Country
---
Columbia, SC (via Toledo, OH)
Member since 15 December 2011 | Blog
Helmet Stickers: 324 | Leaderboard
Favorites
SPORTS MOMENT: 2002 National Championship
COLLEGE FOOTBALL PLAYER: EZE
COLLEGE BASKETBALL PLAYER: Craft
NFL TEAM: Miami Dolphins
NHL TEAM: Detroit Red Wings
NBA TEAM: Boston Celtics
MLB TEAM: Cleveland Indians :(
SOCCER TEAM: Really???
Recent Activity
I have a Worlds Best Dad t-shirt....everyone has been put on notice. Flag has been firmly planted!
Braxton looked like a stud throwing the rock. Ball was flying out and he had a tight spin on the ball.
And how about the new division alignment...not much competition in the west division.
The whole time I was thinking wear them down with Hyde and then light them up with a fresh Hall in the 2nd half. Clearly I thought wrong.
I could use less of Braxton running with the Dan Marino knee brace
I don't know if its necessarily worse, but if wearing the brace is going to negate Braxton's best asset I agree let him sit and get healthy.
I'm pissed..The game will start from the beginning at 2:00 here in SC because of VT and UMD basketball game...WTF
They do look amazing against terds
Coach Matta,
I'm old, fat, and probably can't defend very well anymore BUT...I have 4 years of eligibility and can SHOOT.
Ditto...Diebler would have had 60 yesterday if he had those WIDE OPEN shots...Which I would follow up with a post threat.
A bunch of athletes that can defend...
No post threat...streak shooters and...
Thomas looked sleepy
I still vote for an Ohio State division and an everybody else division..It would allow EVERYONE else at least a glimmer of hope at making the conference championship game...
I think the Rose Bowl is the B1G's best shot
USC beat the hell out of Georgia and their D is every bit as nasty as Florida or LSU...Their 2 losses came to LSU and Florida without Lattimore...The Florida game looked BAD but the defense actually played better than the score...Florida had 21 points in the first half but 23 yards thanks to USC offensive TO's. The 2nd half got out of hand because the team just quit...If Michigan had a chance against any of those teams I'd say LSU because their offense is TERRIBLE but the D is stellar. Maybe Michigan 17-10 if the D shows up.
It's ok if you weight 150lbs more than Brady Hoke and make fun of him for being fat
Maybe Hoke should wear the headset more than the final 2 minutes of the game...Could it be that it's not really a headset for the game but in reality a tacky bluetooth he uses to order his postgame pizzas?
I can't get enough postgame coverage/info...I keep refreshing hoping to get something new to read...
Everyone mentions how dangerous ichigan is now with Gardner and Robinson on the field at the same time...Maybe I'm wrong but they were on the field at the same time when Denard was at QB and Gardner was at WR...
I see Denard as being most affective when he has the ball in his hands as a QB. Same goes for Gardner. There is only 1 ball and 1 QB position. Denard as a QB has some protection for unecessary hits; however, as a RB or even WR all bets are off and he has proven he's anything but durable. As a QB he has the run/throw threat; however, as a RB/WR that eliminates the majority of that threat. Can he still throw on a gimick play? Yes, but he still has to prove he can throw. Hell, we were still waiting for him to prove he could throw when healthy. You can't tell me the Buckeyes won't lay the lumber on Denard every chance they get...Especially if he is at RB/WR.
GO BUCKS!
That turkey is clearly not fat enough to be Brady Hoke
The Marquette players did step up once it was obvious the 4 guys trying to dry the floor off weren't going to be enough. Marquette's coach was out there too. I was a bit disappointed when no one from the Buckeyes was out there to help...Eventually, a few players did get some towels and start to help but it was a good 5-10 minutes later...On a positive note many of the Buckeyes hung around after to take pictures and sign autographs...