avail31678
Member since 06 March 2012 | Blog
Favorites
SPORTS MOMENT: 2002 National Championship team is a no-brainer...I'll go with Evan Turner's last second, near-half court shot as time expires to beat TSUN in the BIG tourny. Unbelievable, and I loved Thad Matta giving TTUN's coach an earful - rumored to be in regards to him not voting for Turner as player of the year.
COLLEGE FOOTBALL PLAYER: Braxton Miller, but other Buckeyes are fast approaching..
COLLEGE BASKETBALL PLAYER: Aaron Craft
NFL TEAM: Brownies
NHL TEAM: Blue Jackets, I guess?
NBA TEAM: Cavs
MLB TEAM: Indians
Recent Activity
Here's a good guide:
Hey, I told her not to contact me, and she hasn't even once.
It would be the last touchdown point the Buckeyes would score in 2016.
Fixed.
That sounds like a sneaky, veiled attempt at reverse psychology so someone actually WILL post his junk photo.... Your intentions are foul! /s
Damn you Barf!! I thought for sure I'd be the guy who did the Billy Madison cursive Z ref...but very nice touch shopping in DJ. May many deserved UV's come your way.
I was soooo close!!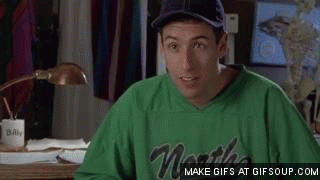 I know I am biased against TTUN, but THIS is the type of thing that should not be allowed by the NCAA - if, as a fan, you want "level" playing fields for building teams.
I mean, they have rules like not sub-Tweeting a recruit past midnight when there's a full moon etc.
I disagree with not beating Bama without a gimmick play. Alabama wasn't fooled at all on that play (Thomas was welllll covered) and it just so happens it required a ridiculous throw by Spencer and a ridiculous catch by Thomas for that play to have resulted in a TD.
EDIT: yeh, what Ahh Saturday said.
I'll give him a pass...he was probably a tad busy raking in the greatest recruiting class in OSU history.
For sharing that vid, I hate everything about you!
Nice #HotTake there Barf.
First, so glad your nephew is in remission. Second, thanks for sharing - it's the personal stories like this that make players/coaches transcend legend status.
Enjoy every flippin moment and story of Urban's tenure, folks. He is the GOAT in so many ways.
Yep - maybe we can say Bellichik and Brady are the best coach/QB combo ever? It's not ALL Brady...
It's an interesting debate, regardless. Brady is absolutely up there, though.
Is that a DJ face morphed into a Grumpy Cat scowl on the right? Brilliant.
You have lived life to the fullest DJ. Marion and President Harding are proud.
Dunno, but I've seen a lot of Sloppy people on High Street.
As an 11W member, you really get the shaft for potty humor.
Also....penis.
You may not be bitter but you sure are salty.
Would be better if his name was Colby Buffalomeat
So are all of our commits signed now? I count 20, with possibles Tufele, Munford, and Wilson still on the table.
He'll drive himself to games??...
Except for the getting totally shut down in the biggest of game of the season thing...
LOL - shame on the person who's taking that pic??