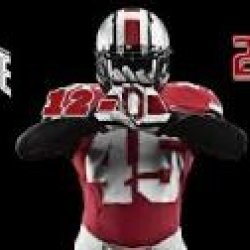 ATT2121
---
from Portsmouth, Ohio
Member since 17 January 2013 | Blog
Helmet Stickers: 721 | Leaderboard
Favorites
SPORTS MOMENT: Watching the Buckeyes beat The "Unbeatable" Miami Hurricanes! Epic night.
COLLEGE FOOTBALL PLAYER: Eddie George
COLLEGE BASKETBALL PLAYER: Rickey Dudley
NFL TEAM: Bengals
NBA TEAM: I follow former Buckeyes, no favorites
MLB TEAM: Reds
Recent Activity
Coolest thing I've seen all day!
Meatwad gets an instant upvote. Well done, sir
When will ESPN be airing the segment where Desmond Howard talks about them dishonoring their family names? I don't want to miss Herbstreit's or Howard's comments.
Great post! It always bothers me when the justification is something along the lines of " I could win with that talent!" or " He did more with less". Talent doesn't just walk in the door and win games. Great coaches not only recruit the great talent, but mold that talent into a great team. IMHO it's more difficult to have talented players put aside their egos and come together then it is to make subpar athletes play above their ability for one season. The fact that Jim Tressel didn't win a COY is beyond ridiculous.
Hearing the "prayer" clip reminds me how thankful I am to not have to listen to that awful announcer from Northwestern. So thankful the BTN got rid of him. Don't remember his name because my psyche has forgotten him as a protective measure.
Impossible! No rational person would ever leave the SEC for the lowly, slow big ten. Right, ESPN?
edit: you said Les "rational" Miles? It's possible
What a beautiful day. Sun is shining and Michigan still sucks!
How is it possible to grow up in our beautiful state and be a fan of Wisconsin!
does not compute
Because Wetzel is a hack?
Praying for a quick recovery and a ferocious return!
Just wanted to add that I hope the old saying is true. A lie is half way around the world before truth gets out of bed.
Get home from work to find this out! I was very angry about the whole situation yesterday and I prayed for the truth to come out. Whatever it might be. After overreacting yesterday, I'm going to let this sink in till morning.
Thank you for the smile. It was needed today.
Just dumbfounded. The season hasn't even started and the team is imploding. Where were they during the days spent on life building skills and decision making?
No problem, just a personal pet peeve of mine. Also, there is no gun registry in Ohio. The gun possession may cause further charges, just not for being unregistered.
No disrespect intended, but please stop calling the gun an "assault rifle". It is a pejorative remark that is wholly inaccurate.
I stuck up for Ray in the apology thread and I would do it again, but there comes a time when actions speak louder than words. I hope he uses the time he's facing to turn his life around. My thoughts and prayers are with him.
I'm hopeful that every Buckeye will have a breakout year, but if I have to pick one it is Noah Spence. I can see Washington and Spence bringing back the disruptive qualities of Vrabel and Finkes. That my friends would be awesome!
Praying for a full recovery for Grant. Awesome story, thank you for presenting it!
Happy Fourth of July! Heading out to a family barbecue and I hope you all have a safe night. God bless America!
Only in the land of unicorns and pink bunnies. 100% correct Hove, we are truly blessed to have 11W. I still can't believe that this site is free. Almost feels like we are taking advantage of this great site.
That video doesn't instill a lot of confidence. Hopefully he will end up a Buckeye in the end.