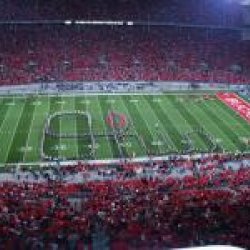 ATLBuckeye09
---
Member since 11 December 2012 | Blog
Helmet Stickers: 381 | Leaderboard
Favorites
SPORTS MOMENT: Cie Grant Slinging Ken Dorsey to the ground to win The Ohio State Buckeyes the 2002 National Championship!
COLLEGE FOOTBALL PLAYER: Archie Grifin
COLLEGE BASKETBALL PLAYER: Greg Odum
NHL TEAM: Red Wings
NBA TEAM: Pistons
MLB TEAM: Tigers
SOCCER TEAM: WHO CARES!
Recent Activity
It will happen ad Spartan Stadium and I will be there on Nov 8th!
It's rather simple: This had nothing to do with Rutgers & Maryland's competitiveness in the B1G. For BTN to be on the basic plan and also get the highest payout per subscriber in NYC & DC markets, which are both in the top 5 nationally they had to have conference schools within a certain geographical distance. BTN is far and away and will continue to be the #1 conference network in America. eSECpn and their new seCheaters network along with Longhorn network can't even come close to the reach that BTN has already. They are years behind this move started in the mid 2000's! What many don't realize is that the B1G has 49% ownership in BTN. The 51% is Fox Sports. When FS1 gets on a level of competitiveness with eSECpn which will happen then BTN and the B1G will be that much more powerful! Roger Ailes built Fox News into the #1 cable news network in America. When it came out in the mid 90s everyone laughed but they are not laughing anymore. Roger Ailes will do the same thing with what people are laughing at today on FS1. The combination of the B1G's partnership and foresight along with FS1 will make the B1G the strongest athletic conference in America and the seCheaters have no way to stop it!
This was all part of the plan for getting Rutgers & Maryland. To get on a cable providers basic plan as a college specific network you have to have a team local to the area. This also allows the B1G through BTN to gain a whole LOT more $$$$$. They get a bigger payout per subscriber. This makes BTN and the B1G so much more powerful. So eSECpn and your crappy azz Longhorn Network to go with the new seCHEATERS channel will all be way in the rear view mirror of the B1G and BTN! Wait until FS1 gets up their act together in 5-7 years and this will make the B1G so much more powerful! And it will happen! Roger Ailes was laughed at when he started Fox News Channel and it is now by a long shot the #1 cable news network on TV. He will do the same with FS1. I say hell ya and Go Bucks beat scUM!!
Yes exactly!! And after the loss to App State he famously said.... "I would rather lose to App State than tOSU." I always say hey idiot you went a combined 0-5 vs. App State and The Ohio State University!
I wouldn't worry at all about it. UFM in his career both at FL and tOSU has had top 5 recruiting classes every year. Let me remind you that when he was hired our 2012 class went from outside the top 25 to number 5 in the end and that was with a little over 2 months of time left int he cycle. Every school goes through a quiet period. It just happens because the players they are targeting are not ready to announce.
Trust in UFM. By the way this kids response to what is different is what most kids say about tOSU. The family atmosphere. I know how Auburn recruits. They cheat plain and simple. Outside of Miami no school has had more trouble with the NCAA than Auburn and it won't change.
Thumbs up to you Furious George! That made my day reading that one. An up vote for you!
With his speed, footwork and lateral movement I can see why Urbz and company want this kid. He is the real deal. Great news about how impressed he with tOSU!
I agree with what you wrote about the offense especially about Dontre & Curtis Samuel. I think Samuel is going to be a sure fire superstar! I don't agree with your take on the LB's last year. I thought they were good in run support but absolutely horrible in pass coverage. That was one of the reasons our safeties & corners were exposed because of the play or lack there of our LB's. I also believe there was an issue with Vrabel and how he wanted to play the DLine over the course of a game. He wants to play the best 4 and that was it. In college you can't do it that way. I would loved to have seen Jamal Marcus play a lot more last season. Don't get me wrong I like Spense a lot but Marcus has an engine that just never quits. He plays all out for 4-6 seconds every snap of the ball! We shall see if the LB play helps the secondary play in 2014. It can't be any worse. On the other hand if it doesn't get better then tOSU will not contend for a spot in the playoffs much less beat MSU on Nov 9th in E Lansing which is the game for the eastern division this season.
I have said since pretty early in the season Dunn would be one of the transfers this year. Fron what I heard he refused to play special teams this past season and that did not please Urbz. Is this correct Jeremy? If so I would imagine he is not in a good spot with Urbz.
Come on you guys know the narrative that is coming. Look at the patsies and cupcakes on that schedule. Navy I mean Navy they don't even play in a real conference and Maryland they stink and are a basketball school. Cincinnati they play football? Oh and Virginia Tech they haven't been good since they had Michael Vick. Now last year VT & Maryland because they were in the ACC and it helped FSU then those teams were good enough. But for the next 2 years VT sucks, Maryland & Rutgers will always suck because now they are in the B1G. This is what is coming from eSECpn & seCBS and the like. Just get ready for it because with a 4 team playoff they want to do whatever they can to keep the B1G out and make the SECheaters get 2 teams in the playoff.
I agree 703 on losing any other assistant before him. But a close 1A is Vrabel! Our lines are coming close to being SEC style O & D Lines!!
Exactly! I sat there in the stadium thinking the same thing about that swing pass in the flat to Hyde. That is not his game! Play calling all night was below average at best! They better go back to the drawing board and take an honest look at the play calling. And now I sit through another year living in SEC country having to listen to their crap again.
Sitting in Lucas Oil Stadium last night watching that game was so hard to do. I had a confident felling all week. Looking back it was overconfidence because all tOSU has done for 2 seasons was win. I also sat in Memorial Stadium in Berkley earlier in the year and I said then this not a NG Defense. I said all year this defense would cost us a game. I say now thank God it happened last night instead of in Pasadena on January 6th! I believe in what Urban is doing with the program and I know this is not what he expects of a defensive system that wins NC's. I do believe that there are changes coming to the defensive coaching staff. All the slamming of Fickell (and rightly so) leaves me wondering what about Everett Withers?? He is Co-DC and safeties coach!!!! Our safeties are consistently caught out of position and scrambling to catch up. I too am done with Roby and say good riddance!!! Although he seemed to tackle much better last night. Leading to me to ask why hasn't he tackled like that all season? Bosa is going to be total monster for us & Spence is good but MUST step it up more next season.
One of the most arrogant fan bases in the entire country has been completely humbled! They are not only TOSU's Bitch but MSU's as well. This is to funny! I grew up in Detroit and lived through the Cooper years. I can't wait to visit at Christmas as I wear my Ohio State gear! Muck Fichigan!!
And Georgia Southern completed a total of ZERO passes in the game! But the SEC is so damn good. They just beat up on each other! That's why their the best conference in football. And Florida was preseason ranked #10. What a fraud that conference is!
I truly believe there is more at play here than just Baylor is a better team because they have played a tougher schedule which to this point is very debatable. Oklahoma has as usual proved to be overrated. The powers that be at ABC/ESPN and CBS have a great disdain for the B1G because they know it is more powerful for 2 reasons.
1. BTN is far and away the best Conference produced network and will continue to be so as they are the standard for such programing.
2. The fact that BTN is owned 51% by Fox really pisses them off!
You see they know that the B1G has more money than the conferences that they have aligned themselves with over the past few years. They also know that just like when Fox News came on the scene in the mid 90s and was a joke that in the future FS1 will be a formidable competitor to ESPN. Roger Ailes built Fox News into the most powerful Cable News Network in the world in less than 10 years and he is going to build FS1 into the same entity.
All of this means that the B1G with all of their money will be more powerful as time goes forward. Throw in the fact that B1G teams are being forced to step it up on the recruiting trail by one Urban Frank Meyer as well. They know with all of that this is the last year they can keep tOSU out of NC Hunt and so they are going to do everything in their power to do so. Does anyone truly believe that Wiskey deserves to be ranked where they are today??? Or even MSU for that matter. We all know MSU would wipe the floor (to use a line that is very popular this week) with South Carolina, Clemson and the like with their defense.
This is why you see ESPN commentators openly discussing tOSU being passed over by a 1 loss Stanford team (opps forgot to think that maybe they weren't that great already having lost to Utah) or Baylor the entire 4th quarter until of course El Guapo did his stuff late in the 4th. They will do their best to keep tOSU out of the NC Game this year. I mean and ESPN studio person really did say that the Utah loss shouldn't be factored in because Stanford didn't play Stanford football that day.
There is a true national bias going on here. But next year they can't stop it! I believe unless tOSU is the only undefeated team (sans Fresno St. & N. Illinois) they will be jumped by a 1 loss team.
We're going to kick the living hell out of that team in November and I can't wait to see it!!!
I grew up in TSUN and went to MSU because out of state tuition was to much for me and my parents to make happen back in the late 80s. So I always root for Sparty except when tOSU is smacking their azzes all over the field or court! You got to love Sparty because they have such a healthy hatred for scUM & they get it! But I do give my Sparty friends a lot of crap and even more now that they hired The Walrus to be O Co-ordinator.
Be Careful what you wish for man. Texas has it all. Whether it be Saban or some other high profile coach that program will be on the rise again and A&M will be 2nd fiddle as they always have. A&M may be on top but trust me Texas rules that state and that state is as deep with $$ and talent as any state in America. Be very careful what you wish for man.
Contracts are made to be broken. You think Saban is stupid enough to have his butt locked down 100% for the next 7 yrs. Not that control freak man!
Be Careful what you wish for man. Texas has it all. Whether it be Saban or some other high profile coach that program will be on the rise again and A&M will be 2nd fiddle as they always have. A&M may be on top but trust me Texas rules that state and that state is as deep with $$ and talent as any state in America. Be very careful what you wish for man.
As always the SEC cheats and it is no big deal!
I love that picture! However I would make 1 change. I am sure Buckeye Nation remembers opening weekend of the 2007 season when Henne, Hart, Long and company (who all said we came back for our senior season to win an NC) lost to App State lil punk Hart famously made the following quote after scUM suffered the worst upset in college football history at the hands of Appalachian State... "I would rather lose to App State than Ohio State." I always say hey jagovv what was your combined record vs. tOSU AND App State?? That would be 0-5 Loooooser!!!
The question needs more detail. There are many levels of battery. You can shove someone and they don't fall down, have any injuries or loss of blood etc and still be arrested, tried and convicted of battery. So in that case I would say no. But if you beat someone up or cause them some bodily harm where they can't work or have to be in a hospital etc. then yes!
USC fans have always been stupid! Back in the late 80's I went to school at Michigan State. I grew up in tsun & out state tuition was more than I and my parents could handle at the time. When I was at MSU tOSU was in the last years of Earle & the transition into the Cooper years. So tOSU was not strong in football and those were the glory days (as they say in E. Lansing) under Perles with Lorenzo White & Andre Rison. In 87 MSU won the B1G and went to play in the Rose Bowl vs. USC. Now these two teams met earlier in the season. On Labor Day night at Spartan Stadium with Keith Jackson calling the game on ABC MSU won. MSU narrowly beat USC in Pasadena on Jan 1 1988 with Rison making a brilliant catch on the game winning TD drive.
Anyway on the way out of the Stadium we were talking smack to USC chicks since MSU beat them twice that season and their reply was "well we've got more money than you do." Like that can ever be qualified. I mean the comment was so ridiculous we didn't even know what to say to them.