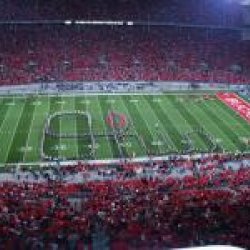 ATLBuckeye09
---
Member since 11 December 2012 | Blog
Helmet Stickers: 435 | Leaderboard
Favorites
SPORTS MOMENT: Cie Grant Slinging Ken Dorsey to the ground to win The Ohio State Buckeyes the 2002 National Championship!
COLLEGE FOOTBALL PLAYER: Archie Grifin
COLLEGE BASKETBALL PLAYER: Greg Odum
NHL TEAM: Red Wings
NBA TEAM: Pistons
MLB TEAM: Tigers
SOCCER TEAM: WHO CARES!
Recent Activity
He's going the NFL route IMHO.
I'm disappointed like everyone else however these are the rules as they are written today. Remember these are young men and they make mistakes. However they need to learn that life is about choices and there are consequences that must be faced when you make a mistake. It's not like he had no idea what the consequences were for a failed drug test not to mention a second failed drug test. tOSU is still honoring the scholarship so they are standing by the young man and helping him get his life straight. I just hope he has learned his lesson and also remembers that his poor choices had ramifications on others like his family and teammates. I wish Noah Spence all the best and he is and will always be a Buckeye.
Nothing to see here just move along is the team motto of the Criminoles!
I wouldn't worry TXSBuckeye. Urban is the master of watching for trap games. But what I believe has been pounded in this week and will be what Urban will coach them to do is the following... This game is a common opponent with TCU. They had MN on their home field in warm weather and won by 24 points. I see Urban sending a message and winning by more than 24 on the road in bad weather. I really like and root for Jerry Kill as you have to love that guy! But today with our talent level being so superior we will run the ball on this team. That will be set up with effective play action. Trust in Urban this team has a chip on its shoulder this season. Go Bucks!!
As great as JT was it was the OLine that gave him the time to do what he needed to do to showcase to America what tOSU is right now. We have now seen the vision of Urban Meyer's recruiting and planning. Speed everywhere and more weapons than any defense can ever stop!!
Now eSECpn will start with.... TX A&M is really a quality team and one of the many that are in the SEC. Hey look American they beat South Carolina on the road to start the season. Now I know they barely beat Louisiana Monroe last week but they didn't play TX A&M football last week so that can shouldn't count. They need to be in the mix here!
I'm realistic and I believe whether tOSU or MSU wins out neither team will make the 4 team playoff. I know there is a lot of football left to be played. However I believe that it will be 2 SEC teams, FSU and either ND or Oregon. But the backlash that will come from it as it is building will carry over to next year. I believe 2015 & 2016 are the years tOSU will make the playoffs. So it is imperative that Urban leads this team to a bowl victory this season no matter what else happens. Can tOSU win this game in EL yes they can and should they pull off the upset because they are the underdog and go on to win out then it sets them up as a top 10 team starting next season. That is all they need as they are going to punk VT to open it up on National TV on Labor Day next year.
I agree Tenn. I don't think he comes here either. Just telling people what the scUM fans and local sports are trying to spin.
This is being reported in Detroit as well. Speculation on here (take it for what it is as it's is scUM nation) is that Jim Harbaugh would not come here if Brandon was AD. We shall see.
I am in Detroit right now and local CBS sports radio has confirmed the presser with scUM Prez to discuss Dave Brandon.
Slumlord you're right on man! I watch BTN and believe they do a good job with the Pregame even though Dinardo is a moron most of the time. Revsine does an excellent job IMO. I watch games that are relevant to tOSU on eSECpn and that is it! I haven't watched SECports Center in at least 10 years now because it's bogus hype. Nothing on eSECpn is worth watching anymore unless it's relevent to my teams. I won't even be watching the playoffs as I know the B1G won't be there and it will be an eSECpn slobberfest. I get my fix on the net here at 11W and other sports sites away from eSECpn. The bias is just to much to listen to anymore. I also say give Fox Sports 1 & 2 10 to 15 years they will not only compete with eSECpn but over take it! Everyone laughed at FNC when it came on the scene in the mid 90s. CNN was so arrogant they said no way will this ever be a relevent cable news channel but Roger Ailes made it the most dominant news channel on cable tv by a wide margin. He will do the same thing here as Ruppert Murdoch has $$$$ to burn.
I have always called him D*ckhead DezMond because he is just that a total D*ckhead! And the infamous pose in the end zone vs tOSU was not only classless but stupid! He did it with the ball in the wrong hand because he is that stupid!!!
I hate the eSECpn teams as much as anyone. I too think the Mississippi teams being talked about as great because they are the only unbeaten teams in the eSECpn now is total BS since those two teams have A) been irrelevant for decades and B) they have as it was pointed out, played no one in non conference. I also think beating Bama this year is not as big as it was two years ago as they are just living on past reputation. With that being said if the B1G wants to be able to say what's the difference between us beating up on our own conference teams and the eSECpn beating up on their own concference teams then B1G teams need to win our out of conference and bowl games vs Power 5 conferences on a regular basis especially the ones vs eSECpn teams. It's that simple! Case closed and as bad as it sounds the truth is over the past decade plus the B1G has not done that enough to be able talk about our conference. I was at both the Florida & LSU NC games and we crapped the bed on the biggest stage. Since then we have not done well on the national stage and Urban HAS to change that result. I believe starting with the last 7-9 games of the 2014 season you will see it start to turn for tOSU! Go Bucks beat PSU, beat MSU, beat scUM, win the B1G Championship and make it happen in post season!!!!
Leave it to Urbz!! Welcome back in the fold your man!
Spot on FatPants with the gif!!! Up vote for you my man!
I believe because of very wealthy donors and his buyout Brandon Stays but cHoke is gone end of the year when scUM misses a bowl game.
Bert just pulling a Bert. And I was rooting for Bert. Can't believe I am posting that one.
Exactly Andy! In the South it's a badge of honor to cheat in football recruiting. They love that all their teams cheat. They say it loud & proud if you're not cheating you're not trying to win.
Mobboss I agree that the eSECpn conference is exposed this year and that tOSU needs to shore up the D but how can you say the Miss State & Ole Miss are impressive when they have beaten no one of worth this year?? I watched Auburn/Miss State yesterday and Miss State tried to give Auburn that game. Yet what is the eSECpn headline today just as I knew would be Miss State should be #1 team. What a joke. The B1G is way down yet again but the eSECpn is crap compared to what they have been in years past. Read the post man the quality of their wins is not strong. Their non-con victories are nothing to speak of this season.
Don't even go there on what the President makes as I can documentment how his net worth has gone from a little over 1 Million before taking office to double digit millions all while Americans still suffer!!
No surprise here. I said all last year that a cover up was under way. But of course the good ole boys in the south could care less about anything but winning at all cost!! Yet tOSU lost scholies and was banned for some memorabilia for tatts. What a joke!!!
Down vote by accident with my fat fingers on this iPhone.
Of course it will work out. He plays in the SEC brought to you by eSECpn!!
Trust me when I tell you Miles has worn out his welcome in Baton Rouge. I see him in A2 next season. Be careful what you wish for scUM fans. He is a total jacka**. While he may be a *ichigan *an he is a scumbag and cheats big time!!