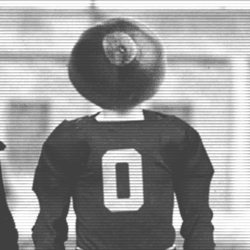 Ashtabula
---
Member since 20 July 2012 | Blog
Helmet Stickers: 245 | Leaderboard
Recent Activity
He might prefer that to dropping the r for a c.
Thank you. This spring was going to my 7 year old's first trip to an OSU football game. But, when I factored in the $20 tickets coupled with the 3 hour drive and night in a hotel, it just didn't seem worth it to me. I probably would have spent $500 in hotels, merchandise, food (Hound Dog's Pizza!), visit to COSI, etc. By the time the price changed, it was too late for us.
Ultra-competitive person...while in Little League through high school he would beg people to hit him ground balls for hours. He would wear people out with his work ethic.
While in high school, he called out a few of the assistant coaches because he felt they were not putting forth full effort.
Urban being Urban.
No special stories about current players, but I have had the chance to have a few beers with Urban over the years due to having mutual friends. He tells some crazy stories about his coaching experiences and stories of him as a youth in Ashtabula are legendary.
This is a very difficult read for the QB to make. It takes hundreds of live reps to even get close. Plus, the read is worthless in the NFL. This is why any QB in a spread offense that "stays" in college to improve their draft stock is kidding themselves. Don't get me wrong, I think the offense OSU runs is perfect for college and Urban's job is to win games not prepare QB for the pros, but these are the concerns players like Gibson and others have about choosing us over more traditional offenses.
I kind of figured somebody would bring up the Kentucky example. I would argue they are simply playing harder because the games matter more to them now. I think Kentucky actually proves my point, great players without chemistry can achieve great things when they are motivated. When the lights come on, players play.
Agreed. Plus, most that make it professionally have short careers and make a lot less money than many believe. We get blinded by the huge contracts ESPN reports.
Chemistry is overused and overvalued. Give me 5 competitive, athletic guys who have a high basketball IQ and I will beat your "chemistry" team 9 out of 10 times. Athletic, competitive players who understand the game don't even need to like each other..hell, I'd argue they don't even need to have practiced together.
In my humble opinion, here is the problem: 95% of the athletes who play football and basketball get fair market value for their talent when you consider the cost of all the things an athletic scholarship affords them. Imagine how expensive it would be for a non-scholarhsip student to hire unlimited one-on-one academic tutoring or unlimited access to state of the art trainers and facilities to prepare them for their future careers. However, what do you do with the other 5% who are undervalued? How do you provide extra compensation for Braxton Miller while giving nothing to Jack Mewhort? Plus, how do you provide extra compensation for football and men's basketball while providing nothing for the other scholarship athletes of other sports?
Back in the day, I could go to the bathroom AND grab a beer before the commercial was over.
I would expect next year's team to be fairly similar record-wise with this year's team. Good at times, bad at times, but usually competitive, even against the best in the country. And, if we could add a big who can take some minutes away from our current ones, then I think they might be able to make a run come tourney time.
I totally agree players should turn pro at their first chance, their window of earnings is small. And, don't give me the crap of "improving their game". Players improve when they have full time coaches and trainers assisting them for hours a day. This does not happen at the college level due to NCAA restrictions on practice time, both in-season and off-season. This is also why the complaint about Matta's staff being unable to improve shooting for his team has multiple holes in it.
This would be a huge pick-up but Duke seems to be the rumor around his AAU circle.
I have them exiting the tourney at the same time as you, but teams that have multiple shooters are always going to be tough outs.
Have you already found some mud to sling at Tecumseh for the next round?
So far this afternoon I have voted for the best Ohio sportsman and worried about cover 4. After this post, I am reminded that it is people like you that provide me with the freedom to do those silly things. From the bottom of our hearts, thank you for your service.
Great write-up. Here is what worries me about cover 4 with this year's team; inexperience in the defensive backfield since pattern matching is easier said than done and lack of a stud mike linebacker since they must be able to "clean-up" the mistakes of others, especially when playing from a 4-3 base.
I couldn't read this article without singing the tune. Call me weird or old, but I actually like it and I hope that CBS doesn't make the same mistake so many other producers make and try to "update" the song.
The 10 people who voted for Buster over Jack must have had fat fingers...or are all named Tiger.
Urban is disqualified because his hometown of Ashtabula must be too close to heaven, thus not meeting the born in Ohio requirement.
NCAA restricts the hours players can work with coaches. It is very difficult for a player to improve his game dramatically while in college. The greatest leap in skills usually occurs in the first few years in professional basketball since these players can put all their time and energy into the game with coaches to help. Q is most likely destined for Europe and staying another year probably won't change it too much.
I think Urban beats Buster Douglas in the play-in game.
Extra whip cream on your dessert island for those hollywood starlets...with sprinkles?
Mike's pass responsibilities are fairly easy in most coverages...it is the "fast flow" to the football that worries me. And, that is not just speed, but read and react.
I agree with your first two tandem assumptions, but do you have any knowledge to back up that Ash will be running the show?