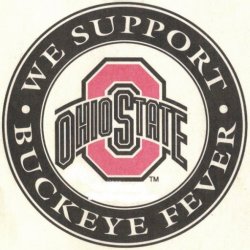 Art Harrell
---
Member since 27 August 2013 | Blog
Helmet Stickers: 54 | Leaderboard
Favorites
SPORTS MOMENT: Every time we beat ttun.
Recent Activity
Good luck Kenny G. from the Buckeye Nation
Great idea---hmmmmmm better put a guard protecting it---I can see someone from
the Buckeye Nation making a mid-nite-visit-----Go Bucks
I'm in Florida, read about it in the Tampa Times Sports page---Get Well Soon Coach--screw the gators--Go Bucks
Another great article DJ. I'm 67 I can handle another 15-18 years with Urban as the skipper at Ohio State.Go Bucks
Mark May will rant and rave for a year about the 8 seconds, Lou Holtz will keep telling him how to stupid he is--Go Bucks
Bert is a dick will always be a dick. Go Bucks
they Sux and will always Sux--------------------Go Bucks
Bert is a class A-dick--he coached as a -dick he will die as a -dick----> Go Bucks
It's not fun sitting on the bench waiting for 11W, to remove the black stripe---Go Bucks
I was at the ball game. I'm a O.U. alumni. But I'm 150 % Buckeye. I about shit when Rufus jumped on Brutus,
the rest is history Brutus 1-Rufus 0------------->Go Bucks
I have no dog in this fight, but when mother is not happy nobody is happy-good luck to the whole family
Go Bucks
WOW !!!! another super article Brim
another great article 11W--Go Bucks---------always liked Pete Carroll
waiting for Tress,still have a sweater vest that still has some life in it-Go Bucks
Wow!!--this young man will hurt you--Welcome Ben--Go Bucks
I live in Central Florida--I get Hormone Therapy adds from Tampa Rejuvenation -I clicked on
it to help 11W staff
My prayers to you Mike and your family. Good luck. The Buckeye Nation will always be thinking about you.
Another great article by Kyle and 11 WARRIORS
ELEVEN WARRIORS ROCK THE WORLD
Like the larger font size,I'm a old Vietnam vet--I will adapt to the new format-Go Bucks
Welcome to the Buckeye Nation Slade.
Question, who will make the final decision what players will be on the field ?
Wow !! Super story Ramzy--enjoyed reading it--I'm 67 years old made me feel good reading it
Be afraid Dantonio be very afraid.Urban is coming after the best of the best--Go Bucks