arnie_palmy
---
Mount Vernon (via Groveport)
Member since 23 February 2014 | Blog
Helmet Stickers: 145 | Leaderboard
Voting Record: 174 / 6
Born and raised a buckeye, my dad taught me the fight song before I was one year old. My great grandfather helped build the shoe and they played Carmen Ohio at my grandpa's funeral. I am a major fan of OSU football and basketball. Go Bucks!
Favorites
SPORTS MOMENT: Watching Zeke break his long TD against Bama.
COLLEGE FOOTBALL PLAYER: Braxton Miller
COLLEGE BASKETBALL PLAYER: Aaron Craft
NFL TEAM: Redskins
NHL TEAM: Blue Jackets
NBA TEAM: Cavs
MLB TEAM: Nationals
Recent Activity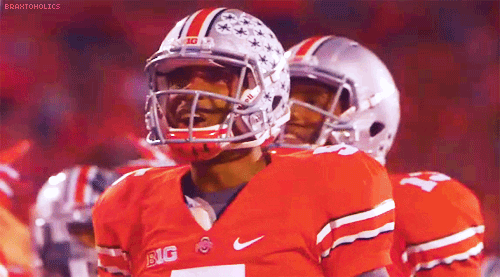 Tress stays, no bowl ban or loss of players, we win one more NC under him.
1. Bama
2. Wisconsin
3. MSU
4. Oregon
5. PSU
The Sugar Bowl this past season was my favorite game of all time, any sport. I knew we would beat Oregon after that game, so the NC was not nearly as exciting for me as that game. The Wisconsin and MSU games were also more exciting for me because they allowed the team to get into the playoff. Watching such a sloppy first half turn into a solid defeat of MSU was amazing. Seeing the team dominate Wisconsin in the B1G Championship was just unbelievable. I was at the scUM game, and it was just depressing for me to watch JT go down.
Possibly my favorite comment of the year so far.
Byers is the worst. Got them to knock about $800 off of my FJ the day before I bought it, only to come back the next day to find out they would only go down $500. They almost let me walk out over $43.
We had the potential to beat Bama by a good bit more than we did. Then again, we could have beaten Oregon worse than we did also. I'd say Bama would have beaten Oregon by 10.
I can think of another young man that many seem to forget... Made many, MANY incredibly satisfying plays.
This is most certainly true. A lot of the people that I talk to attribute the missteps (wrongly) of the 2013 team to Braxton. A good deal of the time the kid was playing balls to the wall. Had he not missed those three games he very well could have won the Heisman. Insert the numbers Guiton collected during his three starts into Braxton's stat line and I think it would have made a better case than Winston. The reality is that the defense was no where near what it was this past season. A quarterback cannot make up for a defense that gives up a lot of yardage/points all the time. In many cases, Braxton (along with Hyde) did make up for the horrid defense such as in the game against TTUN. If you look at this season, there were many times when the defense would step up and get the other team off the field. This was not the case in 2013. Even mediocre teams would have ridiculously long drives against us. This isn't even mentioning the fact that the offense as a whole was more skillful this year after the first few games. As everyone has said, any of the QBs can do the job, but there is really no reason to assume that Braxton wouldn't do at least as good as the other options.
Bennett came in along with Braxton in the 2011 class. Heacock was his recruiter I believe.
It may be because I am at the half-way point of my weekend night shift, but this comment had me dying of laughter.
Let me preface this by saying that I would love to see Braxton 100% and starting next season. That being said, the answer is JT and it is not even close. Unless you are another Devin Smith, Cardale would not be the best guy to throw to you. JT makes his reads, that boy is cerebral. He can check down and find the open guy. He can thread the needle. If I am a WR at OSU and not a pure deep threat, I want JT all the way. JT had roughly 62% completions, 300 yards, 3 TDs, and no interceptions against a great secondary at MSU. Cardale had 51% completions, 243 yards, 1 TD, and 1 int against a great secondary in Bama. The Sugar Bowl was one of my favorite games of all time, but I am sick of the "what have you done for me lately?" view on the QBs. Yes, it was Cardale's second start, but the offense was also much more fluid and the team was much more fired up at this point. JT completed almost 5% more of his passes throughout the season, and this includes the early games where the offense was not clicking as much and Zeke wasn't getting 200+ yards rushing per game. Another fun fact, JT had a 7% higher completion rate during away games this season. Mike Thomas, Jalin, anyone who wants a good amount of targets has to be thinking Barrett.
Since Cardale will be the only QB with a realistic chance of starting that is healthy, I doubt there will be over like 85k. If Braxton and JT were healthy, then this would probably be the most interesting spring game in the history of college football and could have broken 100k.
Great analysis! A lot of this got overlooked because of the caliber of games that Cardale was winning. I'm more of a Braxton/JT guy, but this Spring should provide Cardale plenty of opportunities to gain more of a mastery of the offense should he start this season.
I was already standing since the Spencer-to-Thomas connection (damn OCD/superstitions). As soon as Zeke hit the hole I started progressively louder shouts of "go... Go... GO!!!" As soon as they showed Saban I gave him a double bird, hugged my buddies and my dad, and proceeded to dance tear-eyed around the room. I was giddy as a school girl. It was one of the most exciting moments of my life thus far and definitely the most exciting play in sports I have ever witnessed. I will never forget that game, and I will never forget the moment when #15 stuck an 85-yard fork in the SEC.
When I was about 14 years old, I got one of those Steve & Barry OSU pleather jackets. It was like my prized possesion. I went to the 2005 SCUM game and a tailgating fan made fun of me for about 10 minutes straight on a megaphone for wearing a pleather jacket. A fully grown adult probably in his 40's making fun of a middle schooler.
I also think that with the information we have right at this moment that JT would give us the best shot. But after spending all of last spring with a headset, and the extra QB coaching that braxton got in the summer, he was supposed to be greatly improved this past season. We just never got the chance to see it. If braxton has made that great of strides in his reads and he gets another summer with the QB coach he was working with he could be scary (even more so than before). If Braxton has really improved his passing game as much as it seemed going into camp last season and he is 100% going into the season, then I would put my money on him carrying a third big ten player of the year and a Heisman trophy into the 2016 NFL draft. Those are pretty big ifs though.
Exactly! There is so much recency bias, especially with Cardale. Cardale is a great QB, but people seem to forget how good Braxton has been over the last few seasons, or even how good JT was during the regular season. Cardale had 6 TDs over the last 3 games. And while they were against great teams, JT had 5 in one game against an equally great MSU defense. Regardless of the QB we are set for another run this fall, but I just wish people would stop forgetting about JT and Brax.
Pure athleticism, not counting weight, etc. It would have to be braxton. The man ran a 4.32 two seasons ago and has a change of direction that jukes people out of their shoes better than anyone in the country.
I agree! I was very pleasantly surprised to hear he was throwing this early in the year.
If a player who has been a steelers fan his whole life gets drafted to the browns, you are not going to see him working out in steelers gear shortly after. And players don't get to choose what team they are drafted to. Recruits choose their own schools and Weber signed with THE Ohio State University. 17 or not, if he has been a TTUN fan he knows the rivalry. You would think he would have a little more pride in the school he just signed with, kids are usually obsessed with showing off their new destination. These kids dream of being on the big stage, so they are watched whether they like it or not. This is a lack of common sense at the very least. This could lead some to believe he chose OSU for all the wrong reasons. Even at the D2 level where I played we weren't supposed to wear ANY other college gear. Didn't matter if it was a D1 team that we would never play.
This Cass Tech HC must be a little dense to throw OSU under the bus like this. It only reflects well on his program when his players go on to play for great OSU teams and have the opportunities to play for championships. It certainly looks better than his players going to TTUN and losing to Akron or Appalachian State. The fact he has responded the way that he has comes off as incredibly ungrateful. These coaching changes happen all the time, and it is looking more and more like the offer either happened after Weber had signed or Urban had little knowledge of it. Don't like the reaction of Weber or his coach. He signed with the defending national champions, it's not like we will get a bad RB coach.
OSU was the right choice for Weber PERIOD. He needs to realize that. Although Harbaugh may turn the program around a little, I VERY seriously doubt that TTUN will even sniff a national title during Weber's collegiate career. Look at what Zeke's legendary last three games did for him, he's now the heisman frontrunner and his draft stock is about as high as it can be going into his junior year. Weber would potentially have that opportunity for years to come at OSU. If he wants to go pro, his best bet is the Bucks, regardless of position coach.
Let's not forget Braxton. Second fastest on the team during the 2013 season behind Roby (he ran a 4.32 I believe). So if he is playing and at full speed he will be in the top three at the very least.