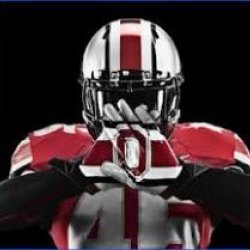 Armybuck925
---
Member since 27 March 2013 | Blog
Helmet Stickers: 127 | Leaderboard
Favorites
NFL TEAM: Browns
NBA TEAM: Cavaliers
MLB TEAM: Indians
Recent Activity
I sincerely wish him and his family all the best. Having family illness is a tough thing to deal with. Especially when you are half way across the country and wanting nothing more to be closer to the situation at hand. Good luck Mike!! Make sure that all those Red Raiders get to see "The Abusement Park" that we wanted nothing more than to see!
You know it is gonna be a LOOOOONG off-season when the most interesting thing in college football is the Northwestern unionization! Can we please get some additions to the commit list soon...
I read the book in Iraq. Definitely made me more cognizant of complacency that was taking place and put an end to it...Luttrell is an amazing speaker and could motivate a rock to be more than it already is.
Just out of curiosity..is there such thing as an unattractive DG? Out of sheer boredom looked at several of their recruiting videos from around the nation and they were all HOT!!!
Did Philly's muff swing the momentum of the game..YES. Games change momentum multiple times throughout the four quarters. The people that hate on Philly need to acknowledge that they do not grasp the concept of Twitter. Philly has shown over the last 2 years of working with UFM what incredible pride and work ethic that he has. To take the challenge from Meyer after he had first worked with these receivers and develop into a dynamic receiver and become the epitome of what it means to be a possession receiver. During the Orange Bowl, Philly made a number of plays to keep drives going. Leave the man alone and appreciate all that he has given to this football program.
Really like the Hines video....but not all because of Hines. There are a couple of those kids on special teams that are complete nightmares as far as blockers. They were paving a four lane highway for Hines with some devastating blocks!!
Here is how I see the B1G quarterbacks:
1. Braxton
2. Stave
3. Guiton
4. Hackenberg
1001. Gardner
In that order!!
Carlos took this team on his shoulders tonight. For everything that happened over the summer, it appears that El Guapo gained a greater perspective in life. His performances last year were great...his performances this year have been great...what he has learned that he will be able to carry for the rest of his life is amazing. Buckeye Nation has and always will be proud of the growth that Carlos has displayed throughout his career at Ohio State.
Love this list!! Really shows how the Bucks are stacking up with the rest of the conference. The ability to have players at or near the top in nearly every category plus the coaching staffs ability to take care of business should make life difficult on opposing conference foes for years to come. With the new in-conference schedule coming the opportunity to be playing for the crystal ball annually is definitely an obtainable goal!!
Urban has made the 2-point conversion a priority and with Kenny G being able to run the offense the way he can makes it almost a no-brainer call. Kenny G has the accuracy and the legs to make life very difficult on opposing defenses even in the short yardage situation of a 2-point conversion
I have appreciated all of your insight Miles. Being away from the Buckeye state has been hard but being able to keep up with all things related to the Buckeyes that I love courtesy of all your hard work and dedication will be missed. Good luck in all of your future endeavors and thank you again!!
Welcome to the best Buckeye site in the Land!!....and the 2nd stall needs some more TP...
South Carolina and Clemson definitely know this bylaw. They sent a little mom and pop restaurant a cease and desist order for using the names of Clowney and Tajh Boyd for the names of his sandwiches. Cited this bylaw in the order to prevent them from being suspended. In the NCAA eyes, even if you don't know about it and do nothing because of not knowing about it, then you face a potential suspension...Wait...What?!?
Their reasoning...that is where the dart landed!!
Love the hunger that Berger has to rebound and excel. May all his recovery time be spent thinking about taking the frustration out on M*ch*gan.
Best of luck to Najee. Kent State has been on the road to becoming a respectable program for a couple years now and I am sure that Najee will help bolster that reputation.
I really like your pick. Grant definitely has the capability of picking the Buffalo quarterback off and taking it it the house.
This kid is the epitome of what it means to be a Buckeye...willing to work his tail of for the sake of getting better. I sure hope he is a preferred walk-on and gets rewarded with a scholarship for his efforts!!!
Agreed...who is gonna argue with Mewhort and Norwell especially