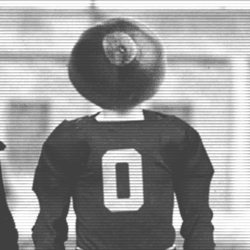 ARMYBUCK
---
Member since 14 February 2012 | Blog
Helmet Stickers: 168 | Leaderboard
Recent Activity
Man, that dude in the video with Dontre gives me the creeps!
Jamal Marcus. Cant Wait. Been a huge fan since his recruiting video. I think he has as much potential as anyone in the defensive rotation. Bring on "The Motor"
Thanks for the insight Meech. Hopefully you can get some of your football brothers to sign on to 11W and do the same type of write up. Its fascinating to see what some of you guys go through and how each story is different. Thanks for your time and look forward to seeing your preparation reap benefits on the gridiron. God Bless and Good Luck!
With you on that OHIOKRIS! Love those uni's!
Thanks as always for keeping us up to date Birm. Its a good way to end a "wet fart" of a weekend. I cant help but wonder how discouraging the weather this week is going to be for the likes of Kwon and Dixon. Its depressing enough for me and Im from here!
Easily our offensive MVP in my eyes as well. I would love to see Carlos with 30 carries and the buckeyes pounding the rock in the fourth quarter. I clearly think that gives the buckeyes the best chance. Also, appreciate the Raymont Harris flashback, He was a stud!
If you look at all the positive things Tress has done in the lives of his former players and basically anyone whos met him would you expect anything less from his own daughter? Me neither! God bless Tress.
Beth Mowens isnt even a 2 star in either category. To each his own though. Does anyone else actually watch the game with the volume down while listening to the voice of the buckeyes?
Thanks Birm, great article. When I see stories like this I try to keep my expectations grounded by thinking of Justin Zwick. I believe he led Orrville to a state championship his freshman year before transferring to Massillon. I remember a lot of hype surrounding him and deservedly so considering his accomplishments at the high school level. I hope this kid continues to handle success well and wish him the best, preferrably in scarlet and gray!
Oh how I vividly remember that night. I was on a deployment also and I got into a fight with an Alabama fan who decided he was going to be the spokesperson for the SEC that night...its over, Im ready to radiate with some weird energy.
An absolute masterpiece, DJ!
Bravo to you Sir Ramzy and bravo to E. Gordon Gee. Ive never been Politically Correct and I embrace E. Gordon Gee's "gaffes". What I dont like is the forced apologies. I would rather someone be themselves than conform to the 'status quo'. Great article Ramzy. Go Gee and Go BUCKS!
I was just listening to Sir Charles again and hes straight up pouting! He must have lost a lot of money on this game!
After missing the front end of those 1-1s he owed that one to his team. Gotta love the kid. GO BUCKS!
@IH8, I definitely thought that was Deshaun standing with Urban when I first looked at the pic.
Spectacular article Ramzy. Would this story be less appealing if you were melatonin deficient? Would it be perceived as a white guy just pounding his chest because he finally has someone to represent him in the game of basketball? Maybe... but this isn't a story about race. You hit a home run Ramzy.
It doesnt take watching all of the highlight tape to see with a little experience he is well worth the scholarship.
Jay Williams has Ohio State winning it all, Digger has them in the championship game, Bilas and Vitale each have them in the final four. When I look at Ohio States bracket I see the same thing, I dont see an easier road to the final four. If Craft remains aggressive and Q doesnt hesitate when he gets in the game I tend to agree with Jay Williams prediction. Its gonna be a fun ride! GO BUCKS! Oh, and I cant stand Seth Greenberg. Just saying.
One of my favorite buckeyes of all time and I even named my dog AJ after him. Always carried himself how we want all our buckeyes to carry themselves and as mentioned above he did it with humility. Thanks for the article!
It was nice of someone to infuse the name Craig James into the comments about an article on douchebags. Mark May, of coarse, is the biggest douche of them all!
It is so refreshing to see Maurice turn his life around. There was never any real bitterness in me towards him, more like disappointment, but the fact of the matter is, there would be no 2003 National Championship without him. Man, we were lucky to have him, if only for a year. More importantly though, we were truly blessed to have Tress for a decade. I just get goosebumps everytime I read of Tressels devotion and loyalty to his guys and his willingness to help. It may have contributed to his downfall but Im sure if your gonna go down you gotta do it being true to yourself. If you cant find anything good to say about that man you might not have a beating heart! Things could have ended better for both of these men at OSU but Im still grateful for both of them.
I agree that Troy is probably ready to move on because he doesnt want to be a backup quarterback but the bottom line is he WOULDNT be a backup in Cleveland. One of my all-time favorite buckeyes, I have always wanted him to catch on with Cleveland. No better time than now...anyone know if Haslam frequents this site? He should!
There are a lot of underclassmen that Im pulling for but I really cant wait for Jamal Marcus to see the field. To this day I havent gotten his recruitment videos out of my head. High ceiling, anyone?
I really like Warriner. He really puts me to mind of my former wrestling coach. One of those guys that doesnt have an inside voice,is very demanding,but you know he cares about you and expects your best. Coaches like him have the upper hand in the sense that first and foremost you dont want to disappoint them. This article alone has me motivated. Lets play!
I agree with the thought on Nathan Williams, it does suck but he has already beaten the odds just by playing last year. I look for Williams to beat the odds in the NFL too even if it means signing short term contracts with teams wary of some sort of relapse. Definitely pulling for him. Good luck to all!