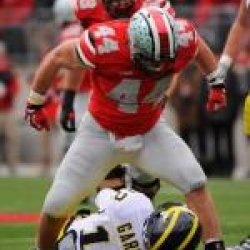 ArizonaBuckeye
---
North Phoenix, Arizona (via Cleveland, Ohio)
Member since 24 January 2013 | Blog
Helmet Stickers: 904 | Leaderboard
Favorites
SPORTS MOMENT: 2006 Buckeyes win over scUM in The Shoe. I was there and it was insane!
COLLEGE FOOTBALL PLAYER: Joey Bosa
COLLEGE BASKETBALL PLAYER: "Slam" Thompson
NFL TEAM: Browns / Cardinals
NHL TEAM: Coyotes / Blue Jackets
NBA TEAM: Cavs / Suns
MLB TEAM: Indians / Diamondbacks
Recent Activity
My thoughts exactly. Take that garbage off!!
Fellas. I think it's time for some new underwear...
Really hope Jones stays committed, but whatever his decision is I wish him the best of luck. If we can land McDowell that'd be HUGE. The '14 class will be strong with or without Jamarco, but hopefully with.
The Vow and Vampire Diaries??? Meechy has some guts to admit that. Hahaha All kidding aside, I'm really excited to see him develop. He's an intelligent and extremely athletic big man.
"It is what it is" would be my guess. That was his explanation after the MSU loss.
Thank you, Redstorm. Aka, Captain Obvious.
Love my Buckeyes and Buckeye Nation....well most of Buckeye nation. To the ones tweeting horrible things to the players you can go ahead and turn your Buckeye card in. We don't need you. Love my Buckeyes until the day I die and then some!!
Excellent point Immort! I didn't even think of it like that. I'm sure ESPiN will find a way to justify Alabama's loss.
WHERE'S THAT SEC DOMINANCE??????????
Good luck with that Coach Venables...GO BUCKEYES!!
If you've never visited OSU do it. The campus, the atmosphere and The Horseshoe on game days is unreal. There's nothing else like it on the planet, I promise you.
I say we circle the wagons and throw a beat down on this jackasses youtube page. 11W style!!
From beyond the grave he's pulling for OSU. I just know it.
Brady Hoke...
With Coach Warriner at the helm for the O-line, I feel much better about the overhaul next season.
My familys very close. We always get everyone together for all the major holidays, Christmas being no exception. That being said, my entire family is football fanatics so football everyday is fine with us!
Article mentioned he will stay at TOSU through the Orange Bowl.
Ok, this blog post needs to go. I'm sick of being reminded of the MSU game every time I sign into 11W.
Seriously, calm down Southbay. Gheez. 703 is saying what the majority of Buckeye fans think. Are you Urban Meyer's proxy or something? You speak for him? Get over it.
Yeah, I was just trying to give Simon some cred. How 'bout Cameron Heyward 2.0 then?
My Dad is a Buckeye fan. He's not up to date with all the players as much as I am. It takes him a season or two before he knows who's who. lol Watching the MSU game they showed Bosa and were giving him praise. My Dad goes: Who's that? I go: Joey Bosa. Freshman stud outta St. Thomas Ft Lauderdale FL. Dad goes: He's a fu#kin freshman?! Mind you my Dad rarely swears.
Can't wait to see "John Simon" 2.0 as he matures. Scary for the rest of the BIG that he's only 18 years old. Congrats to Joey!
Beating ourselves. Can't even compete when all you do is continually beat yourself. We look scared. We look intimidated. We do not look like an UFM coached football team.
If we stop beating ourselves this MSU D doesn't scare me at all whatsoever.