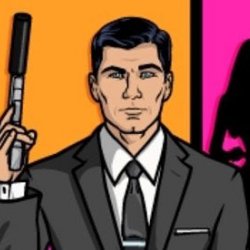 Arizona_Buckeye
---
Toronto, Ontario (via Grove City, Ohio)
Member since 02 December 2011 | Blog
I am a devote Pastafarian and a member of The Church of the Flying Spaghetti Monster! I have been touched by his Noodly Appendages!!!
Favorites
SPORTS MOMENT: Sitting in the stands at the Fiesta Bowl Game watching Ohio State dominate the U to win the National Championship!!!
COLLEGE FOOTBALL PLAYER: Chris Spielman
COLLEGE BASKETBALL PLAYER: Clark Kellogg
NFL TEAM: Chargers
NHL TEAM: Bruins
NBA TEAM: none
MLB TEAM: none
SOCCER TEAM: none
Recent Activity
Lil Red is the freakin creepiest and strangest to me... just sayin
Zeke is the gift that just keeps on giving to Ohio State! Every day he gets a headline - another potential recruit gets exposed indirectly to OSU!!!
This defense is going to be a freakin monster and I fear for some of the QBs and RBs they will face this year. I have said it all along - one of Urban's greatest steals was Coach Johnson from PSU... he has been an incredible asset to Ohio State in all facets, especially recruiting and teaching! He has a great relationship with his kids and that shows day in and day out! I hope coach J stays around for quite some time - although I think we all know, under Urban, he will get a ton of attention (or should) for head coaching jobs, if he so desires!
I love the players that Urban and staff are bringing into Ohio State. They are talented on the field, and obviously dedicated off the field! They have, for the most part, eliminated all of the off field issues. They are involved in the community and represent the university amazingly well! Keep up the good work guys!
That always makes me laugh when they start pulling up the wins that happened in the 1800s... bwaa haaa haaa...
14 - 1 in 15 years.... glorious glorious glorious!!!!
I'm pretty sure we will love Blue here at OSU after his announcement! I LOVE the Old School references too... You're my boy Blue!
All the way from Dublin Ireland.... BOOOOOOOOOOOOOOOOOOOOMMMMMMMM!!! I believe a pint of locally brewed hops and a glass of amazing Redbreast Irish Whiskey is in order! Cheers my fellow Buckeye Nation fanatics.
HAHAHAHA - my first reaction was 'only three stars'... then you remember this is Urban and crew and they know what the hell they're doing! Welcome aboard the Buckeye Nation training Master!
HOLY SHIT... that is a jaw dropper
I'm guessing the HBO cut on Paterno will not paint him as the evil POS he was - but I would be happy to be proven wrong.
Sadly I'm dealing with my wife's chronic back problems as we speak... she just had surgery in an effort to help ease some of the horrific back pain she suffers from on a daily basis. Back problems suck!
Bitter sweet news... I have mixed feelings on Thad - he has done so much for the program, but lately, the basketball team has become really bad and it is impacting recruiting. It was time for a change and sadly, Thad is at the center of that movement. Bitter sweet day! I am saddened to see Thad leave while happy to see him leave for the future of the program.
Perhaps it is thee massive amount of blows to my head I've sustained over my lifetime of reckless living and bad choices - however, I confess, I like Nick Saban. I have no idea why - I just respect what he has accomplished and the way he occasionally chops down a reporter for asking a ridiculously stupid question cracks me up! The dude can flat out recruit and coach college football!!!
Pulling for Braxton - one of my all time favorite Buckeyes...
Love the Tweets blog... makes me smile!
Welcome to the Buckeye family young man!!!
Holy shit - never been a big milk fan but I am now!!!
I seriously do not see a way for OSU basketball to pull itself out of this abyss with Thad at the helm. Players jumping ship, and new recruits shunning OSU knowing it is in bad shape... IMHO, Thad has to go if we hope to pull any future talent into the program.
D.J. - Watched a great episode of Bob's Burgers last night where they fired up a Bob's Burgers food truck... hilarious!
WORTH. EVERY. DOLLAR!!!!! Besides Urban, Coach Coombs is my favorite coach on this staff!
In the words of Jeff Spicoli - AWESOME... TOTALLY AWESOME
I am an old bastard so my mind doesn't remotely have the capacity to think like a young kid. Having said that, purely on a football program level, Ohio State is leaps and bounds ahead of the domers. We have one of the best coaches in college football, the Ohio State brand is amazingly strong, we are pumping players into the NFL at a huge rate, and we are in the championship discussion year after year. The domers, on the other hand, suck at football, their coach is going to be firmly planted on the hot seat, and their brand is not all that good right now! To me, the choice is pretty clear - but again, I'm not a young kid making the decision!
Larry Johnson was an amazing snag for Urban and Ohio State! A very loyal man who knows what the hell he is doing on the defensive side of the ball and is a pretty damn good recruiter as well!