Ardyb
---
Member since 18 November 2012 | Blog
Recent Activity
He's a good player but he isn't a Julio Jones or an AJ Green.
I got him confused with Palmer at STA.
The STA coach hasn't had control of that locker room for a while.
Urban isn't messing around. He wants to have multiple Mike Williams on this team lol
Chase Young should be the number 1 player in the country. He's probably the best DE to come out since J. Clowney. It's worth noting he played against better competition in Maryland.
Grimes made it very clear that TL decommited over a girl. That's why him and Tate seem upset.
I selected hooker as THE breakout pick. He was making those plays even before the spring game on the practice field. I'm selecting EGW as my next pick for this coming season.
I think people forget that Ellison didn't play all four years of high school due to a car accident where he ended up with compound fractures in both legs.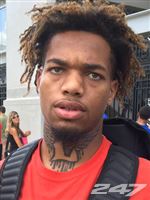 Take one guess...
40 times are overrated. If you got good ball skills you're gonna make it in the NFL. Period.
I'm thrilled to see Ohio's native sons get the offers. I could care less about the star rating. Ohio kids are naturally tough. It's not true Ohio State football without them.
I never understood that either. High-protein diet in the south maybe Idk. Or maybe it has to do with their metabolism not working as hard in the warmer weather.
Sucks to see him go but it's cool to see him come to my city. If any more buckeyes transfer out I can't see no reason why they can't go to UC with Fickell in charge.
I saw that he was wearing UK gear in his Twitter pic. He also has a kid on the way apparently. Some big-time choices he made at such a young age. I hope he's able to stay on track because he's got amazing talent
I can't help but think if that throat tattoo is keeping programs away. First impressions speak volumes
that's an interesting tidbit that Martell alerted the staff about him. That would explain TL's brotherhood comment on Twitter. He seemed relatively upset after the AA game.
I don't think him and Tate are as close as they used to be. I read somewhere there was some kind of conflict before the senior season involving the two. I thought his move back to Corona was rather strange.
I read somewhere he's got off the field issues. The Maurice Clarrett type of issues
EGW is insane with the ball in his hands. I remember watching him get a running start on a punt return in the under armor game and it was probably the fastest PR I've ever seen. The defenders didn't even have enough time to recover before he made it to the end zone. It was almost like they were trying to catch a hummingbird lol
I honestly believe he might be the best player on this team with the ball in his hands. His PR in the UA game was the quickest I've ever seen. As soon as he touched the ball it was like he instantly teleported into the end zone lol.
The kids really talented but he's as fragile as Tony Romo. Wasn't too sure he was going to be able to handle the physicality of the Big 10.
That's a serious downgrade for EW but he kind of brought it on himself with the questionable playcalling.
Gallman may secretly be the best Darkhorse running back in America