AngryWoody
Member since 01 October 2012 | Blog
Helmet Stickers: 5,457 | Leaderboard
Favorites
SPORTS MOMENT: 1. 2002 National Championship
2. What Urban is going to do next year.
COLLEGE BASKETBALL PLAYER: Sully
NFL TEAM: The Bungles
NHL TEAM: Blue Jackets
NBA TEAM: Cincinnati Royals (They're coming back. Book it.)
MLB TEAM: Cincy
SOCCER TEAM: What is this?
Recent Activity
I find myself agreeing with you on the facts but you don't have to be a jerk about it. There's no reason for that.
The first rule of downvotes is don't talk about downvotes.
I'm seeing a lot of people say he deserved to go, so this isn't completely true.
Made the front page of ESPN's "college football" page...
Imma get stupid drunk out of those
I get it. I'm not happy but I get it...
I think Franklin has said a few things that have rubbed people the wrong way already. Also Rutgers offensive coordinator, Ralph Friedgen, supposedly burnt his degree from Maryland after he was fired. So there could be some epic smack talk later in the year when he coaches against his old school. For the most part though, the coaches in the Big Ten are really boring.
Only 37 days to go. I'm getting so pumped up.
Maybe Torrance just needs to clear his mind and take a walk to One Tree Hill.
It's a good thing it's allowable to comment on a thread and then bring that same opinion up for discussion in a forum, or you would've had a good take. Nice work Angry Woody, a cut and paste off of my profile and name calling. Obviously, computer skills a grown man learns while still living in his moms basement. You out smarted every one this time. I would suggest for you to take a bow for such insight and research but your immature take failed to disprove any of my points. So I'm glad you agree with me on our "strength of schedule" to post my point a third time.

In that same Public profile, you would have noted that I have three stickers because I'm a new member who just decided to comment for the first time this week on an intriguing subject like strength of schedule and our programs perception. Nice team spirit for a H.S. drop out enjoying my universities football program. We welcome fans from all over; even from their mommy's basement spare bedroom.
Good for you, sir. With all the bad stuff that has been going on there lately it's nice to hear a good story coming from the VA.
The Mississippi State/Ole Miss rivalry is beyond anything our pathetic northern "rivalry" ever has been or ever will be.
My first thought was that someone committed when I got the error message. I actually went to 247 to see if anyone committed.
For all the crap Urban got about his time at Florida, Georgia had the most arrests in the SEC. People forget that.
1. Old person seating. All the old smelly people who just want to sit on their asses and complain about everyone else standing and having fun need to have their own section away from the fans with a pulse. They have to sit in rocking chairs and all they can buy is Lipton sweet tea and Worther's Orignial.
2. Make the restrooms less nasty.
3.
You'll have to admit, the tweet of OSU adding Burger King to their home schedule was classic and hilarious. Not much of a stretch compared to the home state BroMance with DIV I powerhouses like Akron, Youngstown State, and this seasons Kent State; without Coach Hazell. No wonder why the B1G mandated ONLY DIV 1 cupcakes. Lets stop clubbing on baby seals and schedule more than one killer shark each season. It's the only way our team and the B1G schools will start "earning" their respect. Go Bucks! #babySeals #BillisKing
This was a comment you left in another thread. You have three helmet stickers. You are an obvious troll man (and a bad one at that). Please cut the crap.
I think two SEC teams make it in. If you look at the final AP poll from this year three of the top five teams were from the SEC and this was considered a "down" year for them. I think it's SEC winner and SEC runner up. I'll say it's Bama and South Carolina. If the SEC west wins the title it could be the winner from the SEC west and the SEC west runner up. I'm guessing Bama and LSU. Then I'm going to with FSU. The last team will be one of either Ohio State, Oregon and Oklahoma.
So I guess my list would look like this
1. Bama
2. South Carolina or LSU
3. Florida State
4. "Sexiest" conference champ from the other three power conferences. They need to be undefeated, because honestly I don't see a one loss team from any other conference getting in over a one loss SEC team. It's sad but it's probably the truth.
Toughest game should be MSU.
Yeah, you got me on that one.
The thing to keep in mind is that these "odds" aren't actually who they think will win. They are the odds Vegas thinks they can make the most money off of. The real odds are a closely guarded secret and not the same as the betting "odds"

I'm just glad the safeties and corners are actually meeting in the same room now.
"It's the one game other than Michigan State that I've got as the closest for Ohio State as far as margin of victory goes."
So he's got Maryland as a closer game than The Game and the road match-up with Penn State? I like Phil Steele, but I don't know about all that.
I think he's a Maryland alum also.
No, but you do get a free back rub from Brady Hoke.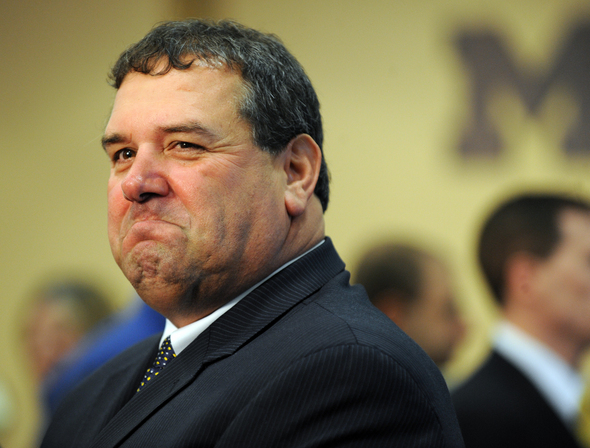 "I'm waiting, big boy."