AngryWoody
Member since 01 October 2012 | Blog
Helmet Stickers: 4,144 | Leaderboard
Favorites
SPORTS MOMENT: 1. 2002 National Championship
2. What Urban is going to do next year.
COLLEGE BASKETBALL PLAYER: Sully
NFL TEAM: The Bungles
NHL TEAM: Blue Jackets
NBA TEAM: Cincinnati Royals (They're coming back. Book it.)
MLB TEAM: Cincy
SOCCER TEAM: What is this?
Recent Activity
This is the funniest thing I've read in five and a half years.
Aaron Craft is a beautiful man.
Good got KG. A few years in the NFL will make him a better in the future when he's OSU's head coach.
Back in the day. Got a kid now and whatnot so you know how it is.
Do you ever read something and not know how to react? Instead of having a real thought when I read this, my mind just glazed over for two minutes. Then I cussed a lot.
1. Ron Swanson
2. Spongebob Squarepants
3. Cartman
4. George Costanza
5. Michael Scott
JT and Pete Rose are two guys I would like to see in their halls of fame
I know it's been mentioned earlier in this thread, but the Cincy game is going to be huge when it come to judging our secondary. Cincy is our fourth game and before that we will have played Navy(triple option almost never passes), VT (anemic offense last year who is replacing their QB), and Kent State who has pretty much ran an offense called "give Dri Archer the ball" for the last few years. None of those teams are going to be very good throwing the ball. Cincy on the other hand, had a pretty good pass offense last year and will be running the air raid with Gunner Keil. If you have questions about our secondary that is gonna be the first game to give you some of the answers.
That would be the best tailgating ever! What do we have to do to get this at Ohio Stadium?
Mark Emmert is so far up Saban's ass he can do or say whatever he wants.
http://nesbox.com/game nes and snes games for free and all in your browser. No downloads.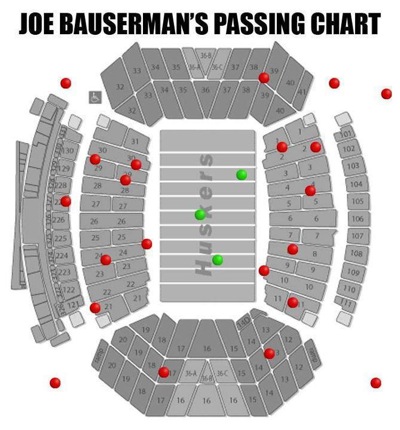 I think everyone should have to wear suits and ties and alphabetize paperwork during the game. Then afterwards you can go to Fridays...if you're good.
50% chance it wont work right. Do what I do and save yourself the time and hassle and get a snes emulator. 100% free and you can play all of the games you love without paying a penny.
http://emulator-zone.com/doc.php/nes/
These are some great points that I didn't know. The points you made, coupled with the points made in the article show that tempo and the spread is nothing new. And if there has been a spike in injuries (which I have never seen a real scientific study showing that to be the case) that tempo is likely not the root cause of it. I have been a believer for a long time that if there has been an increase in big time injuries it's because of poor tackling coaching and not an increase in the number of plays. The old "wrap em' up and bring em' down" way of tackling has been replaced with some sort of weird human battering ram style that I think is less safe and less effective at stopping other players. How many times have you seen a guy put his head down and charge straight at another player as hard as he can only to have the other player bounce off and just keep running?
I think that being trained to be safe in football is just like being trained to be safe in your job. I used to work in a kitchen and they taught me how to use a knife. Once I learned how to use a knife safely it didn't matter how much I used my knife I was safer than when before I knew the safest technique. I think the same goes for tackling and until we return sanity to how players collide with each other we wont see a meaningful reduction in player injuries.
Which one is it, America?
I don't think Bassdropper counts as "America". He's from his own world. (I mean that affectionately)
Is it bad that I want to make a Jarvaris Crittenton joke? Yes, probably.
Another thing could be that there's no football, the basketball team is not too good, and it's sort of a slow time for recruiting. 11W is gonna be fine. Wait for September.