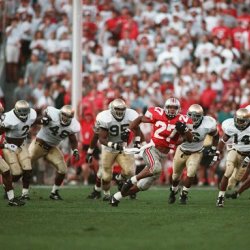 Angry Panda
---
Member since 23 October 2013 | Blog
Helmet Stickers: 67 | Leaderboard
Favorites
COLLEGE FOOTBALL PLAYER: Eddie George
COLLEGE BASKETBALL PLAYER: Travis Ford / Aaron Craft
NFL TEAM: Lions / Bengals
NHL TEAM: Blue Jackets
NBA TEAM: lol...the NBA...smh
MLB TEAM: Tigers / Reds
SOCCER TEAM: Crew / Aston Villa / Werder Bremen
Recent Activity
being redundant here, but I'm pretty much with everyone else....these are awesome, great job UA.
Much respect for those Men on Navy's sideline. But Still....Go Bucks!!
I'll actually be in Dublin Ireland on Vacation (I did not plan it, my gf and her family did), gonna find a pub that has the game on and enjoy. Or will spend some extra and get the game on my phone.
And now i can't get out of my hysteria and look at the bigger picture. Well done Ramzy... The guiding light is a sea of doubt.
Happy Birthday!...I don't remember how I got Buckeye info before and (like with my ex's)....I don't really wanna remember...
Dare I say it.....that was Beautiful man...
this is hilarious....upvote if i could...
Well Done and Welcome. Look forward to reading your articles and and following the Bucks through your stories.
Go Bucks!
I still maintain that Troy Smith could've been very solid if not very good to great in the NFL if he had been drafted into the right situation.
Absolutely agree, and look how different TP's NFL career would be had this nonsense been looked at through today's anti ncaa sentiment. He would have been drafted in at least the 3rd round if not the 2nd, maybe the 1st if someone reached, and would actually be given a chance instead of the hole he landed in in Oakland. It was just all so silly.

There are so many spot on, wonderfully articulated points here that I can't quote them all.....just yes....all of these things....spot on...You think someone could actually get this in front of Gene Smith.
Addictive...I like...job well done guys.
voted Tecumseh....because...well I like him...but Grant should win. I mean really Tecumseh wasn't really an Ohioan in his mind...he is because of his ancestral tribal land overlapped, but to him was he was a Shawnee
It's getting tough now....It makes me mildly curious who some other states would be have in their bracket.
BroJim you're right, Ohio is the best. End of discussion.

Great article...well written, logically sound, excellent examples, and, as always Ramzy, presented in such a great way. After reading it there is no doubt that he should be in (not that I needed any convincing in the first place).

#8 Kentucky in Lexington
It's hard to believe Kentucky was half way decent not that long ago...for a season....I forgot they were even in the top 25 let alone the top 10.
Awesome....I can't imagine being a freshman walking into his type of workout regiment...good for the young bucks...
To truly appreciate Ohio, however, sometimes you have to live outside the state for an extended time.
Truth....I've lived in Massachusetts for 10 years and Ohio is hands down better. The cost of living is less, the people aren't as arrogant and self centered, the weather is kind of a wash, but still...
Sometimes you don't where you're from till you leave.
I'm glad to see he's being so accessible and open, when the transition is still 6 months away. It'll be interesting to see how he builds the profile in other parts of the University as well.
Such a great article, and an honest look into a world that a lot never get to see....Thank You. I Look forward to seeing ya play and following you progress.
Go Bucks!
Nod....this will do...I've decided I like it.