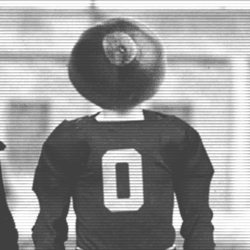 AMSS
---
Member since 24 March 2013 | Blog
Helmet Stickers: 39 | Leaderboard
Favorites
SPORTS MOMENT: Every Buckeye Football Game I have ever been too in person. No matter what is going on in my life or the world that is my happy place.
COLLEGE FOOTBALL PLAYER: Joe Montgomery(The tough road he went through to be a Buckeye made me cheer for him)
Recent Activity
The best part was the homeless guy with the shopping bag and the ugly jacket trying to act tough after his buddy ran away.
I have to try very hard not to respond to this kind of idiocy. I will say that Clemson was founded by a bunch of people who tired of the "uppity elitists at University of South Carolina".
They are always staying put until they aren't. He would have to hedge his bets until a deal is signed. It's just part of the game I guess.
I don't think they will go in the toilet but they will take a huge hit in this year's recruiting class. They still have nice facilities and deep pocketed alumni/boosters to help attract a good coach. I would not want to be in charge of that search committee though. I would think that the coaching pool would be pretty limited just based on the precarious situation that program is in. It would have to be exactly the right fit to continue their road to recovery without hitting a major pothole in the road.
Al Golden? There would be a hire to make to keep the NCAA on your side.
The only thing I would say to that is that the bowl records for your conference are somewhat important in that they help to shape the perception of your conference. With only a four team playoff in place for the foreseeable future I have to think we would need to run the table to get involved with it next year. There will be no margin for error next year. The unfortunate fact is that perception of our conference feeds into perception of our schedule. Perception of our schedule will feed into whether or not we get into a playoff. We all know a win against Virginia Tech will not be looked at in as positive a light as it did for Alabama.
I almost fell out of my chair I laughed so hard.
Hahahahahahaha! I love it. That is out IdioT's answer for everything too.
I almost choked I laughed so hard at the "crapness washes over me like a bad fart" comment. Nicely done gameboy. Nicely done.
The point as I understood it was that coaches don't give players their personalities and traits. They have a very limited time to mold these guys. In the case of Lewan when he got tired of getting his ass kicked up and down the field he resorted to the dirty stuff. The point I think you are trying to make is that it is Brady Hogg's fault that Lewan did what he did. If so do you blame Tress for Robert Reynolds choking the guy from Wisconsin?
I agree with you. Lewan has some major character issues that have been in place before Brady Hogg showed up. Case in point, his "alleged" intimidation of a rape victim. Classy guy.
Because it's full of well thought out arguments and it draws logical conclusions.
I disagree, some stupid school will hire him. Look at the guys who keep getting shots at coaching jobs. I mean he did win 3 straight B1G championships, right?
You stated in your article there were multiple flags thrown. That is inaccurate. There was one flag thrown.
Your picture actually disproves your point. That is a shoulder into the chest of the receiver and Roby's foot is on the ground. Back and to the left because he got whiplashed by a strong hit to the chest. The real problem with the call that I have is why did the official looking right at the play not throw a flag? Why did the guy 15 yards behind the play throw a flag? Reminds me of Ted Valentine calling a foul down on the blocks from out at the time line. No way he sees it more clearly than the guy right there.
Unless I missed it the bowl ban happened because a couple of players who were involved in the whole tatgate thing were accused of having no show jobs after there was an in principal agreement regarding sanctions from the tat/trophy stuff. In essence Gene Smith was sitting at the table saying we've learned our lessons and we won't do it again and then the NCAA says well what about this stuff that we just found out about? Not sure how he could have done much better unless we went the whole Auburn/Texas A&M route and said that we wouldn't accept any sanctions and you can talk to our lawyers from here on out.
As far as the scheduled goes it is what it is. Let it play out. I remember losing on Senior Day in 2007. There was no way we were going to the NC game after that and then we had the best idle weekend of Buckeye football ever. The other thing I keep thinking is that most of the teams around us right now have a history of losing games they shouldn't. I'm looking at you Oregon, Clemson, and Florida State.
I just keep trying to remember that we are in the midst of something special and hopefully the new norm around here. I really don't miss the Tressel days of losing games after we had a lead and then deciding to put it on all the defense and leaving them out there the entire second half of games. I think that's why I had a hard time with Wisconsin game was because it was so similar a setup to the several that Tress let get away.
Its not that the TV people recognize him, he is always working his way over to cameras so he can be on TV. I see him do it all the time. He courts the attention. Its one thing to pose for pictures I guess but to show up everywhere and have photos to sign for your "fans" is obnoxious. Orlas King aka The Neutron Man was a spontaneous thing that happened once and it transformed into the character over time but he also was involved in charity and scholarship fundraising. To me it is an entirely different thing to show up in a costume and try to get on TV every week rather than do a little dance when the band plays your song. I don't much care for any of the "super fans" that have seemed to multiplying across the country. So if that's hating on him I am guilty and I don't feel bad about it.
I think there are a couple things against them staying. First NBA contracts are all guaranteed. They get all the money they sign for. Second what else do they believe they have to or can do to improve their draft stocks? Another thing is that the way the rookie contracts are set up now in the NBA it is often better for them to get into the league as early as possible to get to the second contract where the money is bigger. Burke made a great decision to come back because of the way he faded last year over the second half and it afforded him this opportunity to show his game on the biggest stage. But if Burke and Hardaway leave I would expect McGary and Robinson to leave as well.
He would definitely sacrifice his soul if he hadn't done that already. How about his personality? No wait that's not worth anything. I don't know what he would have to sacrifice.
Maybe I have seen too many B1G games but are they calling a bunch of soft fouls on post defense in the tournament so far? Not that B1G officials are the gold standard(TV Ted Valentine & Ed Hightower come to mind) but they are fairly consistent throughout the game for the most part.
I agree that Thad should have called a timeout but it only took 1:56 to lose the lead. Also there aren't any extra timeouts in the tournament. Same TV timeouts every 4 minutes.