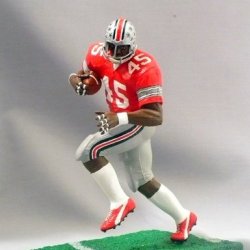 amk1616
---
Member since 17 June 2011 | Blog
Helmet Stickers: 291 | Leaderboard
Favorites
SPORTS MOMENT: Being in The 'Shoe with my Dad, Brother and Wife (GF at the time) and watching Eddie George run for a couple of miles against the Illinois defense.
COLLEGE FOOTBALL PLAYER: Eddie George
COLLEGE BASKETBALL PLAYER: Jimmy Jackson
NFL TEAM: Colts
NHL TEAM: CBJ
NBA TEAM: Bad Boy Pistons
MLB TEAM: Braves
Recent Activity
from the youtube page, it says that it was prior to their game in 2012.
People need to chill out.
I give the guy credit for going out there creatively talking trash.
For the people that have a problem with talking trash... If you are at The Shoe and the opposing team has the ball in the red zone, do you yell and scream or do you give them peace and quiet?
I was actually just thinking about this the other day.
If i were the AD at Minn, Illinois, Indiana, Purdue, Maryland or Rutgers, I would look to hire a high school coach who runs a niche style offense. Something off the wall, like the guy in Texas (or wherever it was) that NEVER punted and kicked on-sides 100% of the time. Or even look to hire somebody who runs a wishbone/option attack.
I just went back through and read all of our posts. Other than the Super-Fan request, i think just about everybody got their wish.
I'm sorry, but i am not impressed. It didn't take me 3 years to gain 30lbs.
(eating a Strawberry Cheesequake blizzard as i type this)
I am with you on all of those points.
Cena "won" the match, but Bray was the star of the match.
'Taker losing makes so much sense and Brock was the perfect person to end it. Winning this one match will cover another year of big match loses.
The Daniel Bryan payoff was so perfect. They did such an awesome job with it. Everybody knew he was going to win, but the way it all went down was perfect.
Cesaro eliminating The Big Show was another one of those epic 'Mania Moments.
I think it will be really cool to look back in a couple of years at Wrestlemania 30 and see how it launched the new stars (DB, Cesaro, Wyatt, the Shield)
2nd year in a row on the cruise. Had a blast!
Charlie,
I will keep an eye out for you. I should be easy to find. I will be wearing either a red or grey OSU t-shirt ;)
This will be my second year on the trip. It is a blast and something every die-hard fan should do.
I don't know peoples board names well enough, but i was thinking that it would be cool to run into other people from here on board.
there was also a picture floating around of Ryback and Urban 3:16 from last nights show.
it always cracks me up how they quickly move away from said f-bomber. like she was going to start re-inacting scenes from The Artistocrats
i am pretty sure that is me in the crowd on #7. i am the one in red freezing my ass off.
i agree with you 100%. He is/was a special person and we should all feel blessed and proud to call him a member of Buckeye Nation.
None of us will ever know the full truth, but i choose to think that he was acting in a way that he thought was best for the lives of those young men, not what was best for himself or for the program.
They play poker in the rear...of the store.
SEC!!! SEC!!! SEC!!! SEC!!! SEC!!! SEC!!! SEC!!! SEC!!!
In the defense of A&M, what choice did they have? They are losing Manziel, they can't afford to lose the Sumlim as well.
i mentioned to my brother that when RDS didn't come out with the Seniors (and Roby) for Senior Day, he wasn't 100% leaving.
no question he would follow him and become Def Coord.