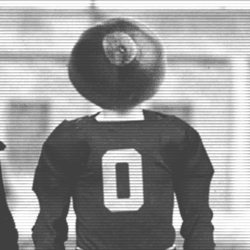 AlwayzABuckeye614
---
Member since 05 January 2014 | Blog
Helmet Stickers: 334 | Leaderboard
Recent Activity
He's has lost his stripe already.
http://www.elevenwarriors.com/forum/ohio-state-football/2014/08/38675/damon-webb-loses-black-stripe
We have some pretty tall DB's this year, look at the walk ons named above, 6'1, 6'2 ,6'3 ,6'3 etc, I cant wait to see these guys on special teams and hopefully some cleanup rolls in blowouts
I believe it was around 23 lbs he gained, but I get your point tho :)
So stupid, might as well offer my 7 year old nephew.
Some people saying family comes first, we dont know its about family. He probably found a better fit somewhere else. Im not surprised at all, expected this sooner.
Anything can change from now til 2017, not sure why kids commit so early these days, especially if a school your going to pick is a long ways away. Now id be happy if he picks OSU, but geez he has a lot to learn and a lot of places to see until then.
A 9-12 month recovery time? Well how does Braxton expect to come back and play next year when spring ball is only 7-8 months away? He has to condition through Spring, Summer, and Fall in order to be back on track for the start of the schedule.
It think its a good thing he's been taking reps since the spring, if that wasn't the case I would be a lot more worried than I am now.
Not to mention he has been in the system for over a year and a half watching and learning. I know nothing compares to in game experience, but I think he has the mental aspect of it down. Go Bucks!
I just hate the fact that there is a possibility we will never see him play another down at OSU :( Our own human highlight
So is the dislocated shoulder a different injury than what was operated on in Feb? A bit confused.
Agreed, who in their right mind would announce in a College arena to go to a school OTHER THAN the one he is announcing at?
Shoot me now, smh. Not good.
Gosh People act like he hasnt been in the system for 4 years and he is a rookie QB. He will BE FINE!!
Agreed, however Wilson's role was limited because of his size. Meyer said he was more used as a decoy because he "didnt know what the hell he was doing". He was a pretty small kid last year so they weren't gonna ask him to do much out of his ability. Samuel is bigger NOW as a freshman than Wilson was. I would not be surprised if Samuel gets on the field MORE than Wilson was last year because he is more 'college ready' than Wilson was.
Wasn't Jeffrie Johnson a pretty good running back at HIlliard?
Was that Paris Campbell playing CB at 1:10?
Potential is there. Can't wait to see him in the future. Ill always root for the Columbus and surrounding kids!
These are never long enough :(
Here is a nice little Gem, speaking of Worthington Summer leagues
Columbus's own Estaban Weaver
http://www.examiner.com/article/the-best-that-never-was-the-legend-that-is-estaban-weaver
Where is Marson Lattimore? Is he #7?
Just saw on Twitter D.Russ is not feeling well.
What the hell, this whole time Im thinking we are playing ProvidenCe FRIARS from the Big East!! ughh, Who the heck are the Providence Storm?