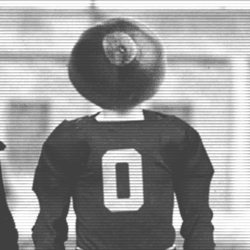 alust2013
---
Member since 05 September 2012 | Blog
Helmet Stickers: 457 | Leaderboard
Favorites
SPORTS MOMENT: The overtime field goal by Devin Barclay that sent us to the Rose Bowl after the 2009 season. One of my favorite games I got to see in the Shoe.
COLLEGE FOOTBALL PLAYER: Ryan Shazier
COLLEGE BASKETBALL PLAYER: Aaron Craft
NFL TEAM: Colts
NHL TEAM: Blue Jackets... I guess
NBA TEAM: Pass
MLB TEAM: Reds
SOCCER TEAM: I watch real football
Recent Activity
Haha, putting aside the game that it was, I think it's pretty funny.
I didn't realize Washington was big enough to be a full time DT, I thought he was more of a big DE. Hard to keep a guy that good off the field though.
I scored pretty well on that, but I think that test is as much about being able to take tests as knowing the answers.
Was it as bad as Willis McGahee's knee injury in the '02 title game?

Can we please do away with the daily NCAA bashing section every morning? It's all the same, and it's politics, just not government politics.
I think that was the most fun a basketball team has ever had in a game. The 14-15 from 3 stat line still makes me laugh. There wasn't a team in the country that could have beaten them that night. Such a pity they didn't make it to the national championship game that year, that was about the most fun team to watch I've seen.
I think he'll be at worst a solid corner in the NFL, I'm guessing he will be late first round, with Shazier a few picks ahead of him and Hyde not too far behind, probably early-mid second.
I'd say Linsley will probably get drafted, the others at least have a shot in the later rounds.
I would be interested to see a gray alternate. I, of course, love the scarlet jerseys, but I also like darker ones as well, just because they look intimidating. I think gray would be tricky to pull off a good design with, but if done properly it would be sweet.
The where are the titles question is, in my opinion, kinda bogus. I realize that QBs have a large impact on the game, but given how crazy stuff can happen in football games (I'm looking at you, Auburn), winning a title doesn't always go to the team with the best QB or even just the best team. Take the '08 super bowl for example, if that game was played 9 more times, I bet the Pats would have beaten the Giants 8 times out of 10, but because the Giants got a couple of crazy plays, they won the title. Similarly, had Ginn not gotten hurt in the 06 NCG, it could have been different, or if that game had been a series, OSU probably would have won, but that's not what happened.
Pretty much. I've been out west a few times, and it has never occurred to me that they don't have Waffle House there. I just assumed it was everywhere, given how many are in Ohio.
Yeah, a calculator that basic is pretty ridiculous. It doesn't even ask gender. I'm not a big guy, and I am basically at the top of the "normal" range for my height. I wouldn't buy it unless I went to a doctor who knew what they were talking about and told me what the best range for me would be.
I think overall the coaching is an upgrade. As excited as I am about the Johnson hire, I wasn't really all that concerned about the D-Line. They were very good under Vrabel, and I see that continuing, especially with some serious depth. I like Ash too, he put together some very good defenses at Wisconsin without the load of 4- and 5-stars on the roster.
I don't follow recruiting very closely, but I'm pretty sure Solomon Thomas won signing day.
Gotta love it when we have good LBs. Perhaps between these guys and the top two LBs from last year's class, we will have another trio like we did 8 years ago. That was fun to watch, and if the D-line plays to their potential, no one will be able to run on them.
I'd have no problem with Bama hiring Kiffin. None at all.
That would be fun to see. Would have been cool to see him get the job in Indy, but it's hard to argue with what Chuck Pagano has done there.
I agree. And to be honest, if that had been a home game, I say the Buckeyes would have won. At this point in the season, I'd say OSU and MSU are at about the same level, and I don't have a problem with that.
I think this will certainly be an upgrade for them over Borges, although I don't by any means think it will make them The Greatest Show on Turf, but they should have something like a competent offense. Favorite part is the wiki-trolling though, love that they slipped in a "Michigan still sucks."
I definitely agree with this. I'll say that we would have been undefeated had the defense been as good as even a mediocre Tressel-era defense, however, and that's the bigger issue. But I really don't understand the designed runs for Brax. He is great at scrambling, and decent with the option-type stuff, but he isn't powerful enough to get yards when everyone knows he is getting the ball. Hyde was, and that's what makes it disappointing.
This should be one of the bigger games of the season. Why can't they put it on a network channel so I can watch it?
I really hope they start Cam Burrows over Armani Reeves. He was playing pretty solidly against IU in that ridiculous weather, and Reeves has been getting burned almost every time he has played.
It would probably take a better than average defense to win the NCG though.