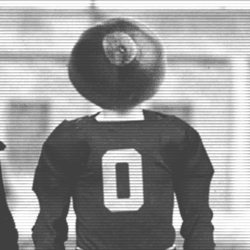 alust2013
---
Member since 05 September 2012 | Blog
Helmet Stickers: 758 | Leaderboard
Favorites
SPORTS MOMENT: The overtime field goal by Devin Barclay that sent us to the Rose Bowl after the 2009 season. One of my favorite games I got to see in the Shoe.
COLLEGE FOOTBALL PLAYER: Ryan Shazier
COLLEGE BASKETBALL PLAYER: Aaron Craft
NFL TEAM: Colts
NHL TEAM: Blue Jackets... I guess
NBA TEAM: Pass
MLB TEAM: Reds
SOCCER TEAM: I watch real football
Recent Activity
I think they are usually stainless or titanium as well. Rust would be bad news.
Can't argue with that. He is a heck of a lot of fun to watch too.
I'm glad people have at least hit pause on the panic. I fully agree that it sucks to lose Miller, and I pray for a speedy recovery for his sake, but this doesn't seem all that different from a situation that we would face next year had he not been injured. Sure, neither Barrett nor Jones has much in the way of experience, but it's not often that guys do get meaningful experience, ie. not garbage time cleanup, before taking over as a starter. Presumably Barrett is the guy at this point, and I've yet to hear anything resembling the word "suck" as a descriptor for him. If he can step up and lead like everyone seems to be saying he can, I'm not particularly concerned that he will get too jittery either. Also, anyone happen to remember the last QB we had that wore 16? That worked out pretty well.
Yeah, I'm not sure why everyone acts like the sky is falling. I'm thinking Barrett will handle himself just fine if he is the guy for the year. Perhaps the offense wouldn't be quite as prolific as it would with Miller, but I'm not overly concerned. That said, I hope that Miller is ok/gets better soon.
Loose leaf are the worst. They say they are saving you money because they are cheaper to produce, but they have no resale value.
Probably would have had Sparty somewhere around 4, and Alabama around 8
I think Basil might have had some accuracy issues his freshman year, but otherwise, he really was an excellent kicker. I always thought it was pretty cool that he was at least moderately active in making tackles on kick returns.

What I think is good about this rule limiting contact is that it limits it for every team. That way there is no motivation to have your players beat each other up thinking it will somehow give you an advantage to begin the season.
I do hope they give him the time. It drives me nuts when a program will fire a coach after a year or two, when they really haven't seen enough and the constant coaching changes upset the program and bump them down a notch every other year. I think a lot of good coaches aren't actually given a chance because their immediate results aren't impressive enough, when it takes time to build a system and gain the team's trust and respect. Of course there are times when it is clear that a coach isn't very good, doesn't know what he is doing, or can't get control of the situation, but it seems like it's just impatience most of the time.
As exciting as this offense has been the last couple years, I think I still prefer to watch a stifling defense. Not that I will complain about a few 40-7 or 50-10 games either, but it's a lot more stressful to watch when a 21-point quarter by the opponent isn't out of the question.
To cover their butts, yes. However, if they were really primarily concerned about that sort of culture, I would think they would have fired every employee that works with the band and launched investigations into all the Greek chapters on campus, because I can't believe that they are unaware of what goes on there.
I don't think I can agree with Boeckman being bad. I think he was probably an average QB, and given that he started the entire previous year and was in the National Champ game, I don't think it's fair to say he was garbage.
The last line made me think of the opening scene of Office Space.
I don't like any sport or team enough to get it tattooed on myself.
Perhaps if the athletic department didn't insist on charging $800 plus processing and convenience fees for every ticket, it wouldn't even be a hint of a problem. I could do the $150ish for student season tickets while I was there, and while that's not insignificant money, it's manageable. Now that I'm done with school, one ticket could easily cost me that 150 bucks, and I just can't justify that, especially for the cheap seats. I get the supply and demand issue here and that there are enough people that are willing to spend the money to see games, but it just seems like they are getting greedy now.
I think Dunn will end up being #2 when all is said and done this year. He seems to be the steady, power-type back, and with a new O-line, I think he will be more consistent than a smaller guy like Samuel.
I have little doubt that this will be the strategy. It would hardly make sense for them to put out 2nd stringers in the 4th quarter unless it was a blowout or a guy was winded or injured.
Haha, I was wondering what he was doing back in Columbus. I drive by there every day after work, although I was through there long before that.
Can't justify spending the money, especially for one of the really good games.

Ohio is middle of the road for stress. Go figure.
Le Reg is awesome, by far the best song the band plays. Also, I don't care for Across the Field, especially since Buckeye Battle Cry is so much better.
It's also awesome that almost all OSU Alums and many fans actually know Carmen Ohio.
I never liked sitting in the student section. Too many drunk people yelling at each other and not really watching the game.
I prefer to sit and watch football.
I have yet to be all that impressed with the spread offense. Hyde was a tank the last couple years behind an excellent line. The same thing would have happened with any other power run offense.
I'd trade a Tressel-era defense for last year's offense
10 points was a fairly comfortable lead 4 years ago. It's up to 21 now.
If paying players becomes unrestricted, I'll stop watching college football. It would be no fun to watch without any actual competition, like watching the Illinois or Purdue game 11 weeks straight. I suppose Michigan might not suck though, so at least The Game might be good.
I like that story on Tony Gwynn. I bet he had more fun playing baseball because of the kind of guy he was. If you knew you could have that kind of impact on kids or really anyone else around you, that would be really cool.
Indeed, not to mention that Ohio generally has better talent than Alabama anyhow.