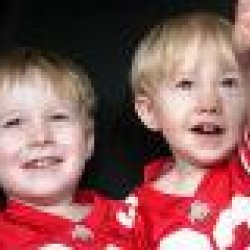 AltaBuck
---
Denver, CO (via Park City Utah)
Member since 20 May 2011 | Blog
Helmet Stickers: 612 | Leaderboard
Grew up near the S&G course over on McCoy Rd. My grandfather was head of Neurology and a surgeon at Riverside Hospital. He knew Woody and would assist the team med wise. Ended up out West in my teens and fell in love with the mountains. Graduated from Park City HS and the University of Utah. I work in technology supporting Gov't accounts. Happily married to a Duck fan and living in Denver with our two sons (who are not Duck fans). GO BUCKS!
Favorites
SPORTS MOMENT: Sun Devil Stadium January 3, 2003 - Lost my voice for 3 days.
COLLEGE FOOTBALL PLAYER: Chris Spielman & Antoine Winfield (Tie)
COLLEGE BASKETBALL PLAYER: Aaron Craft
NFL TEAM: Denver Broncos
NHL TEAM: Colorado Avalanche
NBA TEAM: Utah Jazz
MLB TEAM: Cincinnati Reds
Recent Activity
"Doesn't anybody fucking knock anymore!"
The boner killer for your elated Kentucky Wildcat football fan intent on buying futures in a program which has lost 34 games since the last Winter Olympics is that his beloved team will always be the football equivalent of Kentucky Gentleman.
CLASSIC!
Up vote for a Coen Brothers film reference.
The thing that pisses me off about Spurrier is that he owns his only NC because of a B1G school...The Ohio State University. The guy is a colossal prick.
Yep...he isn't strong with the bball in the lane. Just pull up for the 12 footer instead of a TO.
No way in hell he was squared up. BS call
Perfect ending to a shitty day at work. WTF is wrong with this team?
"The more consistent you are with your package, the more knowledge the guys are going to gain," Ash said. "When you've got knowledge and fundamentals, you've given yourself a chance to win."
This is called having an identity. Something the defense has lacked over the last 2 years.
These announcers suck ass.
Abandon the half court offense and ATTACK, ATTACK, ATTACK! What do you have to lose?
Call a moving screen on these assholes
If he swims against Michael Phelps, I'm rooting for Senhor Escroto.
Senhor Escroto!
Hopefully, we will get to watch Senhor Escroto in the 100 Meter Sprint at the Rio Summer Olympics in 2016.
Edit: He will appear smaller on TV. Don't adjust your sets, he is actually smaller due to doping.
I have a feeling that the WR battle will be wide open. There will be less of a premium on run blocking ability versus play making since Hyde has moved on and urban wants to keep Braxton heathly. The offense needs receivers that can get open.
RDS wanted to drive that Bimmer so bad he didn't remove all the protective wrap from the frontend.
Speaking of Bimmers, I'm off to Deutschland. Tschuss!
Maybe Kiffin is just a good X and Os coach but not a 'people person'. Maybe Bama should hire Tom Synkowski to help Lane and his players communicate.
This just in from Brent Musburger - to win a national championship, a program must model itself after the SEC and hire a douchebag for their OC.
Ross...does Fickell call any zone blitzes anymore? It just seems under Heacock, tOSU utilized multiple zone blitzes to confuse offenses and create TOs. I can think of some big defensive plays in the past (2010 Sugar Bowl Interception by Solomon Thomas).
New tOSU defense philosophy: Knockout the fucking horse.
They lured him to the UT campus with Candygrams.
Is Hedley Lamarr the new AD?
Shot in the kidneys (back)