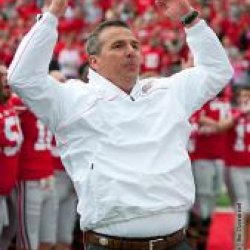 almurray10
Columbus (via Marietta, OH)
Member since 12 February 2013 | Blog
Helmet Stickers: 818 | Leaderboard
Favorites
SPORTS MOMENT: '02 National Championship,
Braxton to Devin
COLLEGE FOOTBALL PLAYER: Troy Smith
COLLEGE BASKETBALL PLAYER: Aaron Craft
Recent Activity
Honestly, I was a little disappointed with Tyvis. He seemed lost at times. If he takes a better angle, that ball carrier doesn't even have a chance to reach for the pylon on that TD run.
Should give him an edge on landing Neville Gallimore..
I think I saw he recently got his black stripe removed. I think we can expect to see him out there this year. Kid has a Ginn-like stride. I'd love to see him work his way into the rotation.
That's the date he's set as when he's making his commitment. I know it seems silly if he really has already silently committed here, but those things are special to these kids. He'll probably have a big press conference at his school, and it'll give him a chance to celebrate with his friends and family.
And I know he keeps in touch with a lot of other top recruits, so if he is committed, he probably is working on recruiting those guys, in one way or another.
I'm going to miss him too. I got him on one of my fantasy teams, so technically he's still on my team to root for... Right?
Will definitely miss seeing him in the scarlet and gray though.
Saw a 247 story saying he gave a silent verbal already and will make it public on 10/20. On mobile so can't embed, but things sound good for the bucks on this one.
WOW. Gibson just delivered an absolute strike on that deep ball. I'd say Urban and Tom can work with that.
All I know is that I saw him in one of the highlight videos from practice and he looked waaaaay bigger than I would've expected for a 16(17?) year old. I figured a kid with his speed, he'd just be a little skinny speedster.. boy was I wrong. I think he might redshirt this year just because of the insane depth at both positions he's a candidate for, but I definitely seeing him factoring in to the next few years and being a grown-ass man for the bucks.
Haha I had the same thought as well.
Don't forget us when you hit the big time Meechy!
I find it humorous how simple-minded most non-osu media people are being. Yes, Braxton is a game changer, and it is impossible to duplicate what he brings to the field. But do people really think he was going to single-handedly will the Buckeyes to the playoff? That's what most of the projections were before his injury. I understand lowering expectations, but people need to understand that good teams with good coaches prepare for situations like this.
It will be so satisfying to see everyone's reactions if/when the Buckeyes start picking up momentum heading into the 2nd half of the season.
Yep. I talked my way into getting a free 3 month upgrade to the U300 solely to have CBS Sports Network for the game. Best part is, after I talked the lady on the phone into the upgrade, I told her how much I appreciated it because of the OSU game. She then told me she was a Michigan grad... Good thing I didn't mention it until AFTER I got the upgrade haha
Good ol' Oxley. Walked by it many times the past 4 years.
"Gonzo" for Anthony Gonzales was a fun one. Also, "T. Smith." Not really a nickname, but it just has a nice ring to it.
Ahhh, El Guapo. Spanish for "The Guapo."
I'm gonna miss that battering ram.
I really like Tony Gerdeman, one of their senior writers over there. I follow him on twitter and he's hilarious. I'll read articles that he tweets, but 11W is the only place I go to actually interact with the community like this.
2005 and 2006 were pretty lethal with names like Teddy Ginn, Santonio Holmes, Anthony Gonzales, Brian Robiskie, Beanie Wells, Antonio Pittman all surrounding T. Smith.
There was also the mid to late 90s with guys like Joey Galloway, David Boston, Terry Glenn, etc. My memory is a little hazy when it comes to specific teams back then though.
Check out some of the other camp videos that Urban has posted. Definitely remember seeing a few flashes of Jalin awesomeness in at least one or two of them.
Oh man, Raekwon with that beautiful wrap up on Bri'onte in the backfield.. Look forward to seeing that for the next few years.
Glad to hear most of the big names from this freshman class getting their stripes removed early on. Seems like a much better pace than the past few years. Really hoping to see some big things from that class this year.
That's what I was thinking. Hopefully this opens up some wiggle room to schedule a more premier opponent. UNC would've been nice, but there are far better possibilities out there.
Edit: Just saw the tweet from Jerry Emig... C'mon big money!!!
Love the behind the scenes access we get from these videos. Gets me so jacked up.