Alice in Aggieland
---
Columbus, OH
Member since 25 September 2012 | Blog
Proud fourth-generation Ohio State graduate and current Buckeye prof. Survived the Johnny Football era at Texas A&M.
Favorites
SPORTS MOMENT: Devin Barclay's field goal that clinched Ohio State's Rose Bowl berth in my final home game as an Ohio State student. There were tears involved.
COLLEGE FOOTBALL PLAYER: Eddie George
COLLEGE BASKETBALL PLAYER: Whoever replaces Amir Williams
NFL TEAM: Cleveland Browns
NHL TEAM: Columbus Blue Jackets
NBA TEAM: Cleveland Cavaliers
MLB TEAM: Cleveland Indians
SOCCER TEAM: I don't believe in soccer.
Recent Activity
I don't know if I now dislike Keegan-Michael Key, or if I now like James Franklin.
VT bros like: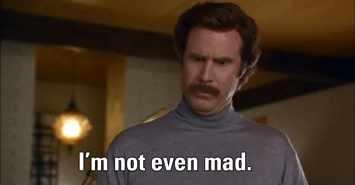 The VaTech o-line was heaving by the middle of the third quarter. Superior conditioning is going to help down the stretch. (Thanks, Coach Mick.)
They want to be better than Texas at the personal expense of the Longhorns.
Eh. Aggies are a weird breed. They like to claim moral victories, so winning battles like attendance, airtime, recruiting, and lottery picks keep them pretty happy.
I was a grad student at A&M when the move happened, and Aggie fans were THRILLED to leave the Big 12. There was very much a sentiment of "hey, look at us, moving to the BIGGEST, BADDEST conference in the country while TU stagnates!" They have suitable replacements for most of their Big 12 competitors (LSU > Texas Tech, for example), and while I know they itch to play Texas, they can claim superiority over the Longhorns without actually having to meet them on the field. It's a win-win.
I loved it, I think. (It needs a rewatch for sure.)
I loved that Joan, Roger, Pete, and Peggy all got fresh starts that felt in line with their character arcs, though I'm not sure I completely buy Reformed Pete Campbell. Joan gets use her hard-won payout from McCann to become the boss she always should have been. Roger becomes a grownup, finally - his line about Kevin being a "rich little bastard" was my favorite of the night - and finds a woman who is his equal in age, intelligence, and emotional instability. Peggy and Stan felt like audience wish-fulfillment, sure, but I like how Weiner bookended her story with office relationships in which the power dynamic is completely flipped. I also buy her staying at McCann because Peggy is, above all else, practical and risk-averse, especially with regard to her professional life.
Don is the only character without a finite ending because he's the only character who never grows or changes. He's Don, and he'll always be Don. You can strip him of his suit, his office, his car, even his name, but he'll always be the survivalist he was in Season 1, always looking for the next Big Idea (or con, depending on your view of him). Every setback is a jumping-off point for Don, building on his need for artifice: Korea made him Don Draper. His divorce from Betty pushed him toward Megan. Getting stranded at a hippie retreat (probably) inspired the Coke commercial. I still love McCann's president's perfect description of Don as the "white whale" - he can destroy everything around him, but it doesn't matter, because he's the prize everyone wants.
I'm going to miss this show.
Did I imagine that, or did anyone else pick up on it?
You didn't imagine it, and a lot of folks are taking it as a sign that Don was in fact responsible for the commercial.
Conference pride is for shitty teams.
And gamblers, apparently.
The end.
I started at OSU in '04, and I went to school on a Morrill Scholarship for minority students (because my home county is considered Appalachia, and apparently a farm kid with a 33 ACT and 3.9 GPA is basically an academic unicorn). My brother had a 28 ACT score and a 3.5-3.6 in high school and got in in 2005 without trouble.
One thing missing from this conversation is the major/college everyone applied into. Some programs are more competitive, even today - a 27/28 ACT is pretty high for CFAES, which heavily relies on transfers from ATI and branch campuses, though it's borderline for colleges like Fisher. So if your kid is worried about admission, find something similar in FAES to apply into, then switch majors when you get to campus since most freshmen take the same GECs in their first semester, anyway. I've also heard that OSU Admissions also takes into consideration an applicant's high school - students from schools whose graduates perform well are looked at more favorably as they're less likely to fail out or transfer (i.e., cost the university money in the long run).
I went to grad school in College Station, Texas, right as Texas A&M joined the SEC. The SEC homerism was instantaneous. Their move coinciding with Texas taking a nosedive only made the superiority-by-association worse.
I will say that the Aggies were pretty accepting and respectful of my tOSU ties, especially after we picked up Urban. The only people I ever encountered who were jackasses about it were some middle-aged dudes who used to frequent the only BW3 in Brazos County that carried BTN. They made a lot of asshole comments at Tressel and Pryor and actively rooted against the Buckeyes in the 2011 season. I got smart and bootlegged my parents' BTN2Go for 2012.
This thread is udderly nonsensical.
I like it.
In college, I was a nationally ranked dairy cattle judge.
I am also handy at picking up accents. Living in Texas among the native and imported Southerners was a dream come true. (I still sound like a Georgian when intoxicated, thanks to my Bulldog former office mate.)
Yup - Mike Evans and Jake Mathews.
Prof at a large land-grant institution located in the heart of the Midwest.
Just guess.
I use my mom's recipe, in which every ingredient is measured in pounds. That's right - POUNDS: 1 pound of butter to 2 pounds of peanut butter to 3 pounds of confectioner's sugar. (To be fair, she used to be a caterer, and this recipe makes like 10 dozen buckeyes.) Also, the best dipping chocolate is a brand called Mercken's. It's intended for candy making, and it melts and adheres like a dream. Mix that with a little bit of good dark chocolate and you're good to go.
Urban approves.
Ouch, was that a continuation to your previous sentence or the start of another? Lol
Wherever JoePa is, he's offended. Hell, he once wore TWO pairs of pants that were better than Harbaugh's khaki monstrosities.
It doesn't take away from the original, necessarily, but it does damage the credibility of the franchise.
Star Wars survived Episodes 1-3, and Raiders of the Lost Ark is still awesome and beloved despite the crap-pile that is Kingdom of the Crystal Skull.
This argument is silly. No one is preventing people from watching the original Ghostbusters; if anything, this will revive interest in the original. Also, while I admire the actresses you've chosen as your dream cast, I think the whole point is casting actors/actresses who don't fit conventional "hero" archetypes. I mean, a studio could've cast Kevin Costner, Mel Gibson, Robert Redford, and Denzel Washington in the original, but then it wouldn't be the same movie.
...the massive uptick of minority based programming.
This is a bad thing?
Related: Kate McKinnon is the funniest current SNL player. Anyone who can convincingly pull of both Angela Merkel and Justin Bieber is aces in my book.
My family has cattle, and we've used quite a few OSU-related names for heifer calves. We have three full sisters named Gamble, Guiton, and Griffin, and we named Gamble's first daughter Germaine. There was a Georgie in there, too. We also have Millie (her sire's name is Braxton; she was born the day #5 started the Colorado game) and Elliott (after Zeke, of course; we call her Ellie for short).
We found them at the new Dick's Sporting Goods at Easton right after the CFP announcement. They're part of the Playoff Diamond Collection. And yes, still $180. (We split the cost on that bad boy. The brother is lucky to have two sisters who love OSU football as much as he does.) And if it makes you feel better, the quality's really good. They're pretty heavy, and the silver stitching is awesome.
The jackets and the Woody undershirts are the best of the non-jersey playoff swag. My sis and I picked one up for my brother for Christmas - he was pretty thrilled.
A bit surprised that we are the "home" team for this event. Would have assumed that Oregon as the #2 team would get home treatment.
Marketing, my friend. No doubt Nike lobbied for the chance to show off the finalists' other uni options. That said, these would be perfect if the numbers on the sleeves weren't black. Loved the road whites.