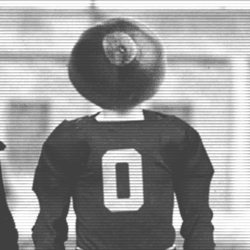 AkronBuckeye13
Member since 23 November 2011 | Blog
Helmet Stickers: 373 | Leaderboard
A Buckeye working in the heart of tiger nation, Geaux Buckeyes!!
Favorites
SPORTS MOMENT: 42-39 2006. Game of the century.
COLLEGE FOOTBALL PLAYER: Troy Smith and Beanie Wells
NFL TEAM: Browns
NHL TEAM: NA
NBA TEAM: Cavs
MLB TEAM: Indians
Recent Activity
ESPN is already writing the headline.
What you've just said is one of the most insanely idiotic things I have ever heard. At no point in your rambling, incoherent response were you even close to anything that could be considered a rational thought. Everyone in this room is now dumber for having listened to it. I award you no points, and may God have mercy on your soul.
Kramer
Hank Hill
Homer Simpson
Frank (Everybody Loves Raymond)
Mac (Always Sunny)
I think Bert had to go to a tent maker to get that suit made.
It's all going to come down to Braxton, threre's no reason we can't have a lethal passing game this year.
Ohio leads the U.S. in production of Swiss cheese.
Ha! Take that Wisconsin!
Didn't Manziel sign with LeBron's marketing company? Good luck with anything associated with LeBron in Cleveland. Watkins all the way.
Don't like the idea of Friday night games for Ohio State, however I'd love to see OSU play Michigan at night sometimes instead of the usual noon start time.
Can we just throw money at Arkansas so they'll come play us in the shoe? It never gets old seeing Bert get torched at the hands of Ohio State.
I wouldn't want to do that, I'd feel bad for the mites.
They'll need a big video screen to distract the fans from what's happening on the field next year.
Just look at the Raiders.
It was probably pretty tough to do that this past season.
What makes you think I would just start grinding my feet on someone's couch? I've got a little more sense than that..........
....yeah, I remember grinding my feet on his couch
It seems like Pettine and Farmer knew it was coming. Farmer turned down the Miami job so he appeared to know that he was going to get the Browns job so maybe he did have some input on hiring Pettine.
Upvoted immediately after I read "demonstrate to these athletes ".
Like Earle said, Banner botched the coaching search. Also, Lombardi can't put a roster together. After Hoyer went down they did absolutely nothing to get a halfway decent quarterback. Josh Freeman was available, was he going to take us to the playoffs? No. Was he a better option than Weeden and Campbell? Absolutely.
Does the blog no longer exist?
I still get nervous watching this.
As a Browns fan I'm used to a team with orange as one of their colors getting blown out.
Almost three years later and I still could watch that video on a 24 hour loop.
You also spelled Russel wrong in the title.
No worries, they'll learn on November 8th.
Scrolling down I had a feeling that I knew what #1 was. Still cringed when I saw it.
Imagine the B1G Championship Game at The Shoe, at night, with potentially a 4-team playoff berth on the line. That place would be surreal.