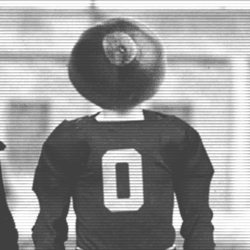 Adambob
---
Member since 17 December 2011 | Blog
Helmet Stickers: 220 | Leaderboard
Recent Activity
Double BOOM!
There's still a lot of guys on the team that Tressel recruited. I think Eli Apple was the last.
Any 3*s from Centerville ready to commit?
James Clark? Is he still recovering?
How can someone get tickets? Do they sell them at the stadium?
I think Frank Gore is the closest comparison to Hyde in the NFL. Beast.
It really sucks with what happened with Mitchell. He could have been *The* best that's ever played that position at Ohio State.
But I bet Curtis Grant finally proves himself next year.
Spartans... We'll put their name to the test
Wag the dog.
i think ESPN has been saying the Big Ten has been bad and the SEC has been good for so long it has brainwashed an entire generation.
If you keep saying a whole conference is terrible why would a recruit want to play in it? So the SEC keeps getting the recruits and the B1G keeps missing elite talent. After awhile it shows on the field, perpetuating the problem.
Screw it. The only spots that matter are 1 and 2. It's going to be funny when there are 4 or more undefeated teams going into bowl season.
They're going to hype up FSU vs Miami like crazy next week. If Miami somehow wins that game I bet they jump Ohio State in the polls. Wouldn't it be hilarious/tragic if The U went undefeated right after their 2 year mess.
Beanie could make 'Dave' look like a good play call.
Philly has been in some of the worst non-call penalties I've ever seen. Every year too. Iowa 2010 he almost gets his head ripped off and no flag. Last years Game, a blatant facemask and nothing. There's more but i can't remember which games.
I'm glad coach Tressel showed more restraint than me on that fake punt.
Can someone explain why Bryant can't get a medical redshirt this year? Gardner got one last year and played in every game.
Why can't Bryant get a medical red shirt this year? Can someone explain? Gardener got a redshirt last year and played in every game.
Could we see a quadruple reverse with Braxton and Guiton on the field at the same time? Guiton takes the snap tosses it to Miller who hands it to Hall then pitches it to Brown who gives it to Wilson for a 50 yard touchdown!
Braxton is a running QB that throw.
Guiton is a throwing QB that can run.
You know those donuts aren't going to go to waste with Hoke around.
Awesome. I'm glad Tressel's least favorite moment is still in the debriefing. I can imagine him sipping coffee and spitting it out when he saw the team line up for 2, then slamming his cup down and saying "Get that guaranteed point!".
I've always wanted to see the Block O in the student section. Why hasn't this ever happened? It would be simple if everyone wore grey shirts on the O.