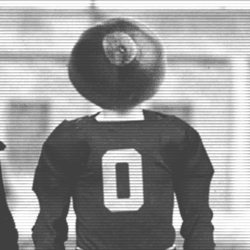 Adam21
---
Member since 12 November 2012 | Blog
Helmet Stickers: 693 | Leaderboard
Favorites
COLLEGE FOOTBALL PLAYER: Drew Basil
NFL TEAM: Green Bay Packers
NBA TEAM: Minnesota Timberwolves
MLB TEAM: Chicago Cubs
Recent Activity
How do you say that and not add this gif?
After seeing Keita Bates-Diop in person, i think he definitely falls into the "scorer" column.
Hyde has a slight image issue with the suspension, so I think that may knock him to the 2nd or 3rd round, which would be an absolute STEAL!! Think Roby will get a pass on his defense this year considering how down the unit was as a whole, and get drafted in the first round.
Just pure speculation, but I think once the teams interview Carlos, that will relieve the teams of all concerns regarding character. The kid went through and learned a lot from that experience.
The gif doesn't show it (it ends right before it happens), but Williams shoves a bystander #32 after it starts to settle down.
Let me clear a few things up about this. The commentators last night were wrong when they said 10 technical free throws were shot. Just because a player shoots FT's with no rebounders along the lane does not necessarily make them technical FT's. Amir received a common foul (typical personal foul) for pushing #32 (hence why he shot the last FT's). Ross received two common fouls for shoving #45 and #1 (his second common foul in the dead ball period resulted in his ejection). tOSU fouled on three separate occasions resulting in 6 total FT's for NW. #45 had a common foul on Amir when he shoved him out of bounds. His second foul, which was a flagrant foul, was when he threw a clenched fist at Amir. NW fouled twice resulting in 4 FT's for the Buckeyes. Since tOSU fouled last, NW gets the ball after all FT's are attempted. Even though the ref's took a long time, they got it correct. Technically, there were no "technical" free throws attempted. There were 8 "common foul" free throws and 2 "flagrant foul" free throws.
And no, I'm not a referee. Just a HS coach.
There is actually a rule in place for NCAA head coaches and no more than one assistant coach (for Ohio High school, it is only the HC - no assistants) to enter the court during a fight/scrum/melee to control his team and allow the referees to sort out the situation. It is a very good rule, which I have seen taken advantage of almost every time (both HS and college) and have never seen the fight escalate with the coach on the court. I understand you are mainly referring to Matta's back, but he did what he had to do.
Sorry to go off topic, but I am just curious on your thoughts on Minster's new head coach? Has he lived (or will he) up to expectations?
As a jr. high teacher and a high school basketball coach, I couldn't agree more with this statement.
Really wish there was an "excited" option.
Yes, but there have been rumors (in fact, I believe it was Birm himself) that he had been contemplating not returning to tOSU next year.
Couple those two factoids with the 0-fer at the position this year, and that leaves Marcus Baugh as the only returning tight end on the roster for 2015.
Birm, Does this mean you expect Baugh to be back next year, or was this just something you were going off the roster as of now? I wonder if i missed something somewhere.
In the secondary, I hope Coach Myers is a soothsayer and can see into the future regarding Roby and him having a breakout game this weekend.
Please tell me this was an autocorrect error?
All 3 of his fumbles were lost in 387 rushes over his 4 years here.
Correct. This scholarship will more than likely go to a senior walk-on. Then, the scholarship will be used again for 2014.
Look at the "selected by media" section.
Makes you wonder though... how did Kurelic find out? (I honestly don't know)
Does 11W or tOSU hire a PR guy to help these guys? These recruits are incredibly well-spoken.
I love how all of these recruits realize that just because they are heavily sought after, very good football players doesn't mean that they don't have a few things to work on to become better players. You can definitely tell that is a trait Urban and his staff require from their recruits.
I guess I should clarify. When I say work with him, I do not mean on the football field. He does other things than play football, but I did get to watch him play a few times (I am in no way a football player, as I haven't played since I was in HS).
I think Berrios reminds me of a kid by the name of Aaron Pflugrad out of Arizona St. If you aren't familiar with him, look him up. I had a chance to work with him right out of college; not only is he a great player, but a terrific person.
Do you read his twitter? He loves the nickname!
I'm sorry but I think this analysis is giving far too much credit to Basil. While he did a reasonably consistent job of kicking to the 5 yard line (which could be an indication of his range, rather than his intent) I don't recall him being particularly consistent in his hang time (i.e., "kicking the ball higher") and I submit this may have had a good amount to do with what was at times painfully inconsistent coverage.
I don't think it has anything to do with his range. If you recall, Basil has always been the long FG kicker, even as a freshman when Devin Barclay was the premier FG kicker. Last year, nearly 24% of Basil's kickoffs went for touchbacks, obviously a higher number due to being closer. His sophomore and freshman years were just over 22% and 10% respectively. To put that into perspective; in 2009, Pettrey had 4% of his kicks were touchbacks and Barclay 16%. In 2008, Pettrey had 18%. Unfortunately, the website I used, http://www.cfbstats.com/2012/team/518/kickoff/index.html, only went to 2008. I would've loved to have seen Nugent's seasons.
Eh, I took it as I must have come off like a know-it-all or was trying to get praise for knowing the Basil's... Either way, I'm not too worried about it. +1 for you, especially because of the name!
Love this article. I had thought Drew did a pretty good job of ball placement on kickoffs. Did not realize that he did a pretty amazing job of that. Having more athletes next to him will only make him look even better. I am privileged to be friends with a family member of Drew's, so if I am lucky enough to see him again, I'll be sure to tell him that he is doing a good job and keep it up.
I got to meet Jake when he was playing for Valpo and a team I was student coaching went up against him. Very nice and personable man. I have no doubt he will be a valuable asset on the Buckeye staff.
Or Urban talked to him about a commitment only meaning that school made that player's top 3.