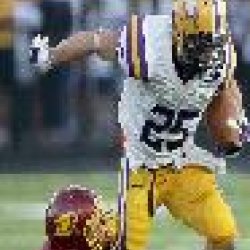 AcrossTheField11
Westlake, OH (via Avon, OH)
Member since 06 September 2010 | Blog
Helmet Stickers: 1,288 | Leaderboard
I've been a huge OSU fan since I was 7 years old, watching games with my dad and hearing the fans at the horseshoe chant "Eddie, Eddie". Graduated with an accounting degree from the Max M. Fisher College of Business at The Ohio State University in 2009. Took a job out of college that moved me to Raleigh, NC for about a year and a half. Currently a financial analyst working for a company in Cleveland, which makes travelling to Columbus for game days much easier. I largely identify myself with Ohio State University and am not ashamed to admit that I get teary-eyed when I hear Carmen Ohio. I hate everything about the state of Michigan, including the fact that it smells like hot dog water.
Favorites
SPORTS MOMENT: Rushing the field after a 42 - 39 win in the 2006 (#1 vs. #2) Michigan game.
COLLEGE FOOTBALL PLAYER: Troy Smith
COLLEGE BASKETBALL PLAYER: Jon Diebler
NFL TEAM: Cleveland Browns
NHL TEAM: Columbus Blue Jackets
NBA TEAM: Cleveland Cavaliers
MLB TEAM: Cleveland Indians
SOCCER TEAM: ???
Recent Activity
I gotta see about a girl...
Lake Erie Crushers 4 Lyfe
That could be yellow or green though depending on if the patrons have sinus infections.
Hathankyouformakingmespitupwaterontomykeyboard...nowthespacebardoesn'twork!
Chris Gamble 2.0? That's a very welcoming / exciting headline.
We have to get it done this year. The potential dropoff at QB after Braxton leaves, in addition to PSU and MSU coming alive as genuine B1G threats, will make it increasingly difficult to make the playoff in future years. I'm not saying it's impossible, but this year is our best bet, IMO.
Nice piece. What an asshat. Does SI have an ombudsman?
For me, I grew up with Tressel. He was hired when I was in 8th grade and was the head coach through my college years. Seeing him oustered like he was was nothing short of heart-breaking.
I'm thankful as hell to have Urban Meyer as our head coach and probably can't think of any active coach that I'd rather have at the helm, but damn do I miss Jimmy T.
Great job by the university choosing a non-divisive figure to close out the careers of its graduating student body. I hear next year they are looking at Alex Jones.
I don't think she's the "worst kind of person alive" in a literal sense. That was me using hyperbole in attempt to hammer home the point that I think she sucks... a lot. Rapists, murderers, terrorists, people engaging in human trafficing, etc. would take the cake on "worst kind of person alive" if you want my literal opinion, but feel free to nitpick my post. I'll use hyperbole font next time to avoid any confusion.
In regard to what I would have the league do? I'd have to think about that a bit. I'd be strategic and calculating instead of brash and mob-appeasing. I'd do everything I could to avoid setting this precedent. What is going to happen when a minority NBA player or coach gets caught saying something homophobic (Tim Hardaway) or makes any derogatory comments about any other race / creed / lifestyle. Will they get banned for life as well? Will there be a double standard?
I said he was disgusting... that pretty much covers it. And the league ownership are cowards. It would be one thing if they were truly outraged by these comments but to me, they fake outrage to save face with the people who pad their pocket books... maybe i'm just a cynic. Anything else?
Don Sterling is a disgusting loudmouth idiot with stupid opinions.
His Girlfriend is a conniving gold-digging tramp and the worst kind of person alive.
The NBA Commissioner and owners are cowards that bend to all of the finger-waggers on their moral high horses... the same finger-waggers that would likely flip out if their own daughters brought home a boyfriend of a different race.
These posts should be deleted by the staff the moment they are posted. Its not in the spirit of this site to bicker back and forth about this crap. The guy said some dumb stuff. He's also 80 yrs old and likely senile. Another great example of the media grasping for something to piss and moan about and start more of these asinine debates that clutter up my sports pages. He'll be dead in a few years and then we can all breathe a huge sigh of relief that he's not saying such offensive things any more.
This sucks for all of the normal kids that earn degrees from UNC because as an employer, I now question any potential employee coming out of that university. If you are not proficient at writing at a 2nd grade level, yet have a degree with the university name emblazoned on the front, how much can that degree really be worth?
I'd sooner give up Ohio State's athletics programs than have my beloved university's name and status tainted by a few lazy athletes and the faculty / staff enabling this bullshit.

BroJim 14 MINUTES AGO

http://en.wikipedia.org/wiki/Rape_culture

I hope you learn something.
You are a joke.
Ha rape culture? I seriously hope that this is a joke. There is no rape culture. This would imply that the act of rape is a generally accepted notion by at least a few groups of people.
Oh come on... that comment (while idiotic) was made in 1988. I think we need to lighten up. Don't let DJ's fake outrage diatribe get in the way of the real news of the day (Bobby's comments in 2014 - which were spot on).
Is he even a sure fire first round pick? I admittedly don't have the greatest pulse on where guys are grading out this year except the highest echelon... but I think he could use another year.
It doesn't look like he'll be needing any help toning that forehead muscle. Its world class.
Wow when i first saw the picture I also saw a teddy bear / pig thing with weird nose. I couldn't figure it out until the context clues of the rosary made me understand.
1a.) Mario 64 (N64)
1b.) Zelda - A Link to the Past (SNES)
3.) 007 - Goldeneye (N64)
4.) Markio Kart 64 (N64)
5.) The Illusion of Gaia (SNES)
Special Mention: Ken Griffey Jr Major League Baseball (SNES), Donkey Kong Kountry (SNES), Mega Man X (SNES), NFL BLITZ (N64), Mega Man X (SNES), Star Fox (SNES)
I like the "Michael Sam Has A Boner" post much more than this one...