acBuckeye
---
Dallas, TX (via Columbus, OH)
Member since 29 July 2011 | Blog
Born in Columbus, family moved to Texas at 3 years old and been here ever since. Dad graduated from Ohio State, so naturally, the choice of my fandom was easy to make.
Favorites
SPORTS MOMENT: Cie Grant slinging Ken Dorsey to the grass like a cheap doll, and watching the football flutter helplessly to the turf. Commence celebration.
COLLEGE FOOTBALL PLAYER: Chris Spielman, Mike Doss
COLLEGE BASKETBALL PLAYER: Scoonie Penn, Deshaun Thomas
NFL TEAM: Browns
NHL TEAM: Blue Jackets
NBA TEAM: Cavaliers
MLB TEAM: Indians
Recent Activity
DJ's Monday nights must be lit.
When Nebraska was a dominant program, they recruited lineman locally and typically went West for their skill position players. They have been unable to replicate that philosophy consistently since Osborne retired, thus their slip into mediocrity.
Too many Jims in this post.
You forgot jumping up and down on cars.
Few things in sports are as frustrating as watching elite talent squandered with an inept franchise.
No kidding.
My mother-in-law is an OU fan. We all live within an hour of each other in the Dallas area. She wants me to take her to the game in Norman for her birthday present. I think I'm going to have to make that happen.
You can't see his face in the picture. I'm betting there's a smile.
Maybe I should try stealing her phone?
Although I loved watching him play and appreciate him for everything, the way Braxton Miller carried himself always annoyed the hell out of me. I guess the kids call it swagger?
I don't think we were one of the four best teams in the country last year.
It's ok to be wrong.
I've barely paid attention to the men's basketball team the past two seasons.... and I pride myself on not cheering for front-runners.
I hate Ohio Stadium's field turf, and the bright red end zones. I long for the grass field they had just before that.
What the FCSO meant was:
We do not want to spoil anyone's fun have to let this dog latch onto your balls while you're busy looking at your phone, but please play safely and responsibly.
They both say "Developed Here." Therefore the one with the silhouette of Ohio is the only choice.
Not sure where you're getting your info..... He shot 41% from 3 this last season, and is just below 40% for his career. Why the hell do you think Milwaukee just paid him?
Ramzy has the perfect response, every effing time.
Matthew Dellavedova just signed a four-year, $39 million contract with the Milwaukee Bucks, which is hilarious.
Meanwhile, Aaron Craft toils away on the Utah Jazz's Summer League team. Do you see where I'm going with this?
I agree that Delly's new deal is absurd and I LOVE AC, but until Craft can consistently hit the open 3, he won't get paid. Simple as that. Just not a good enough shooter.
Didn't someone do the same thing for the inside of ketchup (catsup) bottles?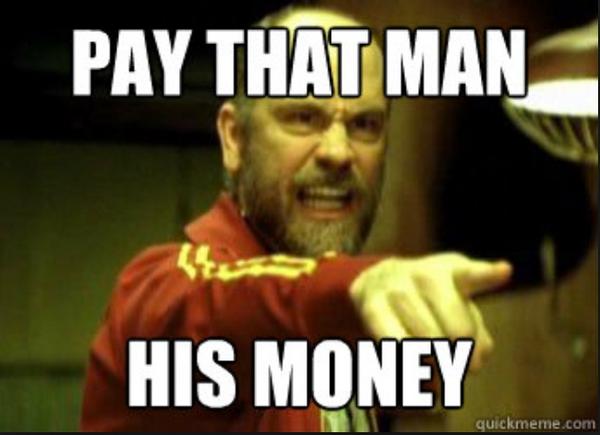 I think the three point shot has ruined basketball.
Actually the way the sport is officiated has started to ruin it for me. Even at the college level. The inconsistencies from call to call, ref to ref, and game to game is infuriating to watch as a fan. I can only imagine how frustrating it must be for the players. Then when you have physical freaks like Shaq and Lebron, the problem becomes exacerbated.
Guys absolutely mug each other under the basket fighting for position both to post up and/or rebound; jersey grabbing and hand checking are a toss-up as to whether they get called; and the term "incidental contact" has become a thing. It doesn't matter if it's incidental or not, a foul is a foul. But the problem is the players don't know what constitutes a foul any more than you or I do.
And this doesn't even mention travelling/shuffling the pivot foot. Everyone knows what a joke that is.
The 3 point shot is a thing of beauty and something to really appreciate. That is the furthest thing from the problem with basketball.
I was at the 2010 game (still my only time in the Shoe) and remember that run by Boom Herron in the pic above. He broke the stadium record for longest run on that play..... until the refs called Dane Sanzenbacher for an illegal block. Still one of the worst calls I've ever seen; perfectly clean block.
MRON or M MAN? Oh wait, never mind......
As long as McCall doesn't try to trade his glasses or watch for discounted tattoos he should be good to go.