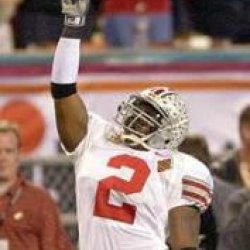 acBuckeye
---
Dallas, TX (via Columbus, OH)
Member since 29 July 2011 | Blog
Helmet Stickers: 3,585 | Leaderboard
Born in Columbus, family moved to Texas at 3 years old and been here ever since. Dad graduated from Ohio State, so naturally, the choice of my fandom was easy to make.
Favorites
SPORTS MOMENT: Cie Grant slinging Ken Dorsey to the grass like a cheap doll, and watching the football flutter helplessly to the turf. Commence celebration.
COLLEGE FOOTBALL PLAYER: Chris Spielman, Mike Doss
COLLEGE BASKETBALL PLAYER: Scoonie Penn
NFL TEAM: Browns
NHL TEAM: Blue Jackets
NBA TEAM: Cavaliers
MLB TEAM: Indians
Recent Activity
As the saying goes down here in Texas: Book 'Em Horns!
What I recall the most about that title game loss to Florida, was how many times in the 2nd half Florida grabbed a loose ball, then hit a back-breaking 3 right when OSU was starting to make a run.
That and the fact that Oden dominated Noah.
Wonderful! Good luck gentlemen!
PS -- walking with ANY kind of weight over your head for any bit of time will test your will very quickly. #respect
You should spare us all and go ahead and attend that wedding during the Navy game, Beth.
My wife and I specifically planned our wedding date for June 26th 10 years ago b/c it's during the sporting dead season. The couple of times I've had to attend a wedding on gameday Saturdays, I've followed play-by-play on the phone and set up a recording on the DVR. This was years ago. Now I can actually WATCH the games on my phone.
Steve Spurrier may be one of my favorite all-time non-OSU coaches. Anybody, even if it's someone from within the SEC, who can piss off as many people in the SEC as he can, is good in my book.
He chose the Luigi hat over the Mario one b/c he wanted to appear taller.
Southern Cal and Alabama may challenge that notion for 2nd behind Miami.
What has always tripped me out regarding the NCAA:
a) an actual federal/state/local law is broken, but an NCAA rule wasn't broken: NO PENALTY!!
b) no actual laws were broken, but someone bought you dinner: DEATH PENALTY!!
Ohio State's regalia is aces.
Exactly. Now let's leave it alone.
Minny b/c of the simple fact that they are the best team on this pitiful list.
if you take the Ohio State approach - cooperating fully with the NCAA - bad things will happen. Take the Miami or North Carolina approach - "Go eff yourself." - and you'll be just fine.
I agree here. However, USC told the NCAA to get lost and they got hammered. UNC, it was reported recently, is being investigated again, and the reason Miami didn't get hammered is b/c the investigators screwed it up.
Bottom line -- like pretty much everything regarding the NCAA, past precedence doesn't matter at all. The NCAA has proven over and over again, that they look at each case separately and then basically take a shot in the dark and see what "penalty" they hit.
I thought it was all about having the best crab.
Two things from the video:
1) will always believe that Hyde should've gotten the ball
2) that Clemson defender didn't catch that INT
"With this cycle of recruiting, I think (the players we've brought in now) fit the model of what we want to do from an offensive and defensive standpoint, and I think our numbers really reflect that."
That's funny, considering Hoke had his best season with most of Rich Rod's players.
It's definitely July.....
Braxton -- After this season, he will own every single OSU QB passing record of consequence and a 3-1 record against TTUN
Archie -- Wasn't around when he played, but this is obvious
Byars -- Should've won the Heisman, faster than Eddie and just as powerful; great blocker and pass-catcher
CC -- He caught everything
Boston -- Owns a ton of OSU receiving records
Yes. So Curtis Samuel and Dontre can blow right past him for 6.
I think 3-4 games is about right, but I expect them to at least show SOME semblance of a running game this season. Their O-line HAS to be better; it just has to. Can't be any worse.
I go into The Game every season expecting a close game. I just do b/c that's how The Game usually works out, and also b/c how much it means to each side.
Most people thought we would blow them out last season. Obviously our pass defense sucked, and we had to travel up to that nightmare known as AA -- two factors I figured would keep it close. I knew their O-line was terrible, but they had a great game plan to cover that up, despite the fact we still beat Gardner up pretty good. I didn't think we'd give up 40 points and 1000 yards, but I knew it would be closer than expected.
For this year, I still don't think TSUN will compete for a B1G or division title, but when they travel to Columbus in November, I'm expecting another slobber-knocker.
And a little thing called Our Secondary.....
The real bomb threat against Spartan Stadium won't come until November 8th.
#BOOOOOOM!!!!!