acBuckeye
---
Dallas, TX (via Columbus, OH)
Member since 29 July 2011 | Blog
Born in Columbus, family moved to Texas at 3 years old and been here ever since. Dad graduated from Ohio State, so naturally, the choice of my fandom was easy to make.
Favorites
SPORTS MOMENT: Cie Grant slinging Ken Dorsey to the grass like a cheap doll, and watching the football flutter helplessly to the turf. Commence celebration.
COLLEGE FOOTBALL PLAYER: Chris Spielman, Mike Doss
COLLEGE BASKETBALL PLAYER: Scoonie Penn, Deshaun Thomas
NFL TEAM: Browns
NHL TEAM: Blue Jackets
NBA TEAM: Cavaliers
MLB TEAM: Indians
Recent Activity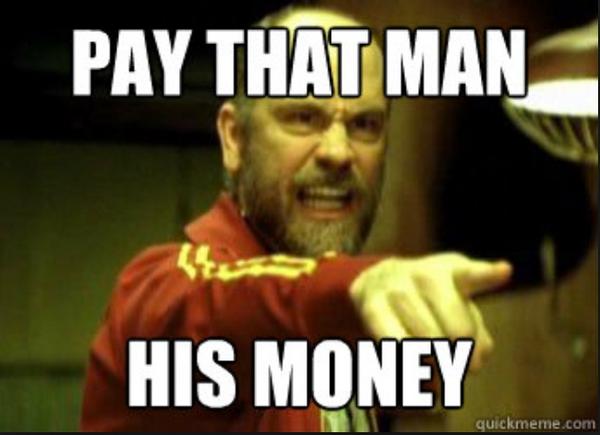 I think the three point shot has ruined basketball.
Actually the way the sport is officiated has started to ruin it for me. Even at the college level. The inconsistencies from call to call, ref to ref, and game to game is infuriating to watch as a fan. I can only imagine how frustrating it must be for the players. Then when you have physical freaks like Shaq and Lebron, the problem becomes exacerbated.
Guys absolutely mug each other under the basket fighting for position both to post up and/or rebound; jersey grabbing and hand checking are a toss-up as to whether they get called; and the term "incidental contact" has become a thing. It doesn't matter if it's incidental or not, a foul is a foul. But the problem is the players don't know what constitutes a foul any more than you or I do.
And this doesn't even mention travelling/shuffling the pivot foot. Everyone knows what a joke that is.
The 3 point shot is a thing of beauty and something to really appreciate. That is the furthest thing from the problem with basketball.
I was at the 2010 game (still my only time in the Shoe) and remember that run by Boom Herron in the pic above. He broke the stadium record for longest run on that play..... until the refs called Dane Sanzenbacher for an illegal block. Still one of the worst calls I've ever seen; perfectly clean block.
MRON or M MAN? Oh wait, never mind......
As long as McCall doesn't try to trade his glasses or watch for discounted tattoos he should be good to go.
There isn't a recruit in America who wouldn't sign with the Buckeyes if Urban walked into their parents' house, nonchalantly flipped a CFP trophy onto the kitchen table and then walked out.
Meanwhile, if it was Harbaugh he'd be flipping sleeping bags onto the kitchen table and staying.
Two Badgers died in that same clip.
#coachcoombsisthegreatestlonghashtagauthorever
Because Jabrill Peppers.....
No way Robinson stays on the team after felony stolen weapons and drug charges.
You're right. Auburn will pick him up.
I'm confused.... you say you disagree, but then say it came down to execution, which is exactly what I said.
I agree that Sparty gained confidence as the game went on.... I'd gain confidence too if I were the opposition after watching what the OSU game-plan was. I just hate when people say "someone wanted it more" like the other team wasn't trying hard enough. That's BS. You can tell when that's the case, and that certainly was NOT why we lost that game.
Obviously Zeke's hospitalization during the week wreaked havoc on the game-plan for the coaches. I think they started to plan for him not to be able to play, then he did, hence the low number of carries. Was he even 100% by game time?
I think too much is made of the weather, because IIRC the rain stopped in the 2nd half. Why didn't we throw the ball then?
Regardless, when the original game plan didn't work, the coaches didn't make the necessary half-time adjustments... which was shocking considering Meyer is one of the best in the business at doing just that. I think Meyer thought his defense could hold on, and they just got gassed late in the 4th.
Game-plan, play-calling, and execution were the main culprits IMO, in addition to Zeke's hospitalization being more of an issue than I think most of us realized.
It has nothing to do with who wanted it more. There's no such thing. Both teams were playing their asses off.... our defensive front just got tired, the MSU O-line took advantage, and our offense didn't help the defense at all. It came down to execution, and MSU executed their game-plan better than OSU executed theirs. Huge matchups like that almost never come down to "who wanted it more." That's Matt Millen talking-head speak.
I have some ideas, but those with more skills than me will have to do it:
1) Double-bird Marcus Hall in the video screen
2) Dead Devin Gardner lying on the turf on the screen
3) Zach Boren over Gardner on the screen
Giving the ball to Guapo would've worked better.
Boone, NC? What a fantastic place! And I've never been there!
Don't worry, I haven't forgotten. Unfortunately.......
Miami.... the worst sports town in the world.
I cried my 17-year-old self to sleep the night of the Game 7 loss to the Marlins in '97. Not bawling, but tears of frustration and heart-break. I'm not afraid to admit that.
I don't think you read the article.
The irony there is that not only is Zeke the better ball-carrier, but the better blocker too.
Carter probably didn't earn too many future backers at ESPN with his "fall guy" spiel, but I refuse to weep about the exit of anyone from my life if it means more Randy Moss.
Ahhhh 2008. Back when beating Sparty was easy.