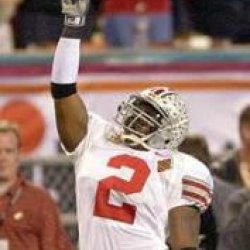 acBuckeye
---
Dallas, TX (via Columbus, OH)
Member since 29 July 2011 | Blog
Helmet Stickers: 2,797 | Leaderboard
Born in Columbus, family moved to Texas at 3 years old and been here ever since. Dad graduated from Ohio State, so naturally, the choice of my fandom was easy to make.
Favorites
SPORTS MOMENT: Cie Grant slinging Ken Dorsey to the grass like a cheap doll, and watching the football flutter helplessly to the turf. Commence celebration.
COLLEGE FOOTBALL PLAYER: Chris Spielman, Mike Doss
COLLEGE BASKETBALL PLAYER: Scoonie Penn
NFL TEAM: Browns
NHL TEAM: Blue Jackets
NBA TEAM: Cavaliers
MLB TEAM: Indians
Recent Activity
"Bag men operate in clandestine spots like the Waffle House......."
Myron Rolle's tweet makes him look like a complete ass-hat.
Good on the NCAA........ now Shabazz Napier won't have to worry about going to bed "starving" anymore. Hungry children across the globe are rejoicing.
The speed is good, but I think it benefits teams more when more of it is on the defensive side. Also, Urban himself even said that b/c of Hyde's success under his system, he wants to continue to recruit big, strong backs. Urban's not ditching the ground and pound by any means, just b/c some media talking-head says it doesn't look flashy.
Good points..... but I think we can all agree that if Guapo had touched the ball more in the second half of that game, we win.
I'm guessing Sparty was afraid that Columbus would invade East Lansing if they'd have agreed to a primetime matchup. Actually, I think C-bus is going to invade regardless......
I believe only if ABC and it's affiliates pass up on it...... which won't happen.
Just when I thought I couldn't love Jim Tressel anymore than I already did. I'm actually seriously considering a Twitter account just to follow him.
#outlaw #IAintAKillaButDontPushMe #ambitionz #StaringThruMyRearview
It's odd to me that some full-scholarship athletes are starting to complain about sometimes going to bed hungry. Last I checked, those athletes are performing at a very high level. A level that requires the proper nutrition for their bodies to function in the manner in which they do. Guys like Shabazz Napier seem to be doing ok on the performance front to me. If they were homeless, or came from a 3rd world country, they would have a legitimate gripe.
I just heard from one of 9Route's sources that, in fact, RDS is indeed suiting up for the Jackets for their playoff run.
Sorry. Forgot to use sarcasm font.
The only times we did, we brought a corner. Then the offense would throw it right where the corner came from, and score.
Prayers will certainly be with her family and with the Payne family as well. This hurts my heart........
Urbz: Make sure you keep this man on the payroll.
Yep. They're watching.
The headline was incorrect. It should have read: "Vonn Bell Is Still Mystified About Sitting Behind Pitt Brown"
Saw this somewhere else: "He's hoping that UK has a really good team in 2019"
Please Calipari, go to LA. The supreme meltdown that would take place in Lexington would be glorious. And they'd go back to losing 15 games a year.....
Thank you, NW...... just, thank you.
So you missed our only score against Sparty.......
It's hard to sell a three-hour stand in the upper-reaches of C-Deck during a routine dismantling of Minnesota when there are campus parties and bars with high definition TVs and more liberal alcohol policies to be found outside the Horseshoe's lovely confines.
Having been born in C-bus, then living most of my life in Texas (current residence), I've only had the opportunity to watch my beloved Buckeyes once in person. The 2010 dismantling of scUM in the Shoe. And it was only b/c it was a 30th birthday gift. If I'd have been lucky enough to be a student at OSU, I can say with pretty much absolute certainty that if I was a season ticket holder I'd never have missed a game, unless there was an emergency. And it would've had to be a pretty damn big emergency. Please don't sell short the opportunities to watch the greatest football program in the country, in the greatest venue in the country, with the greatest fans in the country. I envy you all each and every fall Saturday.
but we can get set up for life after football if we really want to.
Thank you Michael Bennett for finally speaking up and putting things into perspective. I hope more college athletes share his sentiment, and realize how truly lucky they are to have the opportunities they receive.