AC1972
Louisville, CO (via Canal Winchester, OH)
Member since 05 October 2011 | Blog
Proud graduate of tOSU in Engineering. MBA from UD. I have lived all over the country and love being back in the mountains.
Favorites
SPORTS MOMENT: I have two:

1) Being on A Deck, 45 yard line, when Eddie George ran all over Notre Dame and the crowd started chanting "Ed-die, Ed-die, Ed-die!"

2) Being in the Louisiana Superdome and mockingly chanting "S-E-C, S-E-C, S-EC!" when Ohio State beat Arkansas. It DID happen. I was THERE! You can wipe the record books, but not my memories.
COLLEGE FOOTBALL PLAYER: Eddie George. He belongs on Mt. Olympus.
NFL TEAM: Denver Broncos
NHL TEAM: What's the NHL?
NBA TEAM: Cavaliers
MLB TEAM: Reds
SOCCER TEAM: Manchester City
Recent Activity
Uh oh. The university won't be trying to sue these heros over some trademark infringement, right?
Yea, no kidding. Why is this even a thing?
Holtown
or just leave it Mattaritaville. The man earned his place as the one who got students to start camping out for games.
Billy Donovan or bust. Give him Meyer money. We have great success with former Florida coaches that kicked our ass in National Championship games.
Chris Jent? Quick and easy, at least interim.
Carolina parted ways with Ted Ginn Jr., and they picked up the perfect Buckeye replacement...
I was a student in the 90's, and even I would love to go back and be a student for just one fall weekend in the late 60's or 70's. I have heard too many good stories and pics from my elders.
Oh, and that final speech in Friday Night Lights. Tell me you did not get a bit misty...
YES! I think both Titans and Friday Night Lights are excellent football movies. They took on some real issues beyond football. Also, the uncut version of Titans had an Ohio State reference.
Living in Denver and having attended the playoff game at mile high vs U Denver..I love this. I forget what year it was. I just remember the heckling I got from the stupid shirtless Denver dbags in front of my kids during that game. Our crime was sporting Buckeye gear and cheering for theOSU. I tuned out the last half of the game. Kept reminding myself to not get into a fight, especially with the kids with me. I smiled and showed sportsmanship instead.
You give a guy like Thad a chance to turn it around, go out on top. I think a Thad will hang it up himself if he believes he is no longer effective.
Funny story, I was texting my PSU friend after that win, and he commented "Please fire Matta. We will hire him here!" Perspective.
MSU stinks it up all year and Dantonio promises changes. tOSU stuggles a bit getting to the CFP and has an embarrassing game...Meyer MAKES changes within 3 days.
The difference is clear.
If you follow the link, it is corrected to Clemson. Lol. Maybe a football writer should have written the "football mom" article. Thank god for editors.
I know the father of a former Buckeye player, one that was with tOSU during the good times a few years back. He predicted this slide and pinpointed recruiting. Said that he could tell that Matta's style was going to make him miss on some recruits, and there would be a slide. I didn't beleive him at the time, because Thad seems so likable, but I am not that close of an insider.
I am confident Thad can right the ship.
Stud concerns me - just not proven yet. Warriner would appear to be the better coach.
Not concerned about JT Barret leading the 2017 Buckeyes. He has proven he can do it and that he has the talent and intangibles. Put a good performer in a situation with bad leadership and mentoring, and you get a bad result. Kinda like every high draft pick the Browns get.
I agree. Forcier really looked like an ass-kicker and had a lot of hype going to Michigan, and honestly he had some flashes of great playmaking at Michigan. So some measureables and play-making ability are comparable and they share the same first name. But that's it. The intangibles are the difference. You can tell by the way TM speaks and leads and wins. There is something different there and I think he is an Urban Meyer QB.
Maybe a bit short for a QB, but Troy Smith is (barely) 6' and Russell Wilson is 5'11'. I'm not worried about him being able to be productive in college. Winners win - and they are not afraid of competition.
Yea, isn't there a Bam Childress Spring Game Player award named after him? Given to the player who looks absolutely brilliant in the Spring Game, but never delivers during the regular season?
You're on the clock, Mountain.
Because you need Devin Smith to make it work...
I agree, KB. They have decent facilities and can raise the $$. Also, did folks see Fleck's presser? He's a different dude, man. He might just stay at Minnesota if he is successful, he sounded like it was fate he was there and wants to build his own legacy.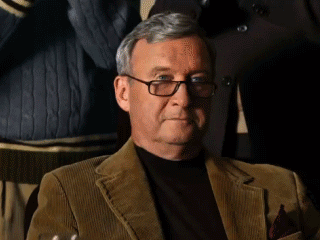 Unless one of those players is Tom Brady, it's almost impossible to see that happening to a player with Barrett's body of work.
We would know if Brady was walking into the OHST QB room. The Xichigan stank would give him away as soon as he got close. Awesome QB skills notwithstanding.
You really should follow the engineering program. They are setting land speed records. They kick ass. Also, I'm a proud engineering grad.
I totally get the academic point, but let's not start sounding like smug U of Xichgan. This is an OHST sports blog.
Yea. Herman wants him as an O-line coach. He learned some psychological tricks from Meyer, too
Mensa.