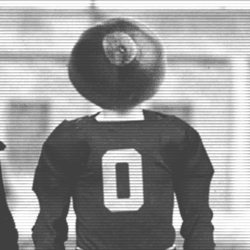 ABrown07
---
from Delaware, Ohio
Member since 06 September 2013 | Blog
Helmet Stickers: 168 | Leaderboard
I'm a 25 year old former Semi-Pro football player from Delaware, OH. I have a one year old daughter who I love with all my heart & currently I'm preparing to enter the United States Air Force.
Favorites
SPORTS MOMENT: Hands down, never saw anything like it before or since, Maurice Clarrett running down Sean Taylor during the '02 N.C. game and taking the ball back after Krenzel threw the INT. It was like a video game play.
COLLEGE FOOTBALL PLAYER: Eddie George
NFL TEAM: Pittsburgh Steelers
NBA TEAM: Miami Heat
Recent Activity
Braxton Miller vs Stanley Jackson
Ha ha..... He said "measurables".... lol
I like to read these kind of articles, they give insight into the relationships the coaches have with the players. You don't really get these genuine reads anywhere else, so thank you for this write-up. It's nice to know who we have running our favorite football program.
The 102nd anniversary of the sinking of the Titanic...
I thought Brandon Saine did a pretty good job. He competed at a lot of the same track meets my school did in HS and he was every time. Dude was extremely fast, watching him was a lot of fun because no one was ever even close to beating him. I hope he has success in the NFL. I also would've liked to see him play the h-back role in Urban's O, he's got great linear speed, get him around the edge and he's gone.
Yes, it is a bait play. You do know DE's do more than just pass rush, right?
How will he feed his family on those lowly wages?! lol
Urban said he doesn't care about what class people are, the best 11 will be on the field. This will be a great year for us, I believe. Too many good players returning and coming in and too many good coaches, I'm excited and ready for this season to start already!!
I love this guy, heck of a football player and (in my Ace Ventura voice) one helluva model american!
Who cares about field turf?! Football is football. I, along with many many others, grew up playing it on grass and there didn't seem to be a problem so why is it such a big deal now?
he was hurt quite a bit, nagging type injuries from what I read in the columbus dispatch through the season
probably because it was late in the year and no conference championship, but I agree, the talent on that team could not be ignored, they got overlooked big time.
Maybe he just didn't want to... js
Tom Ryan is a very stand up guy, he's definitely one of the best coaches on OSU's campus.
old habits die hard.... too bad the student-athletes are the ones who have to pay for it.
Even great teams lose games here and there. This team is resilient, they will get it together starting with Minnesota.
He couldn't afford an orange Clemson jersey so that was the next best thing
I like all your outlooks and I agree with them. I didn't realize all those guys got redshirtted last year, awesome knowing we have them ready to go for 2014. This is going to be a good year, I can just feel it.
I loved this article. Urban definitely stirred the pot when he showed up grabbing up all the recruits. SCREW BLUE, GO BUCKS!!!!
It probably helps OSU that he left this early because now we have a chance to find a good coach to replace him and make contact to those recruits affected by his departure and maybe heal the relationship with weeks to do that instead of a week or just days. This isn't a bad thing, I hope one day he'll come back with all his experience and lead us again in some capacity.
What I don't understand is Urban said directly, the best 11 will be on the field regardless of class rank, I personally do not feel this was the case this year. Vonn Bell only played special teams and in the biggest game of the year showed up and had a pick and several good tackles. Imagine if he had game experience all year how much better he would've been (I'm not saying he would've been the savior of the secondary, just that he definitely should've been out there over certain other DB's). I'm sorry but you can't tell me Pitt Brown is better than Bell. Bell clearly should've been on the field.
What about Katzenmoyer? He lives in Westerville last I knew and owns his own strength and conditioning business, I'm sure he could coach up the linebackers a little