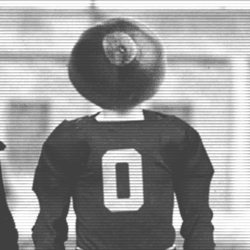 808buckeye
---
Member since 22 February 2014 | Blog
Helmet Stickers: 85 | Leaderboard
Favorites
COLLEGE FOOTBALL PLAYER: Chris Spielman
COLLEGE BASKETBALL PLAYER: Jay Burson
NFL TEAM: Chicago Bears
NHL TEAM: Blue Jackets
NBA TEAM: Trail Blazers
MLB TEAM: Red Sox, Chicago White Sox, and Cleveland Indians
SOCCER TEAM: Crew and the Seattle Sounders
Recent Activity
Please take my eyes but don't take my helmet stickers
C'mon Curtis I believe in you.. Get your poop together man
Am I insane or was he tweeting at Tim Brando and Mark May about the Buckeyes being overrated? Does he need reaasrunace or something? Did someone spike my juice? I feel like I'm taking crazy pills
Don't forget he eats grass and boogers..
Biddle is alright compared to Mike Bianci and Tim Brando.. Those are the real F#@$%ng dick heads.. Never forget who the true enemy is
F@ck you Beth Mowins.. I would gladly shove ice picks in my ear drums then listen to you call games. Same goes to you Dorris Burke
everyone take it easy. Lets all smoke a joint and calm down. Remember we're all buckeye fans
I hate seeing that 2 after the 24.. Sickening
I get chills watching it.. Can't wait for the next one
Lol.. That deserves a helmet sticker
Damn..!!! Gotta love the police......
Stay with script but get rid of white stripes. way overdone
We need them to suffer and not get better. plain and simple
It definitely wasn't Sullinger, Amir, or Braxton.. Not the best of tippers
I thought Eric glover Williams is a cb not a rb.. Especially if we land Harris
What island are you from? It's rare to see a buckeye fan from the islands
I second that. Twitter is lame. And saying that I have to tweet at somebody is unbelievably lame
I'm from the islands it's cool and all but watch out for the racism.. No joke it gets intense if you're a haole meaning white person.. It's not all sunshine and rainbows that you are meant to believe
We're going to be unstoppable