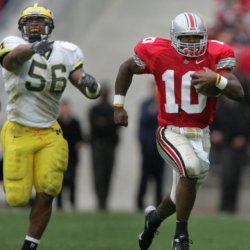 741
---
Columbus, Ohio
Member since 30 August 2010 | Blog
Helmet Stickers: 3,047 | Leaderboard
Adventurer, entertainer, global icon.

100% Buckeye.
Favorites
SPORTS MOMENT: In the park grand slam HR in the 7th inning to advance to the championship of the Dublin, Ohio Tuesday night Co-Rec Softball League (2004).

Oh, you mean best "actual" sports moment? Storming the field after Will Allen's interception on the end line with 0:01 remaining on the clock to beat Michigan and advance to the National Championship (November 23, 2002). Best moment ever.
COLLEGE FOOTBALL PLAYER: Troy Smith
COLLEGE BASKETBALL PLAYER: Greg Oden
Recent Activity
Is there a Nike "WE STRONG DEN" t-shirt? If so, I want one.
Cincinnati sounds like a nice town.
This would be awesome. (Full disclosure: I am a Steelers fan, and yes, I still think this would be awesome.)
One of the more interesting articles published on 11W in some time. Nice work!
Was this article written 3 weeks ago and stuck in a time warp?
My take away is Michael Thomas should always be on the field. Dude is NFL ready, and will likely be declaring for the draft at the end of this season. There's no need to keep experimenting to find out who the team's best WR's are: he is your #1. Leave him in the game, and throw at him often.
He has a responsibility problem.
Addiction to what? Partying? Ecstasy is not a drug that creates a physical or chemical dependency. This kid just likes to party more than being a football player.
What's next? A football Buckeye pulling a Reggie Germany and putting up a 0.00 GPA?
I think Herman and his wife DV'd us bro.
I'm not sure I agree with that. It's easily quantified if someone has access to the stats. Can one of the 11W house nerds crunch the numbers for us and render a factual verdict? (I keed.)
But seriously, in my mental reckoning of this strategy since Urban arrived (including both 2012 and 2013, and what little we've seen thus far this year) is the potential rewards do not stack up well against the actual outcome.
I will concede that last year it worked better than 2012.
Hold up: There are hookers at the Ruckmoor?
Well, to be honest, I did head down to the concession area a minute or two before the half so I must have missed this dreadful, inexcusable boo bird session. NEVER boo your own team in Ohio Stadium people.
I recall seeing McMillan and Perry on the field together. And honestly, I thought the DEF looked as good or better during that one or two play sequence than they did all night. Raekwon was actively calling the defense and repositioned the DT's pre snap - he looked like a veteran. I want to see more of him.
It's a terrible strategy, with measurably poor results. Kick the goddam ball out of the back of the endzone and play defense.
Herman should be kicked out of MENSA.
What? I was there. The team was absolutely not booed.
Worst offensive line performance I have ever seen by Ohio State.
I mean to say, why do they play exactly the same position? Can't a linebacker learn to play multiple LB positions on our defense? Get the best guys on the field.
I guess maybe one could infer Raekwon is simply not one of the top three LB's we have on the team at the moment.
Urb requests you repaint your face, bro.
I would love a football explanation as to why there is not a way to get Grant and McMillan on the field at the same time. Seems a waste to keep Raekwon on the shelf.
Are we not considering the slot guys to be running backs? If they are excluded I guess I go with Samuel.