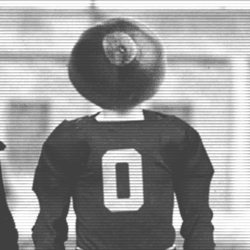 73buckeye
---
Member since 22 November 2012 | Blog
Helmet Stickers: 245 | Leaderboard
Favorites
SPORTS MOMENT: Watching the Buckeyes win it all in 02.
COLLEGE FOOTBALL PLAYER: Archie Griffin
NFL TEAM: Packers
NHL TEAM: Red Wings
Recent Activity
Seems like Amir is afflicted with the same disease as Shaun White.
I certainly am no expert, but it always appears that good teams seem to be on the verge of putting the other team away in close games. They seem to have a confidence about them that keep them in games when they're challenged. You expect them to get on a run and eventually win the game. For some reason, the Buckeyes appear to be on the verge of collapse, even when they're ahead. You expect the other team to go on a run and the Bucks to stay cold. This group show no team confidence or a leader the other 4 guys on the floor can depend on in the tough spots. Inconsistent is the kindest thing you can say about Ross and Williams. If they haven't stepped up by half way through their Jr years, they won't. Craft is a great defender and all around scrapper, but he is a liability on offense unless he's driving to the basket. Loving seems to have some real potential, but depending on a freshman to lead your offense isn't practical. As much as people love the 3 point shot, I think an efficient offense starts from the inside. Post Sellinger, this team has no one that can control the lane and kick the ball out for the jumpers. Till they find someone that can, this team isn't going anywhere.
The article on Owsley County Kentucky is very interesting and I'm surprised to find it on 11W. The most interesting conclusion the writer came to was his opinion that there is no cure in this case for poverty because there is no definable cause. If that's true, and it seems to be confirmed by the statistics on persistent poverty in our society, it appears the politicians have spent the past 50 years and 20 trillion dollars of ours and our kids money battling windmills. This whole situation seems to fit the old saw: "To keep doing the same thing over and over and expect a different outcome is the definition of insanity".
Well, at least it got my mind off of bad football and basketball outcomes for a while. Thanks 11W.
"Out of the mouth of babes". I've been thinking Tressel is the right man for the job in Cleveland for a while now, but I haven't heard anyone actually say it. It's so obvious, I don't know why it hasn't happened yet. I actually remember the last time the Browns won a championship and think it's about time they win another. Put him in charge and they'll be on top within three years. Then he can run unopposed for Governor.
Roby must really be hurt. If he's not, I can't believe he really thinks sitting out this game is going to do anything to help his draft status. If he doesn't think he's good enough to go head to head with Sammy Watkins, what the hell is he going to do on Sundays next year. There isn't anyplace to hide against Brandon Marshall or Dez Bryant or Jordy Nelson or any of the other first line receivers in the NFL. I think he'd be much better served to get out there and compete. If he thinks he's good enough, there's a prime time opportunity Friday night to prove it.

My bad, I meant to say he'd be sitting on an NFL bench another year, over and above the years he'd be there if he waited and went through the draft next year. I don't see him jumping into a starting position in the NFL after only one year as a backup. To get there that fast, he'd be in the Luck / Wislon / RG3 / Cam Newton level, and I don't see him in that class. I think he's closer to Terrelle Pryor in ability. I think Brax is a better broken field runner, but TP was bigger, stronger, and at least as good a passer as Brax at similar points in their careers. Quarterback is the toughest position in pro sports. Brax would be well served with another year to continue learning his craft.
I wonder where Miller is getting advice regarding the NFL. I love football and watch a lot on Sundays. It doesn't make me an expert, but watching how the good NFL quarterbacks go about their business throwing the ball and managing the game makes it pretty obvious that he has a very long way to go before he's ready to perform at that level. If he thinks sitting on an NFL bench for a year as a backup will make him a better quarterback as opposed to getting another year leading an offense, reading defenses, and getting coached as a starting quarterback, then he should go. I think he'd be much better served staying for another year and learning and maturing.
I think Michigan spends too much time in the past. At the first sign of trouble, they pull out the tired old "we're the winningest program in history" retort. An appreciation for history is a good thing, but they take comfort today and use 20 years of beating everyone before 1915 to offset the current failings. The M fans seem to accept the current situation way too easily. Their displeasure seems to be directed more outward (toward the Bucks and MSU) than looking inward and demanding to know what's wrong and that it be fixed. They have the resources. I'm not sure they have the will. Their current malaise is not going to be cured till they stop leaning so heavily on the dusty past. Just "staying" isn't enough to make them champions anymore.
Talent is not an issue. The Bucks have the talent. I believe the coaching needs to step up and be as good as the talent. With this level of talent, and if the linebackers to play their position with the same blend of "hair on fire", "dogged determination" and intelligence as Aaron Craft plays defense on the basketball court, we'll have the best linebacker play we've ever seen.
It's absolutely amazing to read some of this trash. We have some crazy fans, and maybe I don't go to the sites where our wackos go, but this kind of attitude is pretty sick. What have we ever done tgo Tennessee fans to merit this attitude. Maybe that ugly orange / yellow color gets to them after a while.
Years ago, when your favorite college signed an elite football or basketball player, you had three or four years to enjoy watching them play and believed there was going to be more than one opportunity for your team to win the big one. There was pressure, but there was usually "next year" to look forward to. Now it seems like the best ones are only around for a season or two. Teams like the Lucas / Havlicheck / Buckeyes or the UCLA dynasties of the 60's and 70's will never have the chance to develop as teams. I wonder how many great teams might have happened over the past 40 never had the chance because the pressure on the players to get their money now took over. How many championships might the Buckeyes basketball team have had in the past 10 years if the players in that program had stayed their entire careers? We'll never know, but I bet it would have been pretty exciting run.
The offensive side of the game will run hot and cold, but defense is dependent on hustle and toughness and work. If they continue to win with defense, the Bucks will be fine. I'm reserving my opinion till they get in a dog fight on the road in the Big 10 with someone they should beat. If they get punched in the mouth and are able to get through a close game with a win, I think they'll be fine in the long run.
I think you're dead wrong, but if that's true, I guess I'll go watch professional wrestling.
If Roby really is ready for the NFL, we should be able to expect he would be good enough to play a rookie NFL quality receiver like Sammy Watkins to a one on one draw. If he isn't able to do that, he ought to stay in school for another year and continue to learn how to play the position. Based on his mediocre play this year (Abbrederis is good, but is he going to be drafted higher than Sammy Watkins?) I don't see how anyone can say he's good to go unless they think he's reached his plateau and another year in school won't help. On the other hand, maybe he's learned all he can here and NFL quality position coaching is what he needs.
Completely agree. A really good offensive line can make even average runners and quarterbacks successful. Put real talent like Hyde and Braxton behind them and magic happens. It's an old, tired saying, but football really is won or lost in the trenches.
Think about it this way. If OSU gets their share of the most talented recruits, then talent can't be a significant factor in the performance of the defense compared to other teams or past OSU defenses. It must come down to the quality of the positional coaches and the scheme the coordinators choose to play. Logically, it's gotta be that , or OSU can't recruit quality players. Which do you think is more likely the reason for the poor recent performance?
When you see an empty backfield on Sundays, you usually see 5 wides or stacked formations and quick slants or tight ends over the middle or wide receiver screens. There are a lot of good plays that can be run from that set. With the Bucks, it telegraphs Braxton running. Throw in a few of those other options occasionally and I bet the times Braxton does run out of it, he'd be much more successful, especially behind a really good offensive line.
I'm not aware of another case where one coach is responsible for the corners and another has the safeties. Working as a unit and knowing exactly what the other guys responsibilities are as well as yours is key. How can two coaches be efficient getting 4 or 5 or 6 guys in the backfield to work together as a cohesive unit. Maybe Coombs needs to coach special teams. His hair on fire style may fit better with that unit better than one that needs a good blend of intensity and precision. These guys are the last line of defense. If you can't depend on them, you are screwed., no matter how well the line or line backers play.

Aside from the poor secondary, the lack of offensive creativity is probably the most disappointing part of this season. Seems silly that this could be the case with a team regularly getting as many yards and points as the Bucks, but it's pretty obvious. The Brax / Hyde / throw it deep offense became so predictable but still worked most of the time because the talent was good. But in a situation where the defense is good too, a little diversity is necessary. A short to intermediate passing game involving the tight ends and backs out of the backfield, some misdirection and screen passes, a draw play occasionally, and Brax under center once in a while would give some other options that the defense needs to cover. And you don't need to be a MENSA to figure it out.
This whole episode may seem trivial to most people, but to me, it represents another important example of the sad direction this society is heading. Someone else always believes they know better and takes responsibility for our personal safety. Everywhere we look someone is infringing on our freedom by justifying that it's "for our own good". What happened to the idea of personal responsibility and the freedom that goes with it? I gotta believe the kids that jumped Monday night came away with a completely different feeling about their university and their freedom compared to the ones that followed the "safe" path laid out for them on Tuesday. I think the Monday jumpers stand a much better chance of being successful leaders, as opposed to obedient followers, when they get out in the real world. Of course that's only if our society changes its current direction and allows them the same degree of freedom to decide for ourselves that us old timers once enjoyed.
"Those that trade security for freedom deserve neither". Thomas Jefferson
Ra_zy, reading this piece gave _e the same chills I've experienced each Nove_ber for the past 47 years prior to the ga_es with scu_. The feeling never changes. The nervousness during the ga_e gives way to elation or despair depending on the outco_e, but the anticipation is always the sa_e. Thanks. You're the best.
I think you're being pragmatic. I remember 1969, a fun drive to AA, a 22 game winning streak, a for sure trip to California, a great coach on our sideline, a good shot at the national championship, and a team from up north that no one respected. They had no chance. I also remember a miserable drive home
Those that forget history are doomed to repeat it. Go Bucks.
Up vote to you sir. I was a freshman in 68 also. I think the goal post drag to the Capitol building was in 1970 after the Bucks got their revenge on TTUN. I still can't believe we got that goal post and hunk of concrete out of the ground and dragged that thing all the way downtown on High Street. The police blocked the streets and it was the closest thing I have ever seen to an impromptu parade.
Jan White was the tight end and Dave Cheney was left tackle. I can remember playing intramural basketball against their team. They seemed so huge. White was 6'2 and about 215 and Cheney was 6'3 and 225.
Ole Vern and Danielson are pulling so hard for Bama, I can't believe it. They could at least pretend to make it sound a bit like they are impartial. Just listen to the change in the tone of their voices when LSU does something vs. when Alabama makes a play. If Bama loses, the whole SEC loses, and they just can't have that.
Am I the only one that prefers the traditional unis? Geez, I feel old.