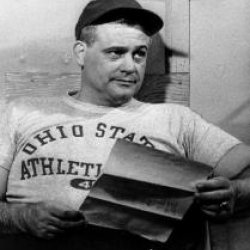 45has2
---
Tallahassee (via Toledo)
Member since 11 October 2012 | Blog
Helmet Stickers: 1,441 | Leaderboard
Favorites
SPORTS MOMENT: '02 NC
COLLEGE FOOTBALL PLAYER: Carlos Hyde
COLLEGE BASKETBALL PLAYER: Aaron Craft
NFL TEAM: Free agent
NHL TEAM: Free agent
NBA TEAM: Free agent
MLB TEAM: Not a sport
SOCCER TEAM: You're kidding, right?
Recent Activity
As a tampon, your remark makes me bloody angry.
Eh, Bollman's offense was good enough to beat the Bucks, win the B1G and win their bowl game. The best running back in the nation last year was wasted.
Day by day, I struggle to maintain not only my strength but my sanity. It's all a blur. I have no energy to write. I don't know what's right and what's wrong anymore. The morale of the men is low. A civil war in the platoon. Half the men with Elias, half with Barnes. There's a lot of suspicion and hate. I can't believe we're fighting each other when we should be fighting them.
Urb won two national championships with a fullback playing QB and he has a guy in camp like that....Cardale Jones.
Note to NBC: TBDBITL has no tubas.
How can that be when there is Kirk Herbstreit?
Oh, Johnny boy said the words but his actions speak louder.
Probably the dude that owns the jet.
The OBC is the king of quips. He says what he means, he means what he says and he never backs away from it with a limp wristed, PC apology after the fact. Spurrier is also one of, if not the only, strong disciplinarian in the SEC.
As a person that has resided just outside Tally for 18 years, I can tell you that your information barely scratches the surface of what goes on with the football team here. TPD not doing anything about a reported sexual assault for 11 months is de rigueur. Pay outs, free shopping, free food and alcohol and best of all.....a "never go to jail card". Tallahassee, like Tuscaloosa, is a very small city and college football is king. It is king because it is the major revenue source for local businesses. Go against the king and you can find yourself on a one way shrimp boat trip 100 miles out in the Gulf of Mexico.
Urban giveth and Tracy throws it away.
Urb said he never had a power back like Mr. Hyde before and he had never had a 1000 yard rusher before. I think once he got both of them in one package he liked it. It also doesn't hurt to have the ghost of W.W.H. whispering in your ear down at the WHAC. I agree with another poster here that B.M. needs to progress a la Troy Smith and become a throw first QB. Let the big boys tote the rock.
IMO, a big problem that both college and NFL teams have is a combination of the tv timeout and the 70" flat with 11.2 surround sound. Tv timeouts at the stadium suck. The teams may try and distract you with music, silly mascot tricks, t-shirt guns or other useless diversions but they still suck. On the other hand, I can sit on my fat arse in front of the 70" flat and surf to another game, watch replays or challenge my buds to a chug a lug. If I am really motivated I can get up and hit the head, retrieve more snacks and/or libations or let the dogs out. All from the comfort of my house without having to fight traffic and pay hyper inflated prices for everything. I had season tickets to a NFL team for two years and that will never happen again. I have never had tOSU season tickets, although I have attended several games at the Shoe. OSU games are like a trip to Mecca, very special, but I wouldn't want to do it every week. I just as soon gather around the flat with a few of my fellow Nuts and watch our beloved Buckeyes crush the competition in glorious 1080p.
Sure, I like dawgs. How's the caravan, Mickey?
You sir, are both masochistic and sadistic.
It is what happens when you coach coaches and not players.
Duh....Mr. Hyde averages 7 yds/carry.
In college everybody gets open. In the NFL the QB has to throw into tiny openings or throw the receiver open. That is where I see Brax struggling. Hopefully, he puts it all together this year.
A rematch....really? scUM put themselves in a no win situation. This game just reminds everyone that Appy State skinned the weasels in the shit house, if go blow wins, so what, they were supposed to, the game drags down their strength of schedule and hurts any possibility of participating in this years playoff and it shows how petty ttun truly is. What's on the schedule next year, Jabba the Hoke? Norfolk State?
The problem is Bert; you have come UNhinged.
When did this turn into a Cleveland Browns website?
Absolutely correct on Vegas odds. Vegas' odds are set to induce betting and to limit losses by the house. Too many people betting on Heinous Winston to repeat? Lower the odds on Heinous to get some action on Braxton Miller. I also do not see how Johnny Cleveland was denied a repeat with better stats because of underage drinking and signing a few(hundred?) autographs for profit and they will hand the Heisman to a vandal (swept under the rug by TPD), serial sexual aggressor (again, only one incident made it to light) an a thief.
Best drive highlight ever. Except for the audio. Moooowins.....uhhhhh