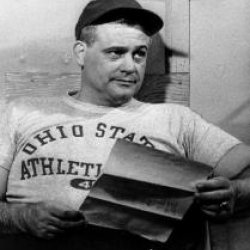 45has2
---
Tallahassee (via Toledo)
Member since 11 October 2012 | Blog
Helmet Stickers: 1,542 | Leaderboard
Voting Record: 803 / 317
Favorites
SPORTS MOMENT: '02 NC
COLLEGE FOOTBALL PLAYER: Joey Bosa
NFL TEAM: Free agent
NHL TEAM: Free agent
NBA TEAM: Free agent
MLB TEAM: Not a sport
SOCCER TEAM: You're kidding, right?
Recent Activity
Dave Letterman had a pretty good run with white socks and suits.
All any QB needs to do in order to run the perfect option is watch film on Corny Greene. That cat was the smoothest criminal that ever stole a weasel's dreams.

I cannot remember who it was, but I saw a NFL player use the Bosa for a celebration on last weeks highlights.
He is also the lead singer for AC/DC. Where does he find the time?
Frost is already getting plenty of HC looks. He would probably be a 1 & done. I would like to see a little more continuity.
Mostly sophomores. They were known as The Super Sophs.
No shit. This is Cardale's chance to show he should have been the starter all along (his opinion) and not J.T. 12 is a stud or he wouldn't be at The Ohio State University. Urb won a NC with a kid of very similar build. 6'5", 250 lbs of rampaging beast. Go get it, young man.
And yet another link from an Oregon forum: http://oregon.247sports.com/Bolt/More-rumors-concerning-Braxton-Miller-to-Oregon-33266090 How about one of our intrepid EW reporters giving him a ring?
I had not read nor heard of that article. Thanks for posting.
NU negotiated that win in their union contract.
Some people just can't take a joke, even when it isn't at their expense.
Look up class in the dictionary, or on Wikipedia and there is Tress's pic.
There is more than enough sand in this blog to start a pro beach volleyball league.
It's easier for the kiddies to cut and paste than come up with an original thought.
He just stated what the rest of the country sees. Miller is the better QB. Braxton is the better running back, if you like a back that runs 25 yards to gain 15.
Agree, plus only one win against a quality opponent (MSU 2012) in 2.5 seasons doesn't help the cause much.
Regardless of who the backup QB is, if they are only used as RB's during game experience trouble will ensue when they are truly needed.
Spoken like Brady Hoke about Sugar Shane Morris.
Wooohoooo! A team composed of 3 straight top 5 recruiting classes eeks out a win against an injury riddled team of walk-ons. "A good coach can take his'n and beat your'n and take your'n and beat his'n." - Bum Phillips Watch out, once Franklin gets his recruits in.
Based solely on the picture, I thought MTV was stating its love of Ohio.
I'm tired of hearing about VT's talent. They are a 4-2 team in a mediocre conference. OSU was out coached in that game not out talented.
I can tell you 1985's home loss to Free Shoes University was due to Tomczak not following the coach's explicit instruction to NOT THROW THE BALL and run the clock out. Tomczak panics on a rollout, throws an interception and FSU scores the winning TD as time expires. People that refuse to listen cannot be coached.
Coach, what are your thoughts on today's pressure to continually decrease the violence of football on the field, in practice and in coaching?
I heard it and think that it is Herman that over thinks the offense not J.T.
2012 in Cbus, 26-21 win should have been much bigger. The weasels always rise up against their most hated foe.