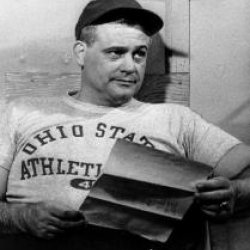 45has2
---
Tallahassee (via Toledo)
Member since 11 October 2012 | Blog
Helmet Stickers: 1,524 | Leaderboard
Favorites
SPORTS MOMENT: '02 NC
COLLEGE FOOTBALL PLAYER: Joey Bosa
NFL TEAM: Free agent
NHL TEAM: Free agent
NBA TEAM: Free agent
MLB TEAM: Not a sport
SOCCER TEAM: You're kidding, right?
Recent Activity
I had not read nor heard of that article. Thanks for posting.
NU negotiated that win in their union contract.
Some people just can't take a joke, even when it isn't at their expense.
Look up class in the dictionary, or on Wikipedia and there is Tress's pic.
There is more than enough sand in this blog to start a pro beach volleyball league.
It's easier for the kiddies to cut and paste than come up with an original thought.
He just stated what the rest of the country sees. Miller is the better QB. Braxton is the better running back, if you like a back that runs 25 yards to gain 15.
Agree, plus only one win against a quality opponent (MSU 2012) in 2.5 seasons doesn't help the cause much.
Regardless of who the backup QB is, if they are only used as RB's during game experience trouble will ensue when they are truly needed.
Spoken like Brady Hoke about Sugar Shane Morris.
Wooohoooo! A team composed of 3 straight top 5 recruiting classes eeks out a win against an injury riddled team of walk-ons. "A good coach can take his'n and beat your'n and take your'n and beat his'n." - Bum Phillips Watch out, once Franklin gets his recruits in.
Based solely on the picture, I thought MTV was stating its love of Ohio.
I'm tired of hearing about VT's talent. They are a 4-2 team in a mediocre conference. OSU was out coached in that game not out talented.
I can tell you 1985's home loss to Free Shoes University was due to Tomczak not following the coach's explicit instruction to NOT THROW THE BALL and run the clock out. Tomczak panics on a rollout, throws an interception and FSU scores the winning TD as time expires. People that refuse to listen cannot be coached.
Coach, what are your thoughts on today's pressure to continually decrease the violence of football on the field, in practice and in coaching?
I heard it and think that it is Herman that over thinks the offense not J.T.
2012 in Cbus, 26-21 win should have been much bigger. The weasels always rise up against their most hated foe.
Perhaps he feels more confident in his current co-DC and thinks the issues will be addressed. Whereas last year, he was getting hammered for a unit that was not his responsibility and knew that nothing was going to change soon.
Wunder is a colostomy bag.
T.U. just for the screen name.
If the weasels continue to play as they are, why not go to an exciting, up and coming program rather than an old, mired in the Michigan Man Mud team?
Yep, my friends and business associates down here (N. Florida) will sort you out real quick. Did you watch this game? Did you watch that game? How do you think that backup center for Nebraska is going to do next week? Then they demonstrate their knowledge about your team and if you don't know what you're talking about or you're a complete blinders on homer, they just stop talking football with you.
Well, there's two of us but we're in the minority.
The results of this survey in SEC territory would be "the same" or "more than". They are rabid football fans and they not only watch other SEC games, they watch games outside the conference.