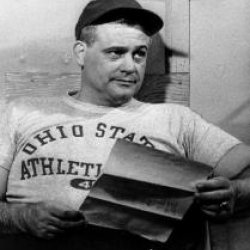 45has2
---
Tallahassee (via Toledo)
Member since 11 October 2012 | Blog
Helmet Stickers: 1,283 | Leaderboard
Favorites
SPORTS MOMENT: '02 NC
COLLEGE FOOTBALL PLAYER: Carlos Hyde
COLLEGE BASKETBALL PLAYER: Aaron Craft
NFL TEAM: Free agent
NHL TEAM: Free agent
NBA TEAM: Free agent
MLB TEAM: Not a sport
SOCCER TEAM: You're kidding, right?
Recent Activity
The QB that could do that just matriculated.
How many bloggers, newspaper reporters and tv talking heads show up at your job everyday asking the same stupid questions as the last 25 self important media turds? I'm sure you could take that in stride, right?
Starting your post with "rumor is" is just not obvious enough for some readers. So you get down voted for posting a rumor.(not from me) Most readers here post their baseless opinions and do not qualify them as such. Which has more gravitas?
Getting and keeping are two very different things. I have seen many medical device startups blow through their initial capital and never get another nickel. So, yes, he got some financing which isn't exactly the most difficult thing to do if you have the right contacts. Now the market will see if he knows what to do with that investment.
Do you have any more "dead" companies that I can invest in and double my money in one year? I don't give half a fece what teen agers think is cool. The parents and the grandparents have the real money.
Should those not read "OHIO"?
Great, Navy. Why schedule those knee breakers at all? Extra exposure to injury and no respect garnered for a win over them. Hooray for the armed forces but let them play ND.
Not that DickRod isn't a big time coach, but 2 NC winners just publicly derided the proposed rule change. Bobby Bowden and Gus Malzahn. Both voiced the obvious: Let's see the evidence that fast play produces more injuries.

Exactly, that guy was nowhere near fat enough to portray Bert. Then again, who is?
Man, I loved to watch Corny come down the line of scrimmage on the option with #45 trailing. The Buckeyes are yet to have a QB that can run the option as well as Corny Greene. Kenny G came close but he was not as slippery as Cornelius.

Black unis have become a cliche'. Anytime a team wants to portray themselves as tough, they trot out the black unis. I do like the huge block O and the Buckeye Leaf.
You can add ones, zeros and electricity to that list.
Spoken like a true Michigan Man. It is nice to see a member of the fan base that always brags about their "superior" education demonstrate the proper use of capitalization, hyphenation and adverbs. By the way, that blue vest looks stunning, thank you for the greeting but I know where the milk aisle is.
No apologies needed. M Man wants a common insult from all Buckeyes. When a program is so arrogant, ignorant and hypocritical, one insult is hard to come up with that covers the breadth and depth of their sucktitude. My buddies and I just go with Fuck Michigan.
Bad lighting. Not your computer.
I would like to see the stats, but I don't think the 10 second rule, if implemented, would drastically affect OSU's offense. Urb and Tom run the no huddle yes, but rarely do they get up to the line and snap it quick. More often they get to the line, Brax claps or makes a call and then he and the skilled position players stare at the sideline for the adjustment call. I know they can run "jet tempo", it just doesn't happen that often.
The Hoodie and Urb probably see things as they are and not as the media spins them for ratings sake. I don't know if you can put the MRSA outbreak on Shiano. Is a head coach in the NFL responsible for hiring and instructing the cleaning crew? My guess is no. Shiano was also stuck with Josh Freeman, a media darling. Both the Tampa Bay and national media made Shiano out to be the villain. He rigged the captain vote, he leaked the drug test results and he killed the Easter Bunny. None of which were true and once Freeman was in Minnesota the truth revealed itself. As to Tampa Bay's core problem, it's the same as Cleveland's, Dallas' and Washington's: Poor ownership and there isn't anything anyone can do about that, except a new owner.
A. Hats off to the UC crew for trying to make this match up interesting and giving The Bucks a smudge, be it ever so slight, on their honor to defend.
B. Do we really want to emulate Mike Hart? It is sickening to stoop so low and yet overrate the competition with one label.
It made me fill a kitchen trash can with vomit.
Mrs. Bert probably already fired off several tweets about it.
Because Ohio State didn't show up?
Except for the statistic that eleven out of the last twelve highest scoring regular season NFL teams have lost in the post season. And 4 out of 5 of the last Super Bowls where the #1 defense met the #1 offense and won, I agree with your analysis.
http://blogs.mercurynews.com/kawakami/2014/02/02/how-the-all-time-best-offenses-did-in-the-postseason-hint-not-so-good-and-some-super-bowl-48-prop-bets/
Do as they say, not as they do.
I'm not a big Jay Mohr fan by any stretch. He's a too AM radio jockish for me. However, he said it best on today's show when he said: "If you're a superfan you're an idiot."