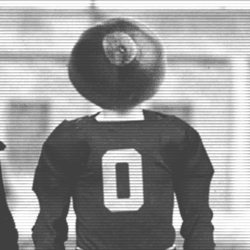 2morrow
---
Member since 06 August 2013 | Blog
Helmet Stickers: 118 | Leaderboard
Recent Activity
Excellent point! Up Vote!
Does anyone know if or how much of the football revenue that is generated goes to need or merit-based scholarships for other students, athletic or non athletic at OSU?
I'm not a fan of unions in most cases. Gene Smith had it right in saying that if the NCAA had dealt with the issue in a timely manner, this would more than likely not be an issue. (I am less a fan of the NCAA than of unions). In listening to several shows on the subject, I would be in favor of:
1. granting a small stipend
2. guaranteeing a scholarship for 4 years (players are now cut - especially in other sports).
3. and lifetime medical coverage for any injury incurred while playing the sport while on scholarship.

In exchange, the student athlete must:
1. stay on schedule to complete a degree to keep the scholarship current
2. not allowed to work
3. and if the player does not graduate, they must repay a portion of the scholarship detailed in a legal agreement signed before the scholarship goes in force detailing the penalties.
Couldn't agree with you guys more --- still pisses me off too!
A four-way tie for first? That was hard and the next will be harder yet.
The 24 game streak was great but year 2 was not a success - not when you end the year 0-2. And it can't be entirely laid at the hands of the defense. The Big 10 Championship game was lost because of really bad play calling and not using your offensive strengths. Same could be said for the bowl game to some degree. I give UM full credit for the 24-0 - I also give him full credit for the 0-2.
Agree - especially with your first point - and any position that is close in performance level - the nod should go to the younger guy.
Yes, MSU let ND stay close but in the end, the officials pretty much gave ND the game on several, final drive, pass interference calls.
Very nice article Demetrius. Glad you signed with the Buckeyes but I have a feeling you would have been successful no matter where you went. Looking forward to seeing you open holes for the next 4 years. Go Bucks!
Also, I've never seen a team miss so many dunks! Smith missed one last night - and I'm not talking about wildly contested ones either - we must have 6 or more in the last 4 games! Williams is just plain not very good. Ross is not very athletic - I've never seen a player get tied up under the bucket so much by smaller guys! He always seems to be charging head first into the area around the basket and exposing the ball to the defenders. And what happened to his long range 3 pointers from last year? It is also easy to see as they are passing the ball around out front against the zone that no one really wants to be the one to take a shot.
Also makes you wonder about the charges on Lewan just after the um-OSU game too. That should get resolved fairly soon now that Lewan can no longer play football at um.
If they would have dealt with the Gibbons issue in a timely manner, maybe they beat PSU. Reconfirms my opinion that Lewan is of low moral character and nothing more than a punk.
Hoke may be a nice guy, but a poor leader and the evidence continues to mount.
Couldn't agree more - especially Warriner - have never been worried about the offensive line. Guy can coach! Looking forward to seeing our defense especially with LJ as line coach and LF coaching linebackers only. We could take a HUGE step forward.
Good comment on catch and shoot - has anyone noticed that Ross seems to have to wind up before he can shoot a jumper now? --- like pushing his arms straight out with the ball and then brining them back in before he can shoot? I don't remember him doing that last year.
In my opinion, poor shooting is the symptom but not the entire problem. A total lack of an inside game has as much to do with the poor play as anything. Hope we can find a dominant center. I think Williams is light years better than he was last year and he is still not close to what is needed.
Have been saying this since last season. I was yelling at the TV during the MSU game - it was so obvious - GIVE THE GD BALL TO HYDE YOU MORONS. MSU could not stop him and had no answer for him. Just watched the replay last night and it was no more obvious than it was when it was happening live. He got 2 carries at the start of the 4th and then never touched the ball again. Averaged almost 7 yards a carry.
I am happy we have UFM but those last two games are on him - as are the previous 24 - I'm not totally ungrateful - but we should have beaten MSU by 2 scores and Clemson by the same. (Though had we beaten MSU, I think FSU would have beaten us in the NC game).
MSU game: UFM should have told Herman, especially on the 3rd down and 4th down in the 4th qtr, "anyone but Hyde gets the ball - you can walk back to Columbus." I would have told BM the same. UFM could have over ridden it and did not.
Two things worry me a little about the OSU program.
1. Can anyone tell me of a great spread option team that also has a great defense? (I can't think of any - and I worry that we are becoming Oregon - put up 50 on weak opponents but anyone that plays physical defense, can smack us around). For some reason the two don't seem to go hand-in-hand and Ramzy kind of alludes to it a little with his comment that Bryant shouldn't have been on the field anyway. Same for the MSU and Clemson games. A ball controlling offense helps the defense.
2. People are successful for different reasons, not the same for ever person. Some have qualities of being smart, creative, personable, leadership, salesmanship, motivator, work-a-holic, detail oriented, etc... I'm sure there are a bunch more qualities. However, if you take a successful person and all of a sudden they stop doing part of what they were good at there is a chance that they will not be as good as they were. UFM intentionally stepped back (which is fine) but it makes you wonder if that was part of his edge? Hope not.
Anyway, too early to be this pessimistic - been following the Bucks since the 60's and the first game I can remember was the 1968 OSU/Jack Tatum beat down of Purdue and Leroy Keyes 13-0 to knock them off the top spot in college football.
C'mon Bucks! Lets have a great 2014!
I wondered the same thing too. Couldn't understand why we didn't take the timeout with around 2:25 left ( i think) we waited until 1:34 left.
No question the Bucks MVP this year. 35 carries at Clemson may be the only way to beat them. 35 carries against MSU and we are playing in Pasadena. Hyde will perform fine - hope the coaching doesn't blow it.
If the defense is going to get torched anyway, lets play very aggressive. Our offense may be able to keep up and defensively we may get lucky playing this way - certainly not going to win sitting back and waiting for Boyd to pick us a part. If these announcements hold true, we lose two of our best defensive players from a poor defense - yikes!
I'd go to Tressell ball and pull an Oregon Rose Bowl on them...Hyde gets 50 carries and we hope for a bunch of 15 play 9 minute drives and wait for them to get frustrated and make mistakes.
Not looking good unless a different D shows up.
That strategy against MSU and we are playing on 1/6 in the NC. Hope he gets 30-35.
I agree with you...we talk like we blew these guys out - though I would take a 5 overtime forfeit if it meant a victory over um. WE still have a long way to go and the most troubling thing to me this year was that we got outcoached in the last two games of the year. We should have beaten um by 3 scores but our D never adjusted and they killed us. The MSU game should have been a two score victory as well. Our coaches basically took Hyde out of the game in the 4th quarter - he was unstoppable - except by our coaching staff. In my opinion, especially on the critical series in the 4th quarterof the MSU game, UFM should have told the OC, anyone else but Hyde touches the ball, you can walk back to Columbus. Everyone remembers the 4th down that BM was stopped on. We wouldn't have needed to run that had Hyde not been taken out of the game on the third down play! He was averaging almost 7 yards a carry. Should have given it to him twice, MSU was stopping the edge rush, but not up the gut.
Seems to be a pattern. I think UFM should have told the OC during the MSU game that if anyone but Hyde gets the ball in the 4th quarter - you are walking back to Columbus. He had two carries early on in the 4th quarter and that was it.
Toward the end of 2012 I thought Roby sucked. I was pretty hard commenting on his play through most of this year wondering how anyone could think he was an NFL top draft choice and all-american. Toward the end of the season, I could finally see that he was doing a lot to boost run support yet appeared to have to play off his receiver to help out in the general scheme of things in other areas. I think I was wrong about him. I think the defensive scheme and coaching really had an impact on what he could accomplish. He will be good at the next level --- and you are correct - the defensive coaches need to apologize to him for causing his draft stock to take a hit.
You can almost see the next one in Elliott.
Couldn't agree more - give him the ball 30-35 times against MSU and we are playing for the NC.