1MechEng
Toledo, Ohio (via Cleveland, Ohio)
Member since 31 January 2012 | Blog
Favorites
SPORTS MOMENT: Winning the conference title in the 100 breaststroke in HS.
COLLEGE FOOTBALL PLAYER: Howard Teifke (OSU Football: OL/C - 1943 and 1946-48)
COLLEGE BASKETBALL PLAYER: Mark Titus
NFL TEAM: Browns
NHL TEAM: Toledo Walleye (not NHL, but still ...)
NBA TEAM: Cavaliers
MLB TEAM: Indians
SOCCER TEAM: Tottenham Hotspur
Recent Activity
Would you say .... Perfect?!
Northwest Ohio here. In ground 20,000 gal. pool - it's gunnite with a liner. Was already installed prior to my buying the house.
It's a lot of work, and a heater is a must! I'm near Toledo, so I have natural gas lines to the house. I had to upsize the meter (old: 200K BTU --> new: >400kBTU) and the gas lines (old: 1", now: 1-1/2" dia) to the pool area as the previous heater (which went bad before I bought the house) was undersized. Propane heating is $$$, though.
I have a deep end (9ft.) with a diving board. Need to be vigilant with the kids. Yard must be fenced with lockable gates, or the insurance gets pricey.
I open my pool in May, and close it in late September. I use it sparingly in the first and last month because of the nat. gas bills. I do not drain it in the Winter, I simply lower the water level 12-18", and the snow/rain over the 6 months it's closed fill it back up. I also keep floaters with chlorine tabs in it all Fall, Winter, and Spring. I have a mesh cover that is spring-based, so it can let water in, but not leaves, etc. It's still a little dirty in the spring, but it cleans up pretty quick.
I use chlorine tabs in floaters, and adjust the chemicals twice a week. I spend about $175 per year on chemicals (chlorine, PHPlus, shock, a little algaecide in the spring, and some clarifier to get the particulate out.
I have a sand filter. I have not had to do much maintenance on it yet. I also have a Barracuda that runs several hours a week, keeping the pool floor clean.
It's fun, but it's not a necessity in Ohio. Florida/Texas/Cali/Az. would be a better location ...
Epic!
I feel a little bit for the guy though. As a Browns fans, I can relate ...
For Valentines Day, I'm leaving for the weekend, and taking both of the mini-me's with me. (Boy Scout campout)
Peace and quiet - the best gift after 18 years of marriage and 2 kids! LOL!
+1 for the venerable Toledo eatery reference.
As long as you behave and treat us nice, we should be good hosts and treat you with some respect in return. We may not like your opinions or your team, but your input/perspective/insight can be valuable at times.
Reading some of the other 11W posters, I'm beginning to wonder if common courtesy and manners are going the way of the dinosaur.
Thanks for posting this. Just to let every scUM fan know, I will down vote virtually every comment you make on this site. I come on this site to hear comments from my Buckeye brothers.
Doesn't this sentiment go against the whole upvote/downvote policy? I didn't think we downvoted opinions - just poor posts with profanity, jiggly items, personal bashing, etc.
Perhaps one of the MODS can chime in on this ...
Fuller will be a 1st round pick before he leaves OSU.
Hey Carlos Becker ...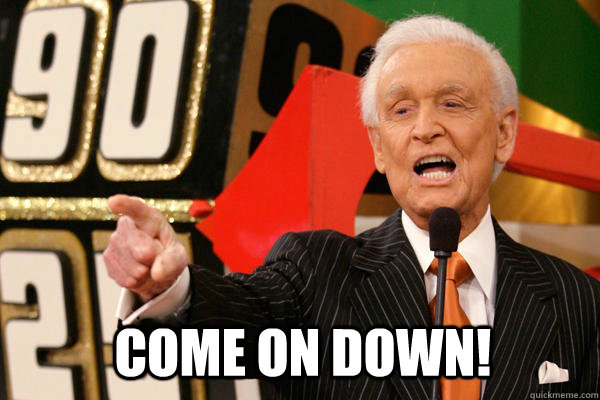 It will unfortunately depend on injuries. One opening is all it is going to take for some of the young guys on this roster to break out.
Ohhh ... the excitement!
1994 - Joey Galloway and Terry Glenn. Hard to top that WR combo.
Congratulations, gentlemen!
I thought the spelling was slightly different ... God Shammgod.
Sammy Silverman bringing it again! Love his work!
I need a "Hurry Up", stat! Someone get Birm, quick!
Ugh. Giving Kenton, Oh. a black eye with his alleged behavior.
If Burns is a Boom, does that mean that Hamlin is out?
Endowing positions is nothing new. This has been going on for millennia. Literally.
Think about it ... You have endowed chairs in Engineering, Medicine, etc. The Romans were the first to do so, back in the days of Marcus Aurelius. The English started it in 1502 at Oxford and Cambridge.
Your local symphony/orchestra likely has major benefactors that endow certain "chairs", e.g. 1st violin, 1st clarinet, etc.
All it seems is that it's finally crossing over to sports at the academic level, when it's really been going on for much, much, much longer in Education and the Arts.
Download some movies for your tablet/ipad/laptop?!