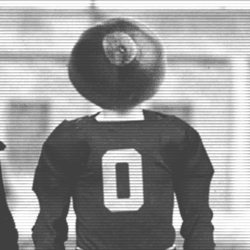 1967Buck
---
Lancaster,Ohio (via Lancaster,Ohio)
Member since 11 July 2012 | Blog
Helmet Stickers: 467 | Leaderboard
Favorites
COLLEGE FOOTBALL PLAYER: A.J. Hawk
COLLEGE BASKETBALL PLAYER: Clark Kellogg
NFL TEAM: Cowboys
NHL TEAM: Bluejackets
NBA TEAM: Celtics
MLB TEAM: Reds
SOCCER TEAM: Crew
Recent Activity
Wow, this is hard to believe. I have just 1 account and it keeps busy enough.
You are much older then your age shows Birm. And much Wisdom, peace.
Thank Birm, great write up. There is a lot of good I see in that young man.
Have fun young man. Very happy for you.
I hear what your saying, But we have Women and children that come to this site. Not cool bro, peace. ( the last part of what you said).
Everything I hear about this young man is good. He is smart, hardworking, stays out of trouble and mature for his age. I wish him the best. Peace.
Are you sure Apack is not Troll, wearing ladies underwear? And I wonder if he is a buckeye at all. Peace.
Well said MB, Well said. Peace.
Thank you Mr Citro, very nice write up. So I have to ask, what happen to Mr Uzelac? Did he ever coach again? Peace.
I hear what your saying Groveport. But I think Urban and crew are bringing in franchise type players at all positions, every year. Peace bro.
I voted C. They both will do great. Peace.
You may be right DJ, I could also see LeBron playing for my Celtics.
Very nice write up. A well spoken young man.
Good bye Glenville you say KB? Geez, peace.
I read what you said bro. But the last part, you said you felt he was always very slow and his defense was borderline pathetic. Say what? Maybe we were watching different games thru the years. Peace.
A well thought out statement. Maybe this will give hope to many, to look to the future. Peace.
What is your thoughts about the OSU campus?And what did you get to see?
Congrats Andy, A bag of White Castle to go!!
Everybody has different thoughts on this. But these young women and young men sign an agreement that the college of there choice will use there name to promote that said college. In return the student get almost everything for the time they are at that said college. This is it, in a nutshell folks. That is whats this is about. They want to change that agreement, change the rules and make new ones. Peace.
There is an old saying, don't bite the hand that feeds you. Peace.
Wow, It feels like Xmas. Very happy for the young man. Peace.
Wow, classy young man and well spoken. Good head on his shoulders too. I think he is what this class needs.
Agreed John, nicely written. Peace.
Yes Highballace, I thought on it.... And Hell No. The B1G will rise again. Peace.