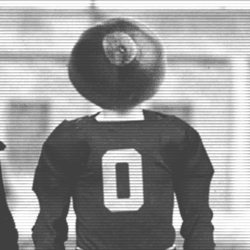 1967Buck
---
Lancaster,Ohio (via Lancaster,Ohio)
Member since 11 July 2012 | Blog
Helmet Stickers: 307 | Leaderboard
Favorites
COLLEGE FOOTBALL PLAYER: A.J. Hawk
COLLEGE BASKETBALL PLAYER: Clark Kellogg
NFL TEAM: Cowboys
NHL TEAM: Bluejackets
NBA TEAM: Celtics
MLB TEAM: Reds
SOCCER TEAM: Crew
Recent Activity
Peace BD, and I wish you well. Go Bucks.
OSU gave a lot to him also. Its a two way street. Peace.
Interesting Catch 5. But you forgot one thing. Mitchell father is ill, like really sick. I think that had a lot to do with him leaving. Was he home sick? Yup. Was he mad for not playing? Yup. Agreed. We Wish him and his family well. And he will always be a Buckeye!!
Hey ya Birm, How about tight ends to that group ?
I agree with what you said, BadOwl.
Little sleep tonight or maybe dreaming big. Whatever happens, happens. Popcorn will be ready. Peace and Go Bucks!!!
Sounds like a good,sound coach. I really enjoyed listening to him and his thoughts. He understands so much and the teaching he gives to these young men for the years to come is just amazing. He gets it!!! Thanks 11Warriors. Peace and Go Bucks!!!
Thanks to all for allowing me to joined such a great site. Peace be with you all. Go Bucks!!
Sorry 740 but you cross the line. Al-Queda basketball team huh.... I wish Mr Oden well in everything he does...
A nice,well spoken young man. He wanted to be a Buckeye all his life. Well, welcome to the family Big guy. Peace and go Bucks!!
Thanks guys for the great run, 24 wins in a row. The football looks great also.(Like to have one myself.) Peace and go Bucks!!
now thats funny. HaHa, Peace.
Oh very clever Toad,yes very clever.(+1 Bro.) Peace.
Jeremy,again nice write up. Peace.
This is gonna be a good game I think. Go Bucks!! (Popcorn ready).
Thanks Jeff, a very nice write up. I wonder if you have any Info on the OSU staff? Peace and Go Bucks!!
Man, I have to say I enjoyed ready your post. Peace.
Yes,Yes I think we can win the B1G. Peace and Go Bucks!!!
Very nice young man, I have to say. Welcome to the Buckeye family. Peace and Go Bucks!!!
I have to say thanks to all. I started coming here before UFM came back home. 11 Warriors is a great place to come to read about my Buckeyes, the Big Ten and the State of Ohio. I have shared this with many friends and now they come here too. Thanks again 11W for a great site. Peace be with you all. Merry Xmas!!!
I dont tweet or follow anyone. I think what happen on the field,stays on the field.We won,so lets move on. Go Bucks!!!
I work swing shift and will be working. Oh Well.... Go Bucks!!!
Old saying... It hurts to be hurt....
Very nice Ross. I enjoyed your write up. "IF" we play them, its going to be a great game. Peace and Go Bucks!!!