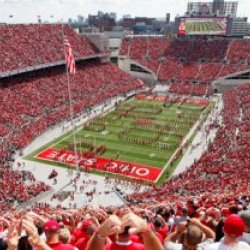 0therion0
Nashville, TN (via Nashville, TN)
Member since 03 October 2013 | Blog
Helmet Stickers: 22 | Leaderboard
Live in Tennessee. Have lived in Kentucky, Georgia, and Florida, as well. Became a Buckeyes fan when I was dealing with a leg injury in my freshman year in high school (1995). I loved football, but only playing it. I never really watched college ball. Then my dad put on an Ohio State game for me while I was laid up in bed. I watched Eddie George make men look like boys and have been a Buckeye fan ever since.
Favorites
SPORTS MOMENT: Playing: Didn't have many awesome plays. Forced and recovered a fumble one time. Had a great basketball game with a legit double-double (points, rebounds). Nothing major.
Witness: Watching OSU beat Miami in OT to win the Crystal Ball in 2003. I was in a bar filled with Miami fans. It was fantastic.
COLLEGE FOOTBALL PLAYER: James Laurinaitis
COLLEGE BASKETBALL PLAYER: Evan Turner
NFL TEAM: Tennessee Titans
NHL TEAM: Nashville Predators
NBA TEAM: San Antonio Spurs
Recent Activity
Damn I'm glad we get another year of this, man.
I agree on your two points, but think a third should be added. A later post references it: flopping. We [Americans] don't like seeing it in basketball and it is essentially non-existent in our other top sports. Soccer, on the other hand, boasts some of the worst-acted flops known to man. The epitome, in my opinion, being the combo of a delayed reaction with changing your mind about what's hurt. "Ow my leg.. I mean my face and/or arm"
Not going to lie. I had a hard time making it past the thoughts of enjoying an ice cold Yuengling in combination with breathing room while witnessing the home opening kickoff, live. It's not a tear... I'm just sweating from my eyeball.
I dunno. Never needing a game-winning drive probably would speak more to a weak conference than a strong team. We play MSU and PSU on their home turf this year. If #5 needs to lead a game-winning drive in those games, call me a happy fan when he does. It's pretty excellent that the young man can get the job done when called on.
I'm fairly certain the Twitter machine updates the time/date stamp based on where you are. Magic, I tell you.