Updated Visitor List (subject to change)
October 26th (Penn State)
'14 WR Josh Malone (Gallatin, TN) - official
'14 WR Trevion Thompson (Hillside, NC)
 - official
'14 WR Terry McLaurin (Indianapolis, IN) - commit
'14 WR Lonnie Johnson (Gary, IN) - commit

'14 OT Kyle Trout (Lancaster, OH)
 - commit
'14 JuCo OL Avery Gennesy (Scooba, MS) - official
'14 DE Jalyn Holmes (Norfolk, VA) - commit
'14 DL Dylan Thompson (Lombard, IL) - commit
'14 LB Raekwon McMillan (Hinesville, GA) - official
'14 LB Kyle Berger (Cleveland, OH) - commit
'14 JuCo S A.J. Stamps (Scooba, MS) - official
'14 DB Tony Brown (Beaumont, TX) - official

'14 K Sean Nuernberger (Buckner, KY) - commit
'15 QB Lorenzo Nunez (Kennesaw, GA)
'15 QB Brandon Wimbush (Jersey City, NJ)
'15 QB/ATH Jauan Jennings (Murfreesboro, TN)
'15 QB Colin McNamara (Fairview Park, OH)
'15 QB Kelly Bryant (Piedmont, SC)
'15 RB Andre Robinson (Harrisburg, PA)
'15 RB LJ Scott (Hubbard, OH)
'15 RB Bryce Love (Wake Forest, NC)
'15 RB Chris Lavette (Cleveland, OH)
'15 WR Van Jefferson (Brentwood, TN)
'15 TE C.J. Conrad (LaGrange, OH)
'15 TE Miles Boykin (Chicago, IL)
'15 OL David Moorman (Pinckney, MI)

'15 OL Sam Madden (Barnegat, NJ)

'15 DL Kraig Howe (Kettering, OH)
'15 DT Shy Tuttle (Lexington, NC)
'15 DT Phil Hoskins (Toledo, OH)

'15 LB Anthony McKee Jr. (Columbus, OH)
'15 LB Nick Conner (Dublin, OH)
'15 DB Minkah Fitzpatrick (Jersey City, NJ)
'15 DB Jamel Dean (Cocoa, FL)
'15 ATH Jacques Patrick (Orlando, FL)
'16 WR DeMann Wilson (Cleveland, OH)
'16 WR Cameron Chambers (Philadelphia, PA)
'16 TE Isaac Nauta (Buford, GA)
'16 LB Ethan Tucky (Delware, OH)
'17 ATH Richard LeCounte (Hinesville, GA)
November 23rd (Indiana)
'14 JuCo OL Chad Mavety (East Garden City, NY) - official
'15 OL Sterling Jenkins (Pittsburgh, PA)
'15 LB Justin Hilliard (Cincinati, OH)
Getting an official Date TBA
'14 OL Frank Ragnow (Victoria, MN)
'14 S Erick Smith (Cleveland, OH) (After season)
'14 ATH Myles Autry (Norcross, GA)
'14 ATH Marshon Lattimore (Cleveland, OH) (After season)
Another big recruiting weekend ahead for the Buckeyes. Several prospects announced on Wednesday that they will be in Columbus on Saturday. Find out who and more.
Coming into the day, Ohio State was already scheduled to host an immense amount of talented prospects on Saturday to watch the Buckeyes square off against the Nittany Lions. That list continued to grow throughout the day on Wednesday.
Starting out with the 2014 class. One of the more important visits that will take place on Saturday will come for '14 ILB Raekwon McMillan.
14' LB Raekwon McMillan will arrive in Columbus Saturday morning and will be on campus until Monday morning.

— Miles Joseph (@MilesLGHL) October 24, 2013
McMillan is widely considered as the most important target for the Buckeyes. The general feel throughout the recruiting world is that Ohio State currently has the best shot to land McMillan with Alabama, Clemson, Florida and Georgia in the picture as well. The Buckeyes will have about 48 hours to increase their chances to land the talented five-star linebacker. McMillan will be joined by his teammate, '17 ATH Richard LeCounte.
cont...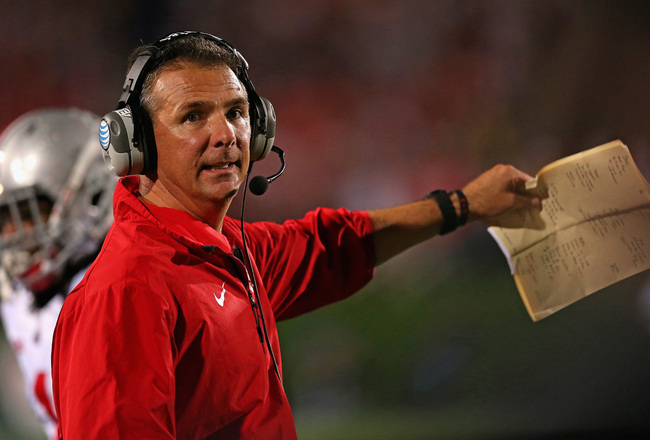 Ohio State is coached by Urban Meyer, who has restored the Buckeyes back among the top recruiting programs in the country. Meyer is a legendary recruiter, Ohio State has great tradition and its brand has a national appeal.
The Buckeyes have constructed an impressive recruiting class, but they would still like to add to the group before February arrives. Ohio State is after many uncommitted prospects, but only the best of the best will be focused on.
Among the prospects on this list, the Buckeyes have a great shot to land a terrific linebacker. Plus, a great JUCO offensive lineman could opt to come to Columbus.
cont...
MURFREESBORO — Jauan Jennings entered the season as one of the top college prospects at free safety in the country.
He, though, considered himself a quarterback. And he still does today.
The Blackman junior has shown District 7-AAA and the rest of the Midstate that he may be right.
Jennings has helped guide the third-ranked Blaze to an 8-0 record — the program's best start in school history. He and the Blaze have their toughest test of the season at 7 p.m. today at Ray Hughes Stadium against second-ranked Oakland (8-0).
"I think I'm a quarterback," said Jennings, who moved to Murfreesboro after his freshman year from Germantown. "I love the responsibility that comes with that position. I love how you have to keep the whole team calm when adversity hits. I think I do a good job at that."
cont...