STAFFORD TOWNSHIP - Mike Gesicki walked through the tunnel onto the University of Wisconsin football field this summer.
He watched film with high-profile college coaches such as Urban Meyer of Ohio State and Bill O'Brien of Penn State. Gesicki even met Duke men's basketball coach Mike Krzyzewski.
Gesicki also tried on several college football jerseys.
Now all he has to do is pick one.
The Southern Regional High School receiver begins his senior season tonight as one of New Jersey top college prospects. Southern hosts Freehold Township at 6:30 p.m.
Twenty-two Football Bowl Subdivision colleges - including Ohio State, Wisconsin, Rutgers, Penn State, Miami (Fla.) and Florida State - have offered the 6-foot-6, 215-pound Gesicki a scholarship and the meetings with coaches and touring of college campuses and stadiums is all part of the recruiting process.
cont...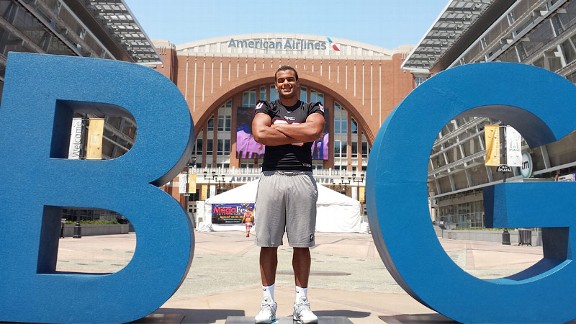 COPPELL, Texas -- No matter how hard he's tried, Solomon Thomas (Coppell, Texas/Coppell) has never been the typical kid.

Take it all the way back to when he was a toddler. Few American kids can say they spent their childhood in Australia. Even fewer can say they learned how to swim at 3 years old. And only a handful of those can say they bodysurfed the Great Barrier Reef at 5.

And while Thomas, a defensive end who's the No. 31 player in the ESPN 300, is known these days for striking fear in the hearts of quarterbacks, he was never one to be scared himself.

"When we lived in Australia, he was always out swimming the waves and was never afraid to surf and take on the waves," his father, Chris Thomas, said. "He was always tenacious. He didn't fear anything. He always wanted to do something different."

Thomas is the heart and soul of the Coppell defense. He has more than 30 offers from schools all over the country but is looking a top eight of, in alphabetical order, Alabama, Arkansas, Notre Dame, Ohio State, Oklahoma, Stanford, Texas and UCLA. LSU and TCU could work their way into the picture later this year.

Good luck with trying to be the average Joe. Of all who know Thomas, including those who have watched him on film, the number who put him in the "normal" class could be counted on two hands. Perhaps even one. So while Thomas isn't looking for the spotlight, it has found him.
cont...
COLUMBUS, Ohio – Kerry Coombs' resume of developing talent at the cornerback position speaks for itself, but even he knows that was only part of the reason he's currently coaching at Ohio State.
"I was brought here to coach the cornerbacks, but there was more than that," Coombs told Cleveland.com. "I was also brought here to recruit, and my strength is recruiting the Cincinnati area. I think that was considered before I was hired."
Urban Meyer – the man who couldn't make it halfway through his introductory press conference without voluntarily addressing the importance of recruiting – deliberately brought Coombs to Ohio State for that reason.
cont...
With Thad Matta bringing in a great class for 2014 and off to a hot start for 2015, let's take a look at some of the top targets for the 2016 class and how they did this summer on the AAU circuit.
Thad Matta and his staff are still hard at work searching for a big man to fill out the 2014 recruiting class. The Buckeyes already have the second best class in the nation (per the 247Composite) and anything else would just be icing on the cake. Jumping ahead to the 2015 class, the Buckeyes have already received commitments from AJ Harris and Mickey Mitchell. When it comes to the 2016 class, Matta has already offered a handful of players who were named to the 2013 2016 AAU 5-Star All-Americans list which came out yesterday. Harry Giles, who is out of High Point, North Carolina, is rated as the best overall player in the country, per the 247Composite rankings. During Giles' freshman season at Wesleyan Christian, he helped guide his team to a 23-5 record, winning the 2012-2013 NCISAA state championship. While starting all 28 games, he averaged 13 points and 7 rebounds.
Giles was selected to team USA U16 squad this past summer but while playing a game in Uruguay, he came down with a serious knee injury. Harry's sophomore season is in doubt after he learned he had torn his ACL, MCL and meniscus, but look out for Giles during his junior season when he gets back healthy.
cont...