Chad Mavety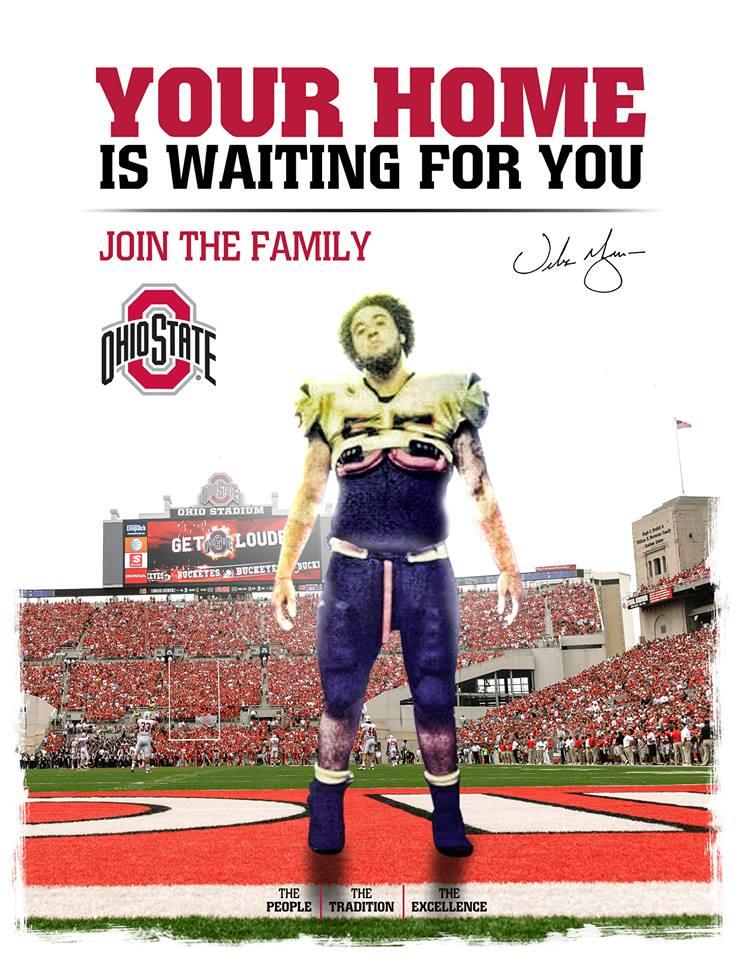 Rivals$--Eluemunor, UCLA go separate ways '14 JUCO OL Jermaine Eluemunor
Jermaine says he is upset that UCLA was not loyal to him and he will probably decide Friday between tOSU and Arkansas with his position coach being the deciding factor.
Rivals$--Patrick will return to LSU '15 FL ATH Jacques Patrick
Jacques claims 45 offers and says his unofficial visits have given him an idea of where he wants to visit. LSU will likely get an return trip.
Rivals$--NC State makes strong impression on Derrell Scott '14 NC RB Derrell Scott
Derrell says he has a top four of South Carolina, NCSU, FSU, and Tennessee. He is still somewhat considering tOSU.
Scout $ - Watch Out For Torrance Gibson '15 FL ATH Torrance Gibson
Says most schools are recruiting him as a QB, but he can see himself playing QB, WR or Safety. Has visited Miami & talks about his interest in the Canes. Has always liked Ohio State & really likes the offense. Distance will not be a factor and wants to visit tOSU.
Updated Visitor List (subject to change)
July 26th (Friday Night Lights)
'14 QB Shelby Spence (Chicago, IL)
'14 RB Bobby Brown (Lakota, OH)
'14 WR Chris Jones (Hyattsville, MD)
'14 WR Trevion Thompson (Durham, NC) tentative
'14 WR Dorian Baker (Cleveland, OH)
'14 DL Malik McDowell (Detroit, MI) tentative
'14 LB Raekwon McMillan (Hinesville, GA)
'14 DB Erick Smith (Cleveland, OH)
'14 DB Marques Moore (Springfield, OH)
'14 DB D'Monte Watson (Dayton, OH)
'14 DB Eldin Anu (Westerville, OH)
'14 ATH Marshon Lattimore (Cleveland, OH)
'14 ATH Curtis Samuel (Brooklyn, NY)
'14 ATH Braxton Berrios (Raleigh, NC)
'15 QB Alex Malzone (Bloomfield Hills, MI)
'15 QB Brandon Wimbush (Jersey City, NJ)
'15 QB Kelly Bryant (Piedmont, SC)
'15 RB Leonard Ross (La Grange, IL)
'15 RB Reggie Gallaspy (Greensboro, NC)
'15 RB Andrew Dowell (Lakewood, OH)
'15 RB Titus Booker (Grayslake, IL)
'15 WR Miles Boykin (New Lenox, IL)
'15 WR Flynn Nagel (Chicago, IL)
'15 WR Trevon Story (Cleveland, OH)
'15 WR Milan Golden (Cleveland, OH)
'15 WR David Dowell (Lakewood, OH)
'15 TE CJ Conrad (Lagrange, OH)
'15 OG Nick Wilson (Alpharetta, GA) tentative
'15 OT David Moorman (Northville, MI)
'15 OL Rob Dowdy (Westerville, OH)
'15 OL James Daniels (Warren, OH)
'15 OL Gabe Megginson (Jacksonville, IL)
'15 DE Kyle Phillips (Nashville, TN)
'15 DT Elijah Taylor (Cincinnati, OH)
'15 LB Anthony McKee (Columbus, OH)
'15 LB Jahvoni Simmons (Virginia Beach, VA)
'15 LB Markus Bailey (Hilliard, OH)
'15 LB Nick Conner (Dublin, OH)
'15 CB Jamel Dean (Cocoa, FL)
'15 CB Tyree Kinnel (Huber Heights, OH)
'15 CB Dre Jackson (Lawrenceville, GA)
'15 CB Adonis Thomas (Lawrenceville, GA)
'15 CB Kei Beckham (Trotwood, OH)
'15 CB Jordan Whitehead (Pittsburgh, PA)
'15 ATH Jerome Baker (Cleveland, OH)
'15 ATH Colin McNamara (Elyria, OH)
'15 ATH Eric Glover-Williams (Canton, OH)
'15 ATH Jack Hockaday (Maroa, IL)
'15 ATH Adonis Thomas (Lawrenceville, GA)
'15 ATH Nyck Grayson (Macedonia, OH)
'16 QB Steve Frank (Oswego, IL)
'16 QB Messiah DeWeaver (Trotwood, OH)
'16 OL Liam Eichenberg (Cleveland, OH)
'16 CB Patrice Rene (Peterborough, Ontario, Canada)
Commits - Damon Webb, Marcelys Jones, Jamarco Jones, Sam Hubbard, Lonnie Johnson, Kyle Trout, Sean Nuernberger, Kyle Berger, Terry McLaurin, Dante Booker, Parris Campbell
September 28th (Wisconsin)
'14 TE Tyler Luatua (La Mirada, CA) - official
'14 ATH John "JuJu" Smith (Long Beach, CA) - official
'15 DE CeCe Jefferson (Glen St. Mary, FL)
October 26th (Penn State)
'14 OL Demetrius Knox (Fort Worth, TX) - official
'14 LB Raekwon McMillan (Hinesville, GA) - official
'14 DB Jamal Adams (Lewisville, TX) - official
'15 ATH Jacques Patrick (Orlando, FL)
November 23rd (Indiana)
'14 JUCO OL Chad Mavety (East Garden City, NY) - official
Four star JUCO offensive lineman Jermaine Eluemunor announced he is down to two schools and class of 2014 athlete Noah Brown visited Ohio State yesterday. Get caught up with all that and more Buckeye recruiting news from Wednesday.
Urban Meyer and Bert Bielema will duke it out again over an offensive lineman as JUCO tackle Jermaine Eluemunor announced via Twitter that he is no longer committed to the Bruins of UCLA and is now only considering Ohio State and the Bielema coached Arkansas Razorbacks yesterday afternoon. Jermaine visited Arkansas last weekend and has most in the recruiting scene believing Bert and the Razorbacks might win this battle over Urban and the Bucks. Originally from England, The 6-6 300 pound Eluemunor will announce his college decision this Friday.
Earlier this week class of 2014 Texas defensive back Jamal Adams announced a top four of Florida, Ole Miss, Texas and Texas A&M. Yesterday, Damon Sayles, recruiting analyst for ESPN tweeted that Adams will take official visits to just not those four, but will also make a trip north to check out Ohio State. Adams will make it up to Columbus, October 26th when the Buckeyes take on the Nittany Lions of Penn State under the lights of the shoe. Jamal's father played football at Kentucky with Florida assistant Joker Philips, making most feel the Gators are in the drivers seat to land the 6-0 200 pound four star prospect.
cont...
The Fab Frosh All-American Basketball Camp back in 2010 was loaded with with potential five-star players and many future touted recruits.
Six players in the gym that week, Jahlil Okafor, Emmanuel Mudiay, Stanley Johnson, Cliff Alexander, Justise Winslow and Theo Pinson went on to earn five-star status in the 247Sports rankings.
So did Brooklyn (N.Y.) Lincoln's Thomas Holley.
However, Holley's five stars came in football.
The 6-foot-4, 285-pound Holley always thought he'd see five-stars next to his name. The same as everyone else at that camp, he thought it would be because of his talents on the hardwood. At that point, Holley had never even played organized football, and in his hometown, he was ranked higher than another current five-star basketball player in his Brooklyn (N.Y.) Lincoln classmate Isaiah Whitehead. The two played on the same AAU team.
cont...