Had a great visit with my bros @JalinMarshall @gardners_era and @TheVonnBell7 #GoBucks

— Drew Richmond (@TheDream_75) June 15, 2013
Solomon's list from 13 down to 9. No particular order Top 9 Texas Baylor Oklahoma Ohio State UCLA Stanford Notre Dame Alabama Arkansas

— Joe McBride (@coachjmcbride) June 15, 2013
Scout $ - Top 2015 OL visits Ohio State '15 TN OL Drew Richmond
Had a great visit & talks about hanging out with Jalin Marshall, Ryan Shazier & others. No favorites, but has high interest in Ohio State. Visiting Vanderbilt & Georgia next.
Keeon Virgile & Chad Mavety
Drew Richmond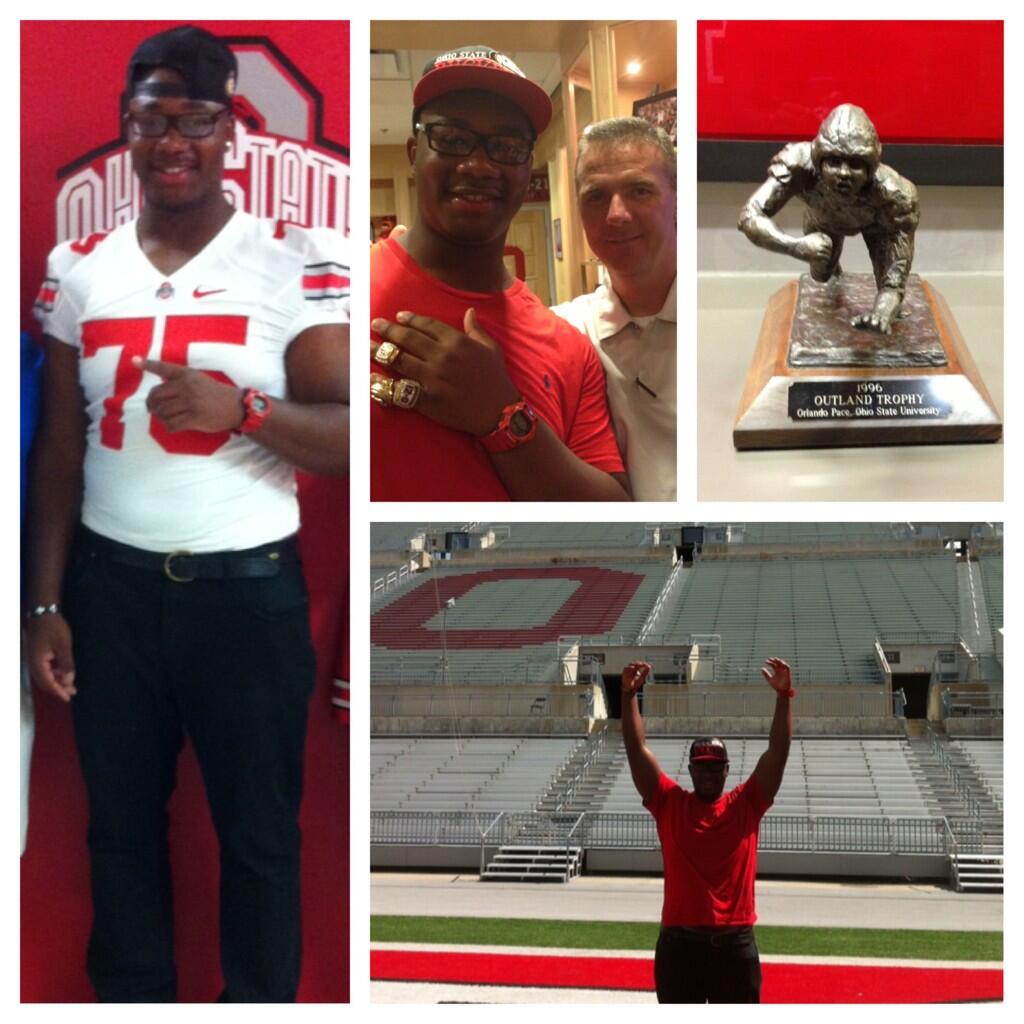 Quincy Wilson
Updated Visitor List (subject to change)
Today
'14 LB Richard Yeargin III (Fort Lauderdale, FL)
'14 DB Quincy Wilson (Fort Lauderdale, FL)
June 17th
'14 OL Jamarco Jones (Chicago, IL)
June 18th
'14 RB Donte Thomas-Williams (Durham, NC)
'14 WR Trevion Thompson (Durham, NC)
'15 WR CJ Sanders (Brentwood, TN)
'16 ATH Tyrece Speaight (Akron, OH)
June 19th
'14 DE Jalyn Holmes (Norfolk, VA)
'15 OL Sterling Jenkins (Pittsburgh, PA)
June 21st
'14 RB Derrell Scott (Havelock, NC)
'14 RB Elijah Bell (Lexington, KY)
'14 WR Nacarius Fant (Bowling Green, KY)
'14 WR Elijah Bell (Akron, OH)
'14 WR Skylar Taphorn (Youngstown, OH)
'14 WR/TE Michael Siragusa (Cleveland, OH)
'14 JuCo OT Jermaine Eluemunor (Scranton, PA) - official
'14 OT Walter Rauterkus (Avon, OH)
'14 OT Frank Ragnow (Victoria, MN) tentative
'14 TE Mike Gesicki (Manahawkin, NJ)
'14 DE Shane Roy (Cincinnati, OH) tentative
'14 DE Collin Giesey (Douglasville, GA)
'14 DT Elisha Shaw (Tucker, GA) tentative
'14 DT Marshal Davis (Powell, OH)
'14 LB Detric Dukes (Tucker, GA)
'14 LB Darrin Kirkland (Indianapolis, IN)
'14 LB Jamal Davis (Canton, OH)
'14 CB Terrence Alexander (River Ridge, LA)
'14 CB Mattrell McGraw (River Ridge, LA) tentative
'14 S Kirk Turner (Tucker, GA)
'14 ATH JJ Pinckney (Sylvania, OH)
'15 RB Eli Brown (Bowling Green, KY)
'15 RB Andrew Dowell (Lakewood, OH)
'15 WR David Dowell (Lakewood, OH)
'15 WR Van Jefferson (Brentwood, TN) tentative
'15 OG Tommy Hatton (Montvale, NJ)
'15 OT Matt Jones (Hubbard, OH)
'15 DE Rashod Berry (Lorain, OH)
'15 DT Mike Williams (Alliance, OH)
'15 DB Elias Cane (Nashville, TN)
'15 ATH Eric Glover-Williams (Canton, OH)
'15 ATH Jerome Baker (Cleveland, OH) tentative
'16 WR Desmond Fitzpatrick (Farmington Hills, MI)
Commits - Kyle Trout
June 22nd
'14 WR Austin Roberts (Carmel, IN)
'14 DT Thomas Holley (Brooklyn, NY)
'14 DE Derek Barnett (Brentwood, TN)
June 28th
'14 S Cortez McDowell (Locust Grove, GA)
July 26th? (Friday Night Lights)
'14 RB Vayante Copeland (Dayton, OH)
'14 OL Donell Stanley (Latta, SC)
'14 DL Malik McDowell (Detroit, MI) tentative
'15 QB Jayru Campbell (Detroit, MI)
'15 RB Mike Weber (Detroit, MI)
'15 TE Garrett Williams (Orlando, FL) tentative
'15 OG Nick Wilson (Alpharetta, GA) tentative
Commits - Damon Webb
September 28th (Wisconsin)
'14 ATH John "JuJu" Smith (Long Beach, CA) - official
October 26th (Penn State)
'14 OL Demetrius Knox (Fort Worth, TX) - official
'15 ATH Jacques Patrick (Orlando, FL)
November 23rd (Indiana)
'14 JUCO OL Chad Mavety (East Garden City, NY) - official
Oldham County kicker Sean Nuernberger committed to Ohio State on Tuesday – immediately after getting a scholarship offer from the Buckeyes at their kicking camp. He discussed his decision and his trip to Columbus with The Courier-Journal.
So you attended camp there today?
I got invited to come kick for the camp. They were looking for a kicker. So I came up there and earned my spot, I guess.
Did you get to meet with Urban Meyer?
I kicked for the first time yesterday, and they had like the top 10 guys come out after the morning and come kick in the afternoon at the indoor facility. We kicked there in front of Coach Meyer. I got to meet him that night and talk to him for a little bit. After that we came out and kicked again this morning, and I got invited back over. I talked to Kerry Coombs, the special teams coordinator, and talked to Coach Meyer in his office for quite a while, and it basically just ended with him telling me they wanted me to kick for them and were going to offer me a scholarship. So I accepted on the spot, so I committed.
cont...
There's been a lot of hullabaloo and fussin' and cussin' about Ohio State's offensive line recruiting in the last year and a half. As the Buckeyes start to ever so slowly turn some of their recruiting focus from finishing the 2014 class to starting the 2015 class, it appears that they've decided to address that issue as much as possible.
One of their primary targets for 2015 is Memphis (Tenn.) University School offensive tackle Drew Richmond, a 6-foot-6, 300 pound hulking brute who grew up, according to the soon-to-be junior, a Buckeye fan.
"This was my first time at Ohio State," Richmond said following his visit. "I did grow up rooting for Ohio State, sothere were a lot of expectations. I always thought Ohio State just had the coolest uniforms and I remember the way that Coach Tressel would lead the troops out on the field; they'd lock up arms and they'd walk out, it was so hype."
cont...
Ohio State's search for three more offensive lineman in their 2014 recruiting class hosted a big visitor this weekend when Sparta (N.J) native and Nassau Community College star Chad Mavety hit campus. Regarded as the best prospect in the Empire State, Mavety is a pure tackle, hovering at 6-foot-6 and nearly 320 pounds. He's an aggressive run-blocker and is equally adept in the passing game. As one of the Buckeyes' primary targets, Mavety headed to Columbus with a lot of lofty expectations and for now at least, it appears the Buckeyes met or surpassed every one.
"Overall it was an awesome visit," Mavety said. "It was more than what I expected, honestly. There were a lot of good parts to the trip, but I really liked just hanging around the facility and seeing how things work at Ohio State."
How things work at Ohio State is a relevant question for Mavety, because the Buckeyes have let him know that they have big plans for him were to ultimately sign with Ohio State.
cont...