2015 LSU CB commitment Kevin Toliver received an offer from #OhioState today.

— Jimmy D Smith (@JimmyDetail) June 14, 2013
Had a great day with Urban Meyer and coach Herman and received an offer to play at "THE" Ohio State University!!! #buckeyes #hoyanation

— Lorenzo Nunez (@Zodabeast10) June 15, 2013
Kerry Coombs, Mike Vrabel and Stan Drayton are working at the Sound Mind Sound Body camp in Detroit today.
Updated Visitor List (subject to change)
June 13th-15th (3-Day Camp)
'14 RB Shaun Wilson (Charlotte, NC)
'14 WR Isaiah Ford (Jacksonville, FL)
'14 JUCO LB Keeon Virgile (Garden City, NY)
'15 QB Lorenzo Nunez (Kennesaw, GA)
'15 OT David Moorman (Northville, MI)
'15 OT Jon Runyan Jr. (Philadelphia, PA)
'15 LB Jeffrey Holland (Jacksonville, FL)
'15 DB John Reid (Philadelphia, PA)
'15 DB Kevin Toliver II (Jacksonville, FL)
'17 ATH Mike Silva (Kingston, MA)
'17 ATH Connor Heyward (Duluth, GA)
June 15th
'14 OL Chad Mavety (Garden City, NY)
'14 LB Richard Yeargin III (Fort Lauderdale, FL)
'14 DB Quincy Wilson (Fort Lauderdale, FL)
'15 OL Drew Richmond (Memphis, TN)
June 17th
'14 OL Jamarco Jones (Chicago, IL)
June 18th
'14 RB Donte Thomas-Williams (Durham, NC)
'14 WR Trevion Thompson (Durham, NC)
'15 WR CJ Sanders (Brentwood, TN)
'16 ATH Tyrece Speaight (Akron, OH)
June 19th
'14 DE Jalyn Holmes (Norfolk, VA)
'15 OL Sterling Jenkins (Pittsburgh, PA)
June 21st
'14 RB Derrell Scott (Havelock, NC)
'14 RB Elijah Bell (Lexington, KY)
'14 WR Nacarius Fant (Bowling Green, KY)
'14 WR Elijah Bell (Akron, OH)
'14 WR Skylar Taphorn (Youngstown, OH)
'14 WR/TE Michael Siragusa (Cleveland, OH)
'14 JuCo OT Jermaine Eluemunor (Scranton, PA) - official
'14 OT Walter Rauterkus (Avon, OH)
'14 OT Frank Ragnow (Victoria, MN) tentative
'14 TE Mike Gesicki (Manahawkin, NJ)
'14 DE Shane Roy (Cincinnati, OH) tentative
'14 DE Collin Giesey (Douglasville, GA)
'14 DT Elisha Shaw (Tucker, GA) tentative
'14 DT Marshal Davis (Powell, OH)
'14 LB Detric Dukes (Tucker, GA)
'14 LB Darrin Kirkland (Indianapolis, IN)
'14 LB Jamal Davis (Canton, OH)
'14 CB Terrence Alexander (River Ridge, LA)
'14 CB Mattrell McGraw (River Ridge, LA) tentative
'14 S Kirk Turner (Tucker, GA)
'14 ATH JJ Pinckney (Sylvania, OH)
'15 RB Eli Brown (Bowling Green, KY)
'15 RB Andrew Dowell (Lakewood, OH)
'15 WR David Dowell (Lakewood, OH)
'15 WR Van Jefferson (Brentwood, TN) tentative
'15 OG Tommy Hatton (Montvale, NJ)
'15 OT Matt Jones (Hubbard, OH)
'15 DE Rashod Berry (Lorain, OH)
'15 DT Mike Williams (Alliance, OH)
'15 DB Elias Cane (Nashville, TN)
'15 ATH Eric Glover-Williams (Canton, OH)
'15 ATH Jerome Baker (Cleveland, OH) tentative
'16 WR Desmond Fitzpatrick (Farmington Hills, MI)
Commits - Kyle Trout
June 22nd
'14 WR Austin Roberts (Carmel, IN)
'14 DT Thomas Holley (Brooklyn, NY)
'14 DE Derek Barnett (Brentwood, TN)
June 28th
'14 S Cortez McDowell (Locust Grove, GA)
July 26th? (Friday Night Lights)
'14 RB Vayante Copeland (Dayton, OH)
'14 WR Saeed Blacknall (Manalapan, NJ) tentative
'14 OL Donell Stanley (Latta, SC)
'14 DL Malik McDowell (Detroit, MI) tentative
'15 RB Mike Weber (Detroit, MI) tentative
'15 OG Nick Wilson (Alpharetta, GA) tentative
Commits - Damon Webb
September 28th (Wisconsin)
'14 ATH John "JuJu" Smith (Long Beach, CA) - official
October 26th (Penn State)
'14 OL Demetrius Knox (Fort Worth, TX) - official
'15 ATH Jacques Patrick (Orlando, FL)
November 23rd (Indiana)
'14 JUCO OL Chad Mavety (East Garden City, NY) - official
#1 OLB '15 Jeffrey Holland
Sean Nuernberger during the Kicker Camp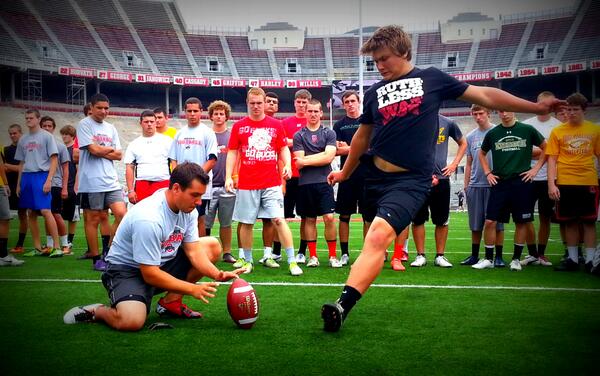 Highlights from the Sound mind Sound body camp
Jamarco Jones Interview
Marshon Lattimore Interview
The Rivals 100 Five-Star Challenge saw players from across the nation group up in Chicago, where '14 DE Dewayne Hendrix impressed scouts and spectators alike at the camp itself. The 6'4", 264-pounder is ranked as the 11th best strong side defensive end in the country and also rated as the fifth-best prospect in the state of Illinois. Hendrix holds offers from California, Florida, Kansas State, Ohio State, Tennessee, USC and plenty more.
Hendrix doesn't seem too ready to cut down his list and probably won't be making any type of decisions until the end of his senior season and then will likely commit to from there. But with that being said there are still some teams that are standing out right now with Hendrix.
From the article itself:
"I am liking everybody right now but the guys that are really standing out to me would be Tennessee, Florida, USC and Ohio State," Hendrix said. "(The schools are in) no order, they are just standing out to me."
cont...
Offensive line is, according to Urban Meyer, priority 1, 1a, 1b and 1c for the class of 2014. One of their big targets is junior college offensive lineman Chad Mavety. He is a big man, standing 6'6" 320 lbs. and currently attending Nassau Community College in New York State.
With fellow juco lineman Jermaine Eluemunor pledging to UCLA (though he will visit OSU June 21, and Meyer is still recruiting him), Mavety becomes an even greater priority. Along with the Buckeyes, Mavety has offers from schools like Alabama, Syracuse, Kansas, Florida State, Arkansas, Nebraska, Oklahoma, Texas A&M, and Wisconsin. He is rated the #3 junior college prospect in the nation per 247 Sports.
It is clear that Mavety is a highly sought after O-lineman. He took time to let the O-zone readers have an inside look into his recruitment.
cont...
Chad Mavety, the 6-6, 320-pound Nassau (Garden City, N.Y.) Community College offensive tackle, confirmed with NJ.com that he will be taking an unofficial visit to Rutgers on July 3. After a slow start to their recruitment of Mavety, the Scarlet Knights have rebounded, finding themselves with just as good a shot as any other program in the country to land the second ranked junior college offensive lineman in the country (according to 247Sports.com).
"Yea, I'm gonna come up July 3rd, probably with some family and my linebacker," said Mavety. "I don't think they're recruiting him (the linebacker), but he's just gonna come. I'm not sure if I'm gonna stay overnight or not, yet. But I'll probably just stay for the day, most likely."
Mavety had been quiet in terms of professing his collegiate intentions, leading many to believe Rutgers had fallen out of the picture. However, according to Mavety, that assumption couldn't be farther from the truth.
cont...
Jalen Brown's week was about what you'd expect for a four-star prospect visiting various college campuses. The Phoenix (Ariz.) Mountain Pointe receiver spent the last few days gallivanting around the upper Midwest. He hit Ohio State. He checked out both Michigan and Michigan State and finished up at Wisconsin.
For the most part, everything was standard. There were tours. There were recruiting pitches. There were depth charts and graduation rates discussed. The status quo lasted right up until he missed his flight home. Brown was stuck in Chicago overnight, but no matter. He'll tell you the perspective he gained on the trip was worth the momentary frustration.
He doesn't mince words when he talks about his experience in Big 10 country. He's most forthright when it comes to discussing the differences between the Wolverine and Spartan programs, which he was able to compare side by side.
cont...
SOUTHFIELD, Mich. – The 2013 Sound Mind Sound Body Football Academy check-in was on Thursday, and some talented prospects were at Southfield High in town for the festivities on Friday and Saturday.
Area 247Composite five-star defensive lineman Malik McDowell was hanging out, however, he will not work out this weekend. The U.S. Army All-American came by to see some of the college coaches that are working the event.
"Michigan and Ohio State, those are the two that I talked to that I was going to talk to when I got here," McDowell said.
McDowell has visited the Wolverines campus several times in the past and looks forward to getting back to Ann Arbor this summer.
"They still haven't slowed down any recruiting," McDowell said. "They're recruiting me just as hard as they did in the beginning."
The 6-foot-7, 290-pound McDowell added that he's noticed Michigan's No. 3 ranked recruiting class led by Jabrill Peppers and Drake Harris.
"That's real nice," McDowell said. "Would be a nice little team there."
cont...
ELIZABETHTOWN, Ky. - To say that this week has been a big one for Top247 defensive tackle prospect Matt Elam would be an understatement. On Tuesday, the 6-foot-6, 365-pound quick and powerful athlete picked up an offer from Notre Dame, and on Wednesday finalized his decision to play in the 2014 U.S. Army All-American Bowl January 4.
Wednesday afternoon at John Hardin High, the fast rising class of 2014 prospect talked about the big week.
"Notre Dame offering is big," Elam said. "I don't really know that much about Notre Dame yet. I'm trying to go up there for a visit soon. I know they have a great program, were in the national title game and a have a lot of tradition. It's great to have a big time offer from a program like Notre Dame,"
Notre Dame's message was simple, scheme and opportunity.
"I talked to Coach (Bob) Elliott. He said they play a 3-4, are losing a big-time nose and have a great opportunity for me. He said they really wanted and need me,"
cont...