ESPN $ - Tide surging for Raekwon McMillan '14 GA LB Raekwon McMillan
Raekwon goes on to say that he doesn't have a Top 5 right now after his visit to Alabama and states he will have a new top five after he visits Ohio State. He goes on in detail about his Alabama visit. Talks about Clemson & Ohio State. On the Buckeyes he wants to talk with the coaches again and get a better feel for the program. He also wants to feel if Ohio State is really where he wants to be. Florida and USC also making a push for McMillan and will visit Georgia sometime soon.
BN $ - No. 1 Delaware Player Visiting OSU '14 DE WR Chris Godwin
Visiting Friday and Saturday...no favorites yet and plans to narrow things down this summer.
BN $ - Blazevich Talks Upcoming Visits '14 NC TE Jeb Blazevich
Was supposed to be visiting OSU today but the visit was canceled due to weather...also making spring stops at UGA, Clemson, Ole Miss and Alabama.
ESPN $ - Watch List OL aims to trim list after visits '14 NJ OL Quenton Nelson
Nelson states that he will trim his list down after he takes the rest of his visits. Talks about his visit to Boston College. Talks about what he expects when he visits Ohio State on Thursday. Says he would like to see the facilities and talk with the academic staff. He also wants to get a better feel for Coach Meyer and Coach Warriner, talk to them and see the campus. Vists Northwestern on April 4th, Notre Dame on the 6th, Rutgers 4/13, Penn State 4/20. Wants to visit Duke and North Carolina in May and will try to get out to see Stanford and Vanderbilt.
Updated Visitor List
March 22nd-24th
'14 DL Dylan Thompson (Lombard, IL) - Committed on visit
'14 LB Kyle Berger (Cleveland, OH)
'14 QB Caleb Henderson (Burke, VA)
'14 LB Tegray Scales (Cincinnati, OH)
'14 RB Vayante Copeland (Dayton, OH)
'14 OG Demetrius Knox (Fort Worth, TX)
'14 FB Daniel Gresham (Fort Worth, TX)
'15 ATH George Brown Jr. (Cincinnati, OH)
'15 CB Kei Beckham (Trotwood, OH)
'15 ATH Brian Cole (Saginaw, MI) - Offered on visit
March 26th
'14 OG Eric Shute (Glen Ellyn, IL)
'14 TE Jeb Blazevich (Charlotte, NC)
March 27th
'14 WR/TE Mike Gesicki (Manahawkin, NJ)
March 28th
'14 TE Chance Sorrell (Middletown, OH)
'14 OL Quenton Nelson (Red Bank, NJ)
March 29th-31st
'14 RB Jonathan Hilliman (Jersey City, NJ)
'14 WR Derek Kief (Cincinnati, OH)
'14 WR Maurice Ways (Beverly Hills, MI)
'14 WR Chris Godwin (Middletown, DE)
'14 LB Tegray Scales (Cincinnati, OH)
'15 ATH George Brown Jr. (Cincinnati, OH)
April 1st-3rd
'14 WR Maurice Ways (Beverly Hills, MI)
'14 LB Raekwon McMillan (Hinesville, GA)
'14 ATH Myles Autry (Norcross, GA)
'14 OL Zach Harmon (Toledo, OH)
April 4th
'14 QB Darius Wade (Middletown, DE)
'14 WR Demarre Kitt (Tyrone, GA)
April 5th-7th
'14 RB Nick Chubb (Cedartown, GA)
'14 RB Donte Williams (Durham, NC)
'14 WR Trevion Thompson (Durham, NC)
'14 WR Dallis Todd (La Mirada, CA)
'14 JUCO OL Chad Mavety (East Garden City, NY)
'14 JUCO OL Jermaine Eluemunor (Scranton, PA)
'14 OL Juwan Bushell-Beatty (Paramus, NJ)
'14 OL Sam Mustipher (Olney, MD)
'14 OL Alex Bookser (Mt. Lebanon, PA)
'14 DB Damon Webb (Detroit, MI)
'14 DB Jabrill Peppers (Paramus, NJ)
'14 ATH Sam Hubbard (Cincinnati, OH)
'14 S Cortez McDowell (Locust Grove, GA)
'15 QB Jayru Campbell (Detroit, MI)
'15 RB Michael Weber (Detroit, MI)
'15 DE Joshua Alabi (Detroit, MI)
April 12th-14th
'14 WR Austin Roberts (Carmel, IN)
'14 OL Kyle Trout (Lancaster, OH)
'14 LB Kyle Berger (Cleveland, OH) ???
'16 WR Cameron Chambers (Philadelphia, PA)
April 18th
'14 WR Mark Andrews (Scottsdale, AZ)
April 19th-21st
'14 OL Demetrius Knox (Fort Worth, TX) ???
'14 RB Dravon Henry (Aliquippa, PA)
November 23rd (Indiana)
'14 JUCO OL Chad Mavety (East Garden City, NY) - official
'14 JUCO OL Jermaine Eluemunor (Scranton, PA) - official
After a fruitful weekend of hosting recruiting targets on campus for Ohio State, we caught up with a quartet of prospective Buckeyes.
An exciting weekend in the world of Ohio State football recruiting was headlined by the verbal commitment of four star Illinois defensive end Dylan Thompson during an unofficial visit to the Buckeyes' Columbus campus. Thompson wasn't the only talented prospect head coach Urban Meyer and his staff played host to Saturday, however. 2014 recruits Kyle Berger, Texas commits Demetrius Knox and Daniel Gresham (the latter of whom revealed he received an OSU offer Monday), and Virginia quarterback Caleb Henderson were just a few off the list of prospects that made the trip to central Ohio. Another recruit's weekend visit might have flown under the radar a bit; 2015 Trotwood Madison defensive back Kei Beckham made the short trek down to Ohio State to check out ex-teammate Cam Burrows and the Buckeyes' weekend practice.
cont...
Montini junior defensive end Dylan Thompson knew the moment he walked into Ohio State's indoor football facility Saturday that he was ready to commit to the Buckeyes.
"I found a school that has everything I was looking for and so much more," said Thompson, who is 6-foot-5, 270 pounds. "Ohio State feels like home for me. I want to be a part of that family environment at Ohio State and I can't wait to play for the Buckeyes."
And another: Fenwick junior running back Robert Spillane also knew right away Saturday that he was ready to orally commit to Western Michigan moments after new coach P.J. Fleck offered Spillane a scholarship.
"P.J. Fleck just blew me away on Saturday," Spillane said. "I was so impressed with Coach Fleck, his message, his philosophy and his plans for turning the WMU program around. I just felt like this was the perfect scenario for me at Western Michigan, so I committed."
cont...
Demetrius Knox is committed to the Texas Longhorns, but the Fort Worth All Saints guard grew up in Ohio as a OSU Buckeyes fan.
So when Knox posted a photo of himself and teammate Daniel Gresham in Ohio State jerseys on Instagram, it seemed like cause for concern for Horns fans, right?
Maybe not. According to SB Nation's Wescott Eberts, the duo did in fact visit Ohio State last weekend, but Knox said he was taking the visit to see his father in Ohio and told Buckeye coaches that he was "not going there."
Knox, a four-star recruit according to Rivals.com and the No. 3 prospect in SportsDayHS's area 2014 rankings, is among the top offensive line prospect in the nation for the class of 2014, so his loss wouldn't be a little one for the Horns.
cont...
As one of the nation's most heavily recruited quarterbacks, the Conner High School junior usually finds 15 to 20 letters in all each day from the multitude of college football coaches who want him to play for their team.
Tuesday, however, was an exceptionally busy day at the mailbox, thanks to Kentucky coach Mark Stoops and his staff.
Barker received 115 hand-written letters from the UK staff alone, with each coach, offense and defense, telling him he's the Wildcats' No. 1 recruiting priority in 2014. It's not a typo; they sent 115, enough to cover nearly his entire kitchen table.
"I opened up the mailbox like I do every day, and they started falling out," said Barker, a four-star player ranked as the nation's No. 153 junior by Rivals.com. "I was like, 'Oh, my gosh.' It was insane what it looked like in my mailbox. It was all crammed in there, and they had a bunch of rubber bands around them. It was pretty awesome, and I was pretty shocked."
cont...
USC coach Steve Spurrier made it clear to QB Drew Barker of Hebron, KY during his unofficial visit over the weekend that he is the quarterback he wants for the 2014 class. Barker says Spurrier went beyond his normal recruiting efforts in dealing with him Friday during practice.
"Coach Spurrier called me over during practice and I was in there with him when he was calling plays, standing with him on the field when they were doing seven on seven and scrimmaging," Barker said. "I was just walking around and talking ball with him and he was explaining the plays. Coach Mangus told me after practice I was the first quarterback he's ever done that with. Usually you are supposed to stand over on the sidelines. I thought that was pretty cool. I definitely could tell coach Spurrier really wanted me on this trip. He spent a lot of time with me and definitely wanted me to know that I was wanted there."
cont...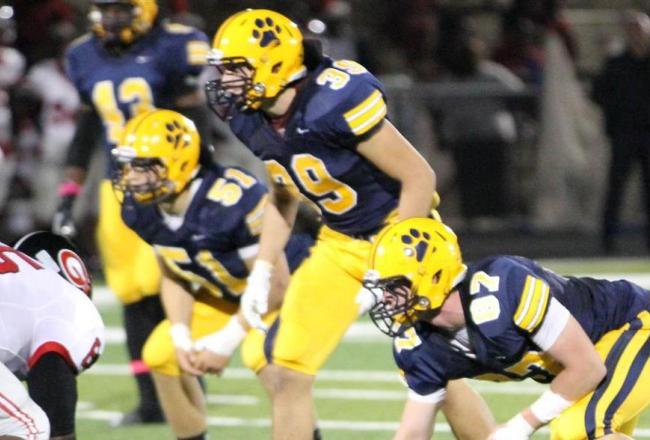 The Ohio State-Michigan rivalry isn't just a one-day battle on the football field in late November. For these two schools, the competition is a year-round event.
The perfect depiction of that comes with the recruitment of 4-star linebacker Kyle Berger. With 14 scholarship offers on hand, Berger is one of the most pursued high school prospects in the state of Ohio.
In the eyes of this talented linebacker, though, Ohio State and Michigan stand above the rest.
Meyer and the Buckeyes had the early lead for Berger's services, but things changed quickly when the All-Ohio linebacker out of St. Ignatius High School visited Michigan on March 15. With the help of defensive coordinator Greg Mattison and current Michigan commit and 4-star linebacker Michael Ferns, the Wolverines have made a late push to pull even with the Buckeyes.
cont...
Chris Rock – the football player from DeSales, not the comedian – was on the field in jersey No.91 for Ohio State in spring practice No.6 this afternoon. That was significant because it meant Rock has pulled off a move known as the Justin Boren: a local high schooler who first signed with Michigan only to change his mind and transfer to Ohio State.
Rock, a defensive end, was part of the Michigan recruiting class of 2011, a year in which he was redshirted. He left that school last year and enrolled atOhioState, though he did not immediately join the football team.
cont...