Rivals $ - Eluemunor shuffling his visits '14 JUCO OL Jermaine Eluemunor
By Farrell...OSU on 4/6 followed by summer visits to Alabama, Arkansas and UCLA. Also wants to visit FSU and one other school for his five officials. Canceled his visit to TAMU.
Updated Visitor List
March 26th
'14 TE Jeb Blazevich (Charlotte, NC)
March 28th
'14 TE Chance Sorrell (Middletown, OH)
'14 OL Quenton Nelson (Red Bank, NJ)
March 29th-31st
'14 RB Jonathan Hilliman (Jersey City, NJ)
'14 WR Derek Kief (Cincinnati, OH)
'14 WR Maurice Ways (Beverly Hills, MI)
'14 LB Tegray Scales (Cincinnati, OH)
'15 ATH George Brown Jr. (Cincinnati, OH)
April 1st-3rd
'14 LB Raekwon McMillan (Hinesville, GA)
'14 ATH Myles Autry (Norcross, GA)
'14 OL Zach Harmon (Toledo, OH)
April 4th
'14 QB Darius Wade (Middletown, DE)
'14 WR Demarre Kitt (Tyrone, GA)
April 5th-7th
'14 RB Nick Chubb (Cedartown, GA)
'14 RB Donte Williams (Durham, NC)
'14 WR Trevion Thompson (Durham, NC)
'14 WR Dallis Todd (La Mirada, CA)
'14 JUCO OL Chad Mavety (East Garden City, NY)
'14 JUCO OL Jermaine Eluemunor (Scranton, PA)
'14 OL Juwan Bushell-Beatty (Paramus, NJ)
'14 OL Sam Mustipher (Olney, MD)
'14 OL Alex Bookser (Mt. Lebanon, PA)
'14 DB Damon Webb (Detroit, MI)
'14 DB Jabrill Peppers (Paramus, NJ)
'14 ATH Sam Hubbard (Cincinnati, OH)
'14 S Cortez McDowell (Locust Grove, GA)
'15 QB Jayru Campbell (Detroit, MI)
'15 RB Michael Weber (Detroit, MI)
'15 DE Joshua Alabi (Detroit, MI)
April 12th-14th
'14 WR Austin Roberts (Carmel, IN)
'14 OL Kyle Trout (Lancaster, OH)
'14 LB Kyle Berger (Cleveland, OH) ???
'16 WR Cameron Chambers (Philadelphia, PA)
April 18th
'14 WR Mark Andrews (Scottsdale, AZ)
April 19th-21st
'14 OL Demetrius Knox (Fort Worth, TX) ???
'14 RB Dravon Henry (Aliquippa, PA)
November 23rd (Indiana)
'14 JUCO OL Chad Mavety (East Garden City, NY) - official
'14 JUCO OL Jermaine Eluemunor (Scranton, PA) - official
Newly Offered: '14 TX FB Daniel Gresham Junior Highlights
Newly Offered: '14 MO OL Brian Wallace Highlights
Ohio State's class of 2014 grew by one after the commitment from a defensive end during his visit over the weekend. That recruit was not the only prospect visiting, however; how did the other visits fare?
It was yet another busy weekend for the Ohio State recruiting staff. Head coach Urban Meyer and company hosted a few athletes this past weekend for unofficial visits. The big story came from '14 DE Dylan Thompson, who gave his commitment following his time in Columbus. Our Charles Doss made a good point when mentioning that Thompson is a part of Core 6. Many of the high profile prospects that Ohio State has targeted for their 2014 class are apart of the Core 6 group. With Thompson pulling the trigger on his commitment, the Buckeyes have to hope that he can persuade some of the others training with Core 6 to become Buckeyes.
cont...
Throughout the next few months, BuckeyeNation will look further into those juniors offered by Ohio State. We'll give as much detail as we can and go behind the scenes to see why these Class of 2014 standouts are so attractive to the Buckeyes. Next on the list of offensive tackles is Orlando Brown Jr., who has Ohio ties as his father -- the late Orlando Brown Sr. -- played for the Cleveland Browns from 1993-95 and 1999-2000.

Vitals: Brown (Duluth, Ga./Peachtree Ridge) is 6-foot-8 and 345 pounds.

Status: He is uncommitted, but has the Buckeyes in his final seven along with Alabama, Arkansas, Iowa, Oklahoma, Michigan and South Carolina. Brown plans on having a top three by the fall and wants to make a decision after his high school season is over.

cont...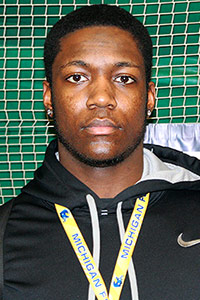 The adidas invitational was held on Sunday at Grand Valley State University, boasting some of the top Midwest prospects ranging from the 2014 all the way to 2016 classes. The annual camp did not disappoint as the competition was plentiful throughout the day.

RecruitingNation writer Tom VanHaaren attended the camp and here is what he learned:
Marshall matters

Defensive end Lawrence Marshall (Southfield, Mich./Southfield) looks like he has been hitting the weight room hard lately. He looked in great shape and was one of the top defensive linemen in the entire camp.
cont...
Despite the no-visit policy at Texas, two commits made their way to Columbus last weekend.
The Texas Longhorns have a newly-instituted no-visit policy for commits that is being tested by 2014 pledge Demetrius Knox and Daniel Gresham.
From Fort Worth (Texas) All Saints, offensive lineman Knox and running back/fullback Gresham tripped to Columbus last weekend to visit Ohio State.
Knox is a native of Ohio and grew up a Buckeyes fan, revealing less than two weeks ago that he planned on visiting Columbus ($) to see his father, telling Hookem.com that he had told the Ohio State coaches that he's "not going there." He also said that he as "an understanding" with the Texas coaches about his visit.
On Instagram, Knox shared a photo of he and Gresham in Ohio State uniforms during their time in Columbus:
cont...
We roll on with our 2013 recruiting profiles, and today our subject is TE Marcus Baugh. Baugh is a unique kid in this day and age – he made an early announcement to the school of his choice, did it without a lot of fanfare, and stuck by his commitment. He also comes from an area that hasn't been a recruiting pipeline for Ohio State in recent years – the talent rich state of California. Baugh is one of Meyer's high profile national recruits, and is one of several highly talented players chosen and recruited by the Buckeyes over another highly talented Ohio kid at the same position.
cont...