Scout $ - Cole Lands Buckeye Offer '15 MI DB Brian Cole
By Trieu.....Says he was offered as a DB & enjoyed his visit. Says the staff wants him to come back for Friday Night Lights.
Scout $ - Thomas-Williams has Irish in his top 5 '14 NC RB Donte Thomas-Williams
From the ND site....Top 5 of Clemson, Notre Dame, Georgia Tech, Georgia & Ohio State (no order). Visiting Ohio State on 4/6 & speaks highly of Coach Meyer.
Scout $ - Thompson opening things back up '14 NC WR Trevion Thompson
From the ND site....Says Clemson, North Carolina, Notre Dame & Ohio State are recruiting him the hardest. Visiting OSU on 4/6.
Scout $ - Berger Going Through the Process '14 OH LB Kyle Berger
By The Bank.....Recaps his visit today & says this visit was even better than the last. Spent most of his day with Coach Meyer & Coach Fickell, including on the practice field and private meetings. Also recaps his visit to Michigan last weekend. Will visit Tennessee next week & would like to make his decision in May.
Updated Visitor List
March 22nd-24th
'14 DL Dylan Thompson (Lombard, IL) - Committed on visit
'14 LB Kyle Berger (Cleveland, OH)
'14 QB Caleb Henderson (Burke, VA)
'14 LB Tegray Scales (Cincinnati, OH)
'14 RB Vayante Copeland (Dayton, OH)
'14 OG Demetrius Knox (Fort Worth, TX)
'14 FB Daniel Gresham (Fort Worth, TX)
'15 ATH George Brown Jr. (Cincinnati, OH)
'15 ATH Brian Cole (Saginaw, MI) - Offered on visit
March 26th
'14 TE Jeb Blazevich (Charlotte, NC)
March 28th
'14 TE Chance Sorrell (Middletown, OH)
March 29th-31st
'14 RB Jonathan Hilliman (Jersey City, NJ)
'14 WR Derek Kief (Cincinnati, OH)
'14 WR Maurice Ways (Beverly Hills, MI)
'14 OL Quenton Nelson (Red Bank, NJ; 28th-29th)
April 1st-3rd
'14 LB Raekwon McMillan (Hinesville, GA)
'14 OL Zach Harmon (Toledo, OH)
April 4th
'14 QB Darius Wade (Middletown, DE)
'14 WR Demarre Kitt (Tyrone, GA)
April 5th-7th
'14 RB Nick Chubb (Cedartown, GA)
'14 RB Donte Williams (Durham, NC)
'14 WR Trevion Thompson (Durham, NC)
'14 WR Dallis Todd (La Mirada, CA)
'14 JUCO OL Chad Mavety (East Garden City, NY)
'14 OL Juwan Bushell-Beatty (Paramus, NJ)
'14 OL Sam Mustipher (Olney, MD)
'14 OL Alex Bookser (Mt. Lebanon, PA)
'14 DB Damon Webb (Detroit, MI)
'14 DB Jabrill Peppers (Paramus, NJ)
'14 S Cortez McDowell (Locust Grove, GA)
'15 QB Jayru Campbell (Detroit, MI)
'15 RB Michael Weber (Detroit, MI)
'15 DE Joshua Alabi (Detroit, MI)
April 12th-14th
'14 WR Austin Roberts (Carmel, IN)
April 18th
'14 WR Mark Andrews (Scottsdale, AZ)
April 19th-21st
'14 OL Demetrius Knox (Fort Worth, TX) ???
'14 RB Dravon Henry (Aliquippa, PA)
November 23rd (Indiana)
'14 JUCO OL Chad Mavety (East Garden City, NY) - official
'14 JUCO OL Jermaine Eluemunor (Scranton, PA) - official
Newly Offered: '15 MI ATH Brian Cole
PARAMUS, N.J. -- The night of Oct. 12, 2012, was a quiet one for Jabrill Peppers. Not in the sense of a player held in check on the field, even though the Watch List athlete tallied only 23 yards rushing and receiving that night. And it wasn't quiet in the literal sense, as more than 8,000 fans packed the stadium to watch one of the most anticipated high school football games in New Jersey in decades.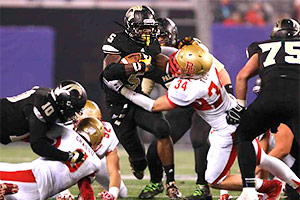 Peppers was playing against Ramsey (N.J.) Don Bosco Prep -- his former high school -- as a member of rival Paramus (N.J.) Catholic in a game that spread bad blood and feelings of betrayal throughout the state. He didn't say much that night, though. A few thousand unrelenting students and parents were nothing compared to what Peppers experienced growing up in one of New Jersey's toughest areas. It was through his upbringing in East Orange that Peppers learned that sometimes the best thing to do is keep his head down and mouth closed.
cont...
Linebacker Raekwon McMillan is considered one of the top recruits in Georgia.
The state of Georgia has always been good at producing excellent talent, particularly on the defensive side of the football (arguably the top four prospects the past two seasons from Georgia have all been on defense). Linebacker Raekwon McMillan figures to be one of those top blue-chippers who could make a big difference.
McMillan is considered a consensus four-star recruit. McMillan weighs in at 236 pounds and stands tall at 6'3. The inside linebacker hails from Hinesville (Ga.) Liberty County High. McMillan reports top offers from Clemson and Ohio State, with schools like Alabama, Georgia, USC, Auburn, Florida, Florida State, Notre Dame, Oregon, Stanford and others also getting into the mix.
As of March 22, McMillan lies right on the border of getting that elusive fifth star. McMillan is ranked as the 16th best overall national prospect by Rivals. 247Sports has McMillan ranked 13th overall and the second-best inside linebacker and the second best recruit in the state of Georgia. Scout has McMillan ranked as the second best middle linebacker on their list and he is also a member of the ESPN Watch List.
cont...