Updated Visitor List
March 22nd-24th
'14 DL Dylan Thompson (Lombard, IL)
'14 LB Kyle Berger (Cleveland, OH)
'14 QB Caleb Henderson (Burke, VA)
'14 LB Tegray Scales (Cincinnati, OH)
'15 ATH George Brown Jr. (Cincinnati, OH)
'15 ATH Brian Cole (Saginaw, MI)
March 26th
'14 TE Jeb Blazevich (Charlotte, NC)
March 28th
'14 TE Chance Sorrell (Middletown, OH)
March 29th-31st
'14 RB Jonathan Hilliman (Jersey City, NJ)
'14 WR Derek Kief (Cincinnati, OH)
'14 WR Maurice Ways (Beverly Hills, MI)
'14 OL Quenton Nelson (Red Bank, NJ; 28th-29th)
April 1st-3rd
'14 LB Raekwon McMillan (Hinesville, GA)
'14 OL Zach Harmon (Toledo, OH)
April 4th
'14 QB Darius Wade (Middletown, DE)
'14 WR Demarre Kitt (Tyrone, GA)
April 5th-7th
'14 RB Nick Chubb (Cedartown, GA)
'14 WR Dallis Todd (La Mirada, CA)
'14 JUCO OL Chad Mavety (East Garden City, NY)
'14 OL Juwan Bushell-Beatty (Paramus, NJ)
'14 OL Sam Mustipher (Olney, MD)
'14 OL Alex Bookser (Mt. Lebanon, PA)
'14 DB Damon Webb (Detroit, MI)
'14 DB Jabrill Peppers (Paramus, NJ)
'14 S Cortez McDowell (Locust Grove, GA)
'15 QB Jayru Campbell (Detroit, MI)
'15 RB Michael Weber (Detroit, MI)
'15 DE Joshua Alabi (Detroit, MI)
April 12th-14th
'14 WR Austin Roberts (Carmel, IN)
April 18th
'14 WR Mark Andrews (Scottsdale, AZ)
April 19th-21st
'14 OL Demetrius Knox (Fort Worth, TX)
'14 RB Dravon Henry (Aliquippa, PA)
November 23rd (Indiana)
'14 JUCO OL Chad Mavety (East Garden City, NY) - official
'14 JUCO OL Jermaine Eluemunor (Scranton, PA) - official
ESPN $ - 2014 ATH Henry clarifies his top four '14 PA RB/DB Dravon Henry
Pitt, Penn State, West Virginia and Ohio State stand out for Dravon. States he's visiting Ohio State on April 20th.
Scout $ - Webb Shows Skills At NLA 7on7 '14 MI DB Damon Webb
By The Bank....Recaps his experience at the New Level Athletics 7on7 last week. Talks about what type of player he is & says he's working on everything so he can become the player he wants to be. Says he always knew he would go to Ohio State & talks about his relationship with Coach Coombs & Coach Meyer. Won't take any other visits and is recruiting Drake Harris, Jayru Campbell, Mike Weber and Josh Alabi.
Scout $ - Cole Is A Top 2015 Target '15 MI ATH Brian Cole
By The Bank.....Has offers from Michigan & Michigan State, while also hearing from Ohio State & Tennessee.
Scout $ - Ambitious Visit Schedule for Sorrell '14 OH TE Chance Sorrell
By The Bank....Visiting Florida State this weekend, Purdue on Monday, Michigan on Tuesday, Nebraska Wednesday & Ohio State on Thursday.
Scout $ - Ivey is impressive '15 FL OL Martez Ivey
By Simmons.....Offers from Ohio State, Florida State, Nebraska, Oklahoma & South Carolina, while also hearing from Florida, Iowa State, Georgia & Miami.
Newly Offered: '15 OL Martez Ivey Sophomore Highlights (hudl)
There's been quite a lot of attention directed towards schools offering athletes earlier in the process, and now it looks like Ohio State will start to do the same.
It's hard to imagine being back in eighth grade and receiving a full-ride scholarship offer from USC, but that's already happened. LSU has done the same, and now, even more schools are participating in trying to grab kids' attention at an early age. With coach Meyer being the best in the business, it was only a matter of time he started playing into it a little bit as well.
While not as drastic, the Buckeyes offered '16 QB Xavier Gaines yesterday, over a phone call to Gaines. Being that Gaines is just a freshman in high school, there's not been a lot of contact with other schools and yet, Gaines already holds four total offers. Those schools, including Ohio State, are Clemson, Florida and Florida State. The 6'2", 210-pound Gaines started every varsity game his freshman season, an impressive feat. He also played on the high school varsity his 8th grade year when he was a starter at defensive end and played some quarterback during the playoffs, which is simply mind-boggling.
cont...
Providing you all a little March Madness break before the Buckeyes tip off tomorrow, we caught up with the sole Ohio State running back commit for 2014, Parris Campbell. Campbell discusses the chances he runs track at Ohio State, other schools currently recruiting him, and the likelihood his teammate Dante Booker ends up a Buckeye too.
Back on February 10th, coach Urban Meyer received his first running back commit for the 2014 class in Parris Campbell. While not being rated by 247Sports, Rivals, or Scout back when he became a Buckeye, Campbell is now rated a 94 overall and a 4-star recruit on 247Sports and the sixth-best running back in the nation and a 4-star recruit on Scout.
Any running back recruit who pledges to play for Coach Meyer is bound to be heavily scrutinized nationally, and look for Campbell to receive PLENTY of attention from opposing coaches, recruiting analysts, and bystanders in the coming summer and fall. Get to know the highly-heralded Buckeye pledge here, as provides great insight on his recruiting process, the chances he runs track at Ohio State, what specific schools are still trying to recruit him (hint: that school up North), the likelihood his 4-star linebacker teammate Dante Booker becomes a Buckeye, and much, much more:
cont...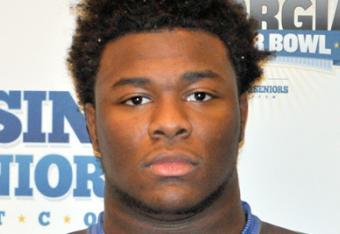 The SEC is the most competitive recruiting conference in college football and that's because most elite recruits want to play in it, but if there's a non-SEC coach that can out-recruit the power conference, it's Urban Meyer.
That's good news for the Buckeyes in the race for 4-star defensive tackle Chris Williams. He's a talented recruit from the state of Georgia, which is SEC country, and he's ranked as the No. 30 defensive tackle in the 2014 class, according to the 247Sports Composite.
According to Dave Hooker of ESPN.com, Ohio State is in Williams' top five but so are four other big-time SEC programs:
The defensive tackle from Tyrone (Ga.) Sandy Creek confirmed that Ole Miss, Texas A&M, Ohio State, Tennessee and South Carolina have separated themselves from the pack. Williams told ESPN of the group shortly after a visit to Tennessee on Saturday for its junior day event.

"That's my top schools right now," the 6-foot-1, 283-pound prospect said before adding that his official list of finalists will come out later this spring.
cont...
Clemson has had a solid verbal commitment from the nation's top dual-threat quarterback, Deshaun Watson (Gainesville, Ga. Gainesville HS) since 2012, but that hasn't stopped other schools from pursuing him.
Watson is coveted by Urban Meyer who would love nothing more than to flip Watson and have him be the successor to Braxton Miller at Ohio State. He is also receiving a lot of attention from Oregon where he would be an ideal fit in their spread offense.
With two of the premier programs in the nation chasing after the crown jewel of Dabo Swinney's 2014 recruiting class it's a reasonable assertion to think that Swinney and Tigers fans should feel a little nervous about Watson potentially decommitting.
I wouldn't blame them for feeling a little queasy knowing that Meyer is refusing to stop recruiting Watson despite his longstanding commitment to the program, but that's just the type of recruiter that he is and likely always will be. This just opens up a wound that may not have healed yet after last year's top overall player, Robert Nkemdiche decommitted from the program last fall.
cont...
Ole Miss secured a commitment from four-star offensive lineman, Andy Bauer (St. Louis, Mo. DeSmet) on Monday afternoon and currently has a top-five recruiting class according to 247sports.com, but who could be the next commitment for the Rebels?
I'm thinking the next to give their pledge to head coach Hugh Freeze could be between two defensive linemen. Dylan Thompson (Lombard, Il. Montini Catholic) and Chris Williams (Tyron, Ga. Sandy Creek) have each received offers from Ole Miss, but of the two I think Williams is the closest to making a decision.
Williams is a 6-1, 283-pound defensive tackle and has the Rebels in his top five schools with Ohio State and SEC rivals South Carolina, Texas A&M and Tennessee, but has yet to visit Oxford, but that could be happening later this spring. The past few months have shown that when recruits get to Oxford, they don't want to leave.
cont...
Florida has always been known for producing top receiver recruits, and this year was is no different.
Over the weekend, I had the chance to cover the Orlando and Miami Nike Football Training Camps (NFTC) at West Orange High School and Barry University, respectively. Here are some of the best receivers from the weekend.
In an event with more than 500 participants, some are sure to be left off the list. A player's absence from this list does not mean he had a poor event or is not a good football player. The two days were quite loaded, and more than 20 BCS receiver-type prospects showed out.
Artavis Scott and George Campbell, of Tampa (Fla.) East Lake High School, both had strong performances in Orlando.
Scott has tremendous quickness, decent speed and is extremely strong for his size. Campbell is the rare long-strider with great top-end speed who does not need a long time to get there. Campbell does need to work on becoming a more natural pass catcher. Both players are among the best in the country, and Campbell is actually in the class of 2015.
The hometown player was Garrett Johnson, of West Orange High School. Johnson is very quick, and could be a good slot receiver at the BCS level. He holds offers from several BCS schools, including Kentucky, Georgia Tech, Boston College and Arizona. Johnson was excited about the Arizona offer, which is fairly recent.
cont...
UF is way out in front for Ward.
Denzel Ward was one of the top offensive line recruits at the recent Orlando Nike Football Training Camp (NFTC). Out of the Bradenton (Fla.) IMG Academy, the consensus three-star checked in at 6'7 and 307 pounds, and performed well during the event. And before the event, he named the Florida Gators as his top team.
"My leader is Florida," Ward said. "It's their coaching staff, how they've connected with me and how they have a passion in recruiting me."
Why does Ward like the Gators? Playing time is a large component.
"I see the depth chart for O-line is really going down in the next year or so, so I really have a good chance (for early playing time), especially with that six-lineman front they play there."
cont...
AUSTIN, Texas -- High school recruits know that bad decisions can be costly ones when it comes to using Twitter. But what happens when it's adults -- the fans -- who are causing the problems?
A few members of Texas' 2014 class are having trouble with that issue. Perhaps it's because, as recruits who made commitments earlier (in August 2012) than any UT pledge ever had, they're put under the microscope much longer than most commits. Maybe it's because, as extra-early commits, the temptation to look around and take visits elsewhere can be a strong one at times, especially for indecisive teens.
Demetrius Knox reads the message boards and knows some Longhorns fans assume he's going to jump ship before signing day. The Fort Worth (Texas) All Saints lineman received scrutiny for taking a junior day trip to Oklahoma in February. After Texas coach Mack Brown announced that his commits can no longer take visits elsewhere without jeopardizing their spot in the class, Knox acknowledged publicly that he plans to take an unofficial visit to Ohio State next month.
cont...