Newly Offered: Sherrod Pittman (hudl)
Elijah Hood Junior Highlights
Rivals (Free) - Buckeyes offer Florida Sophomore
24/7 $ - Recruiting heats up for DT Moten '14 FL DL Anthony Moten
Arkansas and Rutgers have offered and Alabama said they would offer after signing day...went to Miami's junior day and says South Carolina stands out right now....had a cousin play for Florida.
Scout $ - Scott adding offers '14 NC RB Derrell Scott
Most recent offer from Notre Dame. Top 4 of South Carolina, Ohio State, Notre Dame & Tennessee (in that order).
Scout $ - Webb still wanted '14 MI DB Damon Webb
Says he loves the atmosphere, tradition & coaching staff at tOSU. Still hearing from Michigan, Michigan State & UCLA, but again says he will not be visiting any other schools. Visiting Columbus on 2/15.
Scout $ - FSNextTv: Conley Talks Buckeyes '13 OH CB Gareon Conley
Recaps signing day & what it means to be part of such a great class. Says he's being recruited as an ATH & isn't sure what side of the ball he'll play on yet.
Scout $ - Trout gives the latest '14 OH OL Kyle Trout
Was supposed to visit Notre Dame last weekend, but had to cancel. Grew up an Ohio State fan & says they are his leader. Unsure if he'll commit this weekend, but plans on graduating early & enrolling in January.
Scout $ - Offers continuing for Watson '14 IL LB Kyron Watson
Offers from Kansas, Missouri & Illinois. Also hearing from Ohio State, Michigan, Michigan State & others.
COLUMBUS, Ohio – Ohio State recruit Mike Mitchell is … different.
"It's a unique family," linebackers coach Luke Fickell said.
Mitchell, from Plano, Texas, is the sixth of nine children, all with M names -- Missi, Mandi, Monte, Matt, Michelle, Mike, Mickey, McKinley and Morgan.
"His dad is a very unique guy," Fickell said. Mitchell's father, Ken, played in the NFL with the Atlanta Falcons and has climbed Mt. Everest, but Ken says Mike gets his athleticism from his mother, Candy.
"He's going to bring some very unique tools," Fickell said.
cont...
For much of the 2012 college football season there was much speculation as to where Ohio State would have ranked and who they could have competed with.
They would have been ranked second and played for the national championship against Notre Dame; they could have competed with anyone and they would have beaten the Irish.
You don't agree?
Is it because the Buckeyes only won by three at Indiana or is it the fact that it took overtime to beat Purdue?
That's funny. If my memory serves me right I remember Notre Dame hanging on for dear life against BYU while needing a miracle to beat Pitt at home.
Oh, what about Alabama? As fantastic as three out of four titles is, and without taking away from how good those teams were, if it weren't for two consecutive years of BCS chaos that worked in their favor the Tide would have rolled elsewhere in a January bowl game both of the last two seasons.
cont...
Vonn Bell, the five-star cherry on top of Meyer's recruiting class, mentioned it himself at his press conference after telling the world he was headed to play for Meyer at Ohio State.
Their mission: Win the BCS National Championship.
Their target: Alabama.
Someone actually asked Meyer, "Are you declaring war on Alabama?"
Bell, the safety from Georgia who chose Ohio State over Alabama and Tennessee, had helped provide the premise for the question earlier in the day.
"Urban Meyer's on a mission right now to win a national championship," Bell said. "We're gonna try to beat Bama and everything so we're gonna meet them at the national championship."
Strong words - and be careful what you wish for - but don't be surprised. Matter of fact, it's as safe a bet as you can make before anyone takes a snap at spring practice.
cont...
Urban Meyer came to Columbus to salvage one of the nation's biggest college football programs. He's undefeated so far, on and off the field, after another successful Ohio State Football recruiting effort.
Meyer is known as a mastermind recruiter who built the mid-2000s Florida Gators teams that won two national championships. Despite that success at Florida, Meyer has the ability to do something he couldn't finish at Florida: build a dynasty.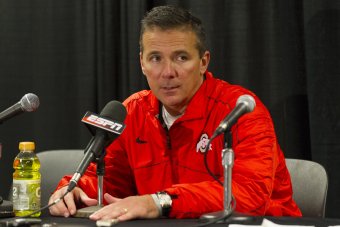 The savvy recruiter constructed the second-best recruiting class in the nation in 2013, according to 247 Sports' composite rankings. That's an immediate improvement from last year's impressive seventh-ranked class. It's also the result of the Buckeyes' immense success under Meyer in his first season at the helm in 2012.
cont...