Newly Offered: Curtis Samuel (hudl)
Quincy Wilson Interview with Derek Tyson
Edward Paris Interview with Derek Tyson
Johnnie Dixon Interview with Derek Tyson
While the Ohio State basketball team was busy dispatching the Spartans on the court, the Buckeyes' recruiting staff continued to bring full-court pressure in an attempt to land the best athletes in the class of 2014.
Recruiting is a never-ending battle for coaching staffs across the country, and none know that more than Ohio State's. Head coach Urban Meyer is known as a relentless recruiter, and it shows when the Buckeyes (and, previously, the Gators) finish in the top five in the major recruiting class rankings. As of now, Ohio State's class of 2014 ranks 10th in the nation, according to 247Sports. The Buckeyes currently have four commitments, but we still have quite a ways to go before next year and National Signing Day 2014. There are still plenty of uncommitted talents, which we can only assume coach Meyer hopes to capitalize on soon.
One prospect that has growing interest in Ohio State is '14 WR Dallis Todd. Already holding an offer on a list that seems to keep getting longer and longer, Todd is looking to visit twice over the course of this year. One visit is coming up on the weekend of April 6th, while the other will most likely take place during a game weekend this coming fall. Ohio State was amongst the first to offer the 6'5", 210-pound receiver, and it would appear that Todd was really excited at the notion of Ohio State being one of the first to show him interest. We'll be keeping an eye on the happenings with Todd in the future.
A top prospect, not only in the state of Ohio, but the whole country, '14 ATH Marshon Lattimore has had Ohio State interested in him since he came on the scene this past season. Playing both cornerback and wide receiver, Lattimore has great speed and hands. His quickness is something impressive and he comes from the Cleveland-Glenville pipeline, which only works to Ohio State's advantage. Not to mention the fact that he's teammates with '14 OL and Buckeye commit Marcelys Jones. Lattimore currently has 15 offers from top programs such as Alabama, Cincinnati, Michigan, Ohio State, Penn State, USC and West Virginia, among others.
cont...
Urban Meyer is on a cruise for cancer, which has made this weekend quieter than normal for visits. Damon Webb was planning to drive (actually his dad) QB Jayru Campbell and RB Mike Webber down from Detroit to Columbus but they will wait another weekend when Meyer comes back.
While Meyer was cruising for cancer, Nick Saban was cruising for Buckeyes, offering the number one player in Ohio—Marshon Lattimore—DB Erick Smith, and OL verbal commit Marcelys Jones scholarships for 2014. All three are planning a visit to Alabama together.
Just like Meyer is trying to weaken Hoke by going after the top talent in Michigan, Nick Saban is trying to weaken Urban Meyer, offering three of the top 10 Ohio prospects and one happens to be a verbal commit. If Urban Meyer is not on the phone from his cruise ship, he will certainly be working them once his vessel hits port.
Recruiting season never ends and this week had some of news.
cont...
With national signing day in the books, the next big date on the Ohio State calendar as it continues working toward an encore for an undefeated season in 2013 is spring practice. Before those workouts begin, BuckeyeNation will take a look at each position to see where the roster is at -- and where it's going.
MIDDLE LINEBACKERS
Who's back:

Almost as suddenly as he arrived,

Zach Boren

's run at middle linebacker for the Buckeyes was over. Now they're left once again to find somebody capable of quarterbacking the defense, and as remarkable as Boren's story was at the position, it also underscored just how little depth the program had there at the halfway point of last season.

Curtis Grant

was supposed to be the answer after winning the starting job in spring practice and keeping it throughout training camp, but the rising junior ultimately wasn't a factor for the second year in a row and was passed on the depth chart twice before finishing as a third-team afterthought. The former elite recruit still has upside, though, and the Buckeyes will be monitoring him closely in a likely battle with sophomore

Camren Williams

to take over that critical spot in the heart of the defense.
cont...
Ohio State was thought to be the early leader dating as far back as Memorial Day weekend in 2012 in the pursuit of class of 2014 inside linebacker, Clifton Garrett (Joliet, Il. Plainfield South) but are now getting serious competition from several SEC schools, with Florida the latest to make a push for the 6-3, 228-pound linebacker.
After taking an unofficial visit to Ohio State the day after Valentine's Day, Garrett received an offer from the Gators and said they offer a lot because of their reputation on defense and their winning pedigree. Florida landed the state's top linebacker, Antonio Morrison from Bolingbrook and had a great freshman season in 2012 and looks to be one of the top defenders in 2013, which could be a strength in the recruitment of Garrett moving forward in the process.
LSU is making Garrett one of their top targets along with running back Leonard Fournette and after getting the state's No. 2 ranked player from Illinois to come to Baton Rouge last season when Ethan Pocic committed to the Tigers, Les Miles and company are hoping to get the state's best prospect this season, but If I'm handicapping the race I have them in fourth place right now.
cont...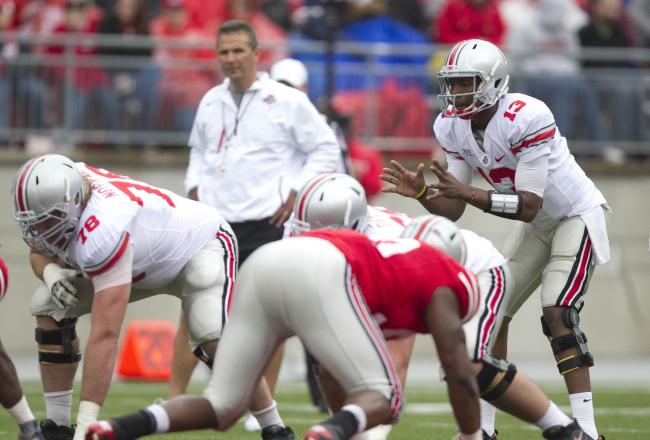 Ohio State's annual Scarlet and Gray game will have a different feel this year, but optimism will be high for fans getting their first chance to see the 2013 version of the Buckeyes.
Urban Meyer's team is coming off a 12-0 season and returns many of the players that keyed their undefeated run. Combine that with the 2013 recruiting class, which is loaded with possible contributors.
However, due to renovations, the game will not be held in the confines of Ohio Stadium. Instead it will be held in Paul Brown Stadium, the home of the Cincinnati Bengals.
Game Time
The Buckeyes will take the field on April 13th at 1 p.m.
During the Tressel era, the coaches split up the seniors and then the seniors drafted the remainder of the teams. For last season's spring game the coaches picked each team. That was largely due to the fact that the Buckeyes were working with limited scholarships and didn't have a full roster.
cont...
Vonn Bell
In what Urban Meyer described as one of the greatest recruiting performances he had ever seen by safeties coach Everett Withers, the Buckeyes went into SEC country (Georgia) and wrestled away the fourth ranked safety in the country, Vonn Bell. The Buckeyes fought defending National Champion Alabama and Tennessee for the 6'1″, 190 lb 5 star safety. Bell is the complete package at safety as he has great range, is excellent in run support and possesses great ball skills. With his size and athleticism, Buckeye fans should be seeing a lot of Bell this year, either on special teams or at safety. Vonn Bell was ranked as a 5 star by both Rivals and Scout and a 4 star by ESPN and 247.
cont...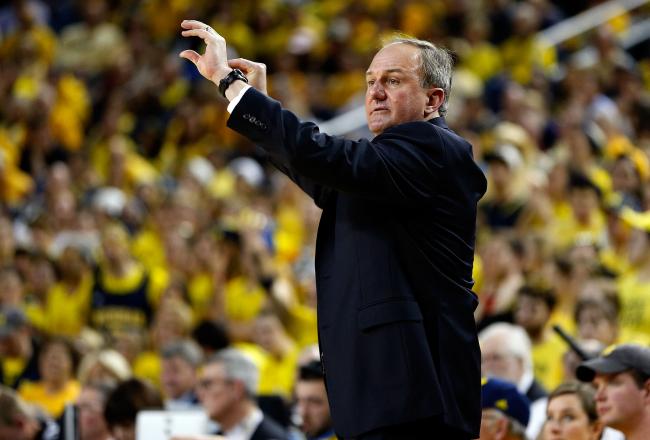 It has only been two years since Thad Matta brought a top-10 recruiting class to the Ohio State basketball program, but there is some fretting among Buckeye Nation that he has lost his golden touch on the recruiting front.
After all, he only brought in one unheralded prospect in 2012 after striking out on Tony Parker (who eventually went to UCLA), and Andrew Wiggins—the top prospect in the 2013 class—recently eliminated Ohio State from the schools he is considering.
The Buckeyes' 2013 class will likely only include two players (Kameron Williams and Marc Loving) when national signing day rolls around, marking the second straight recruiting season that Ohio State has failed to make a significant splash.
So what happened to the Matta that landed (per Scout.com) the No. 2 class in 2006, No. 7 class in 2007, No. 2 class in 2008, No. 3 class in 2010 and No. 8 class in 2011?
cont...