Jamarco Jones is an Offensive Tackle from Chicago, IL (De La Salle Institute) Ht: 6-6 | Wt: 290 He is a composit 5 Star with a ranking of 0.9857.
He just visited tOSU this past weekend with the three commits, Kitt and others. He attened the basketball game vs. #1 ranked Indiana.
He was also just named #94 on Rivals Top 100 Rankings for 2014 and 2nd Team on 247Sports 2014 All-American Team.
Made the Second Team All-American. Gotta work even harder! #notsatisfied

— Jamarco Jones (@jjones_73) February 11, 2013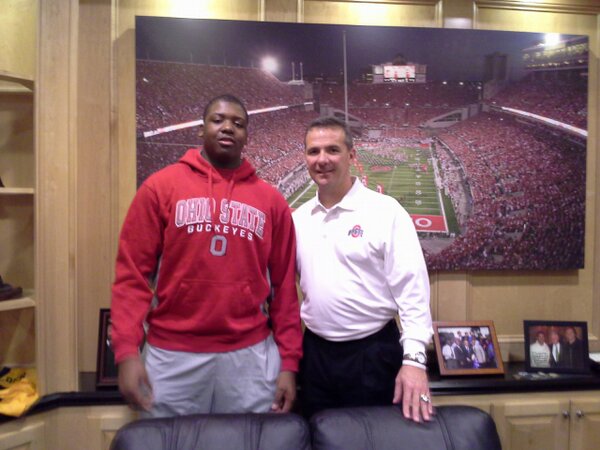 Here is what he tweeted on/about his visit:
Finally home! Columbus was great but now it's time to ko!!

— Jamarco Jones (@jjones_73) February 11, 2013
Ohio State is definitely up there on my list!!! Had a great time here on my visit!!

— Jamarco Jones (@jjones_73) February 10, 2013
@b_wright0311 no problem!

— Jamarco Jones (@jjones_73) February 11, 2013
Just met a Buckeye fan that follows me on Twitter!

— Jamarco Jones (@jjones_73) February 10, 2013
This game is packed!!

— Jamarco Jones (@jjones_73) February 10, 2013